We made fun of a shitty band pitch, and you asked for more. Well alright, you'll get more. In the meantime, here are some highlights from over the past few years (we've been collecting these for awhile), in no particular order.
For the first semester of 2013 we have prepared a special new single… It has been produced by Marcello Pompeu and Heros Trench from the world wide known brazilian thrash-metal band Korzus and mastered by the 2003 Grammy Award winner, Ted Jensen who also has worked with Deftones, Mastodon, Kreator, Lynyard Skynyard and others. The single also has a official clip shoot by Movie3, a brazilian movie producer which has been nominated as one of the bests in the country nowadays.
Hey Wassup,

I have a favor again lbs.

Trying to build an audience for a new series –THE RAPPER. Before it loses big network interests, I would love feedback and if trailer got some love on your site like with graphic and summary, that would be dope. I included PRIVATE LINK to 1st Episode, which we hope gets you as excited as were are to see more from brothers like these. What do you think?

The Rapper — set in the digital-age, chronicles the story of three young men who attempt to overcome the of lack of support, lack of resources, lack of finances, and the pressures of street life, in order to see their dreams of making it in the hip hop industry come true.

Written and directed by Los Angeles native Vincent LaMotte, and shot by acclaimed Cinematographer Alex Santana, The Rapper's raw and gritty tale of the road less traveled to superstardom is sure to create a cult following, with outstanding visuals, and great story writing. Series Premieres Soon.

It's a mash-up of The Wire, Mad Men, and Hustle and Flo — keywords to peak interests. But, It is what it is … The Rapper. Watch it and tell us what you think after.
Notes: We don't know you at all. We had absolutely never considered doing you any favors previously. Since when is "lbs" a way to address someone? What does that mean? Yes, it would be dope for you if everyone talked about your thing. It would be dope for everyone if your thing was worth talking about. What is the digital-age? Is that like, now? Or in the future, when we all live in the matrix? It is sure not to create any "following," whatsoever. One does not "peak" an interest; the word you're looking for is pique. "Hustle and Flo" sounds like a buddy comedy about a pimp and a sassy diner waitress. How in the fucking world does a story about three broke rappers in the "digital-age" draw anything from Mad Men? You're just naming random things that people care about.
Oh, shit! I was mistaken, looks like I had previously discussed a "favor" with this guy: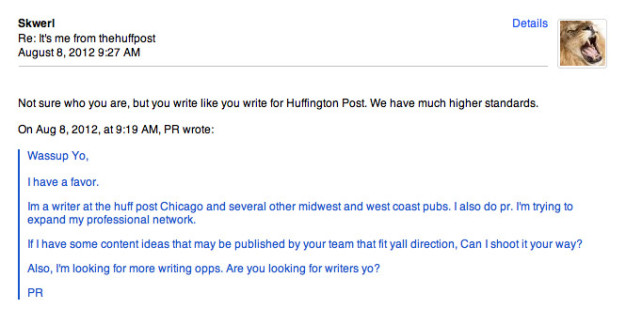 Notes: Did you seriously just seek a professional relationship with "Wassup Yo?" The subject line is "It's me from thehuffpost." It's me. Oh, it's you. The Huffington Post guy. Are you dead serious? Oh, and you do not "have" a favor. You need a favor. That's the opposite. "Yall direction." Not even "y'all's direction." Yes, I'm looking for writers, yo. But I would pay Chinese children to build me an automatic blogging bot before hiring you.
This one's actually kind of mean. I'm sorry.
This one is also mean, but I'm less sorry.