When the time comes to refresh your internet browser to buy tickets to see your favorite band live in concert, you probably get the same message as thousands of other fans that attempted to get tickets to that concert: "Sorry, no exact matches were found, but other tickets may still be available." 
Your response is almost definitely "How is it possible that (insert band name here) sold out (insert arena name here) in the last three seconds?" The truth is that they didn't. And it's highly unlikely that it's possible. There actually aren't any other tickets available, but not because 18,000 fans were more lucky than you.
According to an investigative study by News Channel 5's Phil Williams, who was able to get his hands on the ticket manifest (the list of where all the tickets went) to a Justin Bieber concert, of the 14,000 seats available in Nashville's Bridgestone Arena, only 1,001 (seven percent of the total number of tickets available) were sold to fans who wanted to see The Bieb Machine. Now you're probably wondering where the other 12,999 tickets went. See the image below for the answer.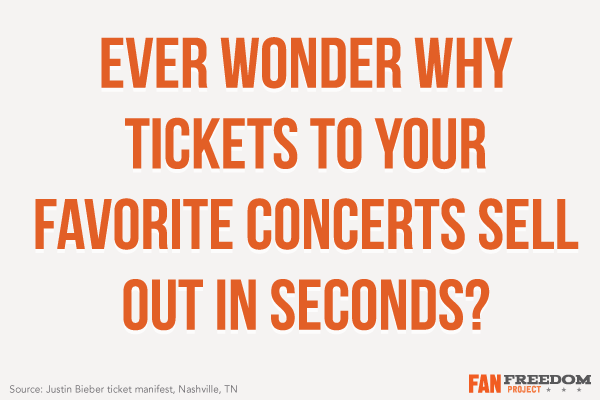 The rest of the tickets went to companies like American Express, to the venue, to the fan club; everywhere but to the fans. For this specific concert, JBieb's management had also taken a fair share of tickets to scalp on sites like StubHub and eBay for amounts well above face value. And it isn't only Justin Bieber that has pulled this kind of crap.
In 2009, Keith Urban promised his fans an affordable twenty dollar ticket to his show. What fans didn't know is that only 389 of the 15,000 tickets were actually twenty dollars. For Taylor Swift's 2009 show at the Bridgestone Arena, only 1,600 tickets were actually sold to the general public. Finally, most recently, on the rider for Katy Perry's California Dreams tour, one can read the following. "If Company elects to use "Reseller the s", Promoters shall hold tickets for each Performance, in quantities and in locations as designated by the Personal Manager, for distribution to public through "Resellers". "Resellers" shall mean any ticket agency, ticket re-seller or other so-called "secondary market" seller of tickets (such as, by way of example only, StubHub in the United States) who sell tickets to the general public. Promoter expressly acknowledges and agrees that Company shall be entitled to retain, for Company's sole account, such portion of the proceeds from sales by Resellers." In English, that means that Perry reserves the right to scalp her own tickets on secondary sites.
However, there are some artists that have souls and have spoken out against these ideals. Pearl Jam, for example, embarked on a tour in 1995 boycotting Ticketmaster by only playing at non-Ticketmaster venues, which prevented them from playing in the United States for three years. You might also remember back in early 2011 when LCD Soundsystem announced their farewell show at Madison Square Garden and it sold out in seconds, causing an uproar in the fan community. When frontman James Murphy heard about this, he immediately took to the band's website with a long letter entitled fuck you, scalpers. terminal 5 shows added. The letter (obviously) expressed Murphy's anger towards scalpers as well as announcing that the band was going to play a couple of shows at New York's Terminal 5 leading up to the Madison Square Garden show. Lastly, when playing at New York's Webster Hall in April for his AmEx Unstaged performance, Jack White made it almost impossible for scalpers to screw his fans by not sending out paper tickets and implementing a complicated admission system involving a guest list and photo IDs and included going through a bar's back door that led into the venue. Needless to say, everyone that attended the show was mindlessly confused until they were actually in the venue.
Is it even worth trying to get your tickets through Ticketmaster? That's up to you. But the odds are that you're not going to get them because all the good seats went to your band's management team. So in the long run, you're probably going to have to hit StubHub anyway.
Check out Phil Williams' full report on the Justin Bieber scandal.