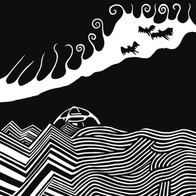 If you've been hurting for something familiar yet altogether new, welcome to Atoms For Peace – a new band with Thom Yorke (Radiohead), Flea (Red Hot Chili Peppers) and Nigel Godrich (Radiohead producer) making their own sounds together. You're going to want to hear this.
Listen to the new single Default, released today on iTunes, to officially be released September 10th via XL Recordings.
Drummer Joey Waronker and percussionist Mauro Refosco also feature in the song, which follows a set of remixes released on Modeselektor's label Monkeytown, none of which are anywhere near as good as this – particularly if you're a Radiohead fan.
The group's forthcoming debut LP has been rumored to be set for a 2012 release, but Yorke has promised a 2013 debut of the long-anticipated album. It's been a long time coming for fans who've been paying attention the past couple years, but Yorke was direct as can be when he spoke about the reasons for the long gestation period: "It's not good enough yet," he confessed. "[Me & Godrich] were excited about it for so long, then we kind of lost our way. So we're taking some steps back."
Godrich added: "The genesis was more like The Eraser – Thom and I in the studio. The idea was to generate the music, then record the band. We did that. Some of it worked. We also went back to some of the electronic stuff. It's still in flux. We're waiting for the lightning bolt to strike."
Wait and see…