Queens Of The Stone Age are kicking into gear for the release of …Like Clockwork, their first album since 2007's Era Vulgaris, with the release of the first official single from the album, My God Is The Sun.
Check out the careening, mean and churning rocker below, which we saw debuted last week at Lollapalooza Brazil. The track features Dave Grohl on drums, returning on the kit for Queens for the first time since 2002's Songs For The Deaf.
Also included in the track's release is the cover art for the new album, by UK artist Boneface. Check out the goods below: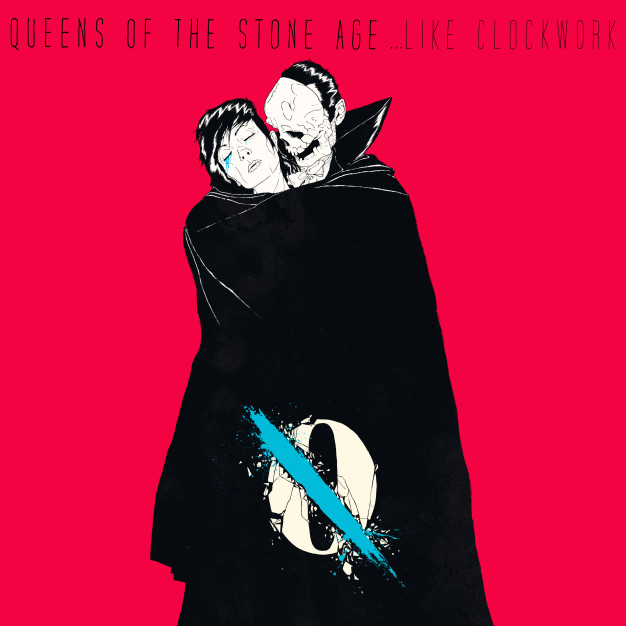 If you missed the announcement, Jon Theodore from The Mars Volta & One Day As A Lion is now on drums for the band. However, that's Grohl you're hearing on the studio recording of My God Is The Sun.
Additionally, Matador Records is listing June 4th as the release date for …Like Clockwork (as well as a pre-order link), with the following tracklist and info:
1. Keep Your Eyes Peeled
2. I Sat By The Ocean
3. The Vampyre Of Time And Memory
4. If I Had A Tail
5. My God Is The Sun
6. Kalopsia
7. Fairweather Friends
8. Smooth Sailing
9. I Appear Missing
10. …Like Clockwork
…. Like Clockwork was produced by Joshua Homme and QOTSA, recorded by Mark Rankin with additional engineering by Justin Smith, at Josh's studio, Pink Duck, in Burbank, California.
Learn all there is to know about the upcoming June release of …Like Clockwork right here.