Killswitch Engage's most recent album, Disarm the Descent, last April was a resounding success. Nominated for Best Metal Performance at the 2014 Grammys, they only lost to Black Sabbath's comeback single. They've already toured extensively in support of the album, including Europe, but have added another American leg to the tour.
They've put together a crew of four bands including themselves that's likely to draw a crowd at each stop with a twist: Trivium and Battlecross are splitting second bill, rotating at each tour stop. At Baltimore's Ram's Head Live last Thursday that was certainly the case as fans crammed into the floor then filled the second and third levels of the popular downtown venue. (Floor, second level, and bleachers are general admission, third level is VIP).
Opening for the evening was San Antonio's Nothing More, an up and coming band that just released their first album, a self titled released, and their first music video. While they weren't quite as metal as their fellow bands that evening, they definitely grabbed the crowds attention with their enthusiastic stage presence. They concluded their set with stage crew running out, and holding in the air, a partial set of drums for the lead vocalist to do a drum solo with the actual drummer. The crowd ate it up.
Battlecross had the 2nd spot on this evening, and took to the stage shortly after. They multiplied the intensity in the room of both music and hair. It was time for beards, epic manes, and double bass drums, and they had no shortage of beard. Lead vocalist Kyle Guther's shirt read "bearded for her pleasure" and he certainly had the follicles to back it up. Its a rare beard that you can windmill headbang with.
While they were fairly unremarkable, they were solid and worked the crowd into a excited froth for Trivium to take the stage. Jamming four bands into a Thursday night, Trivium only had time to play nine songs, but they put a lot into it. Lead singer Matt Heafy exuded charisma and expertly worked the crowd, and by the end of the first song there was a wave of crowd surfers making it to the barricade inspite of the signs covering the venue expressing that crowd surfers and moshers were banned and could be ejected.
He took pause on stage, though, when a fan in a wheelchair managed to surf all the way up, and was sat down by security right in front of the center microphone stand. Clearly impressed, he stopped was he was doing, grabbed a pick off his stand, and handed it to the man who was clearly overwhelmed with excitment about the whole ordeal. The crowd ate it up.
But while Trivium had an authentic exuberance about them, regardless of what someone might think of their music, almost from the get-go Killswitch Engage was simply tying too hard.  They opened the second song with lead vocalist Jesse Leach dedicating the song to "All your mother's pussies" then after that song took the time to inform us that "Baltimore reminds me of a dirty whore I know, kind of dangerous and has crabs in the downtown area." Real original. No one has ever connected Baltimore's dirty image, love for blue crabs, and public lice together. Not once ever.
The band seemed miss-matched. While the band was dosed in smoke and back lit with red light and strobes, guitarist Adam Dutkiewicz was wearing blue jean shorts, white t-shirt, and a headband. He spent almost the entire 19 song set jogging in place and making goofy faces. Its like he was trying be in Red Hot Chili Peppers. That's fine on its own, except the rest of the band was trying to look like an edgy metal band. Apparently that's Dutkiewicz's thing, and he does it all the time.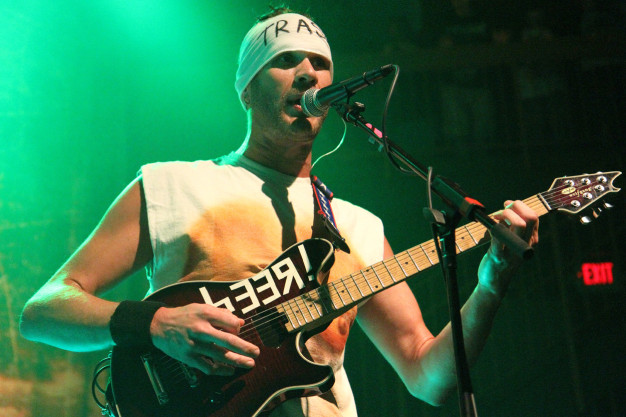 Leach informed the crowd he was sick and had to duck away to throw up, and Dutkiewicz chimmed in about how he must have "sucked the wrong dick" and went on a whole speil about that. Alright then, well they moved on with the set. When it came time to introduce their song You Don't Bleed for Me Leach informed that it was a protest song. Curiousity piqued, what was he taking a stand against?
"This is a song for everyone that protests" Then something about how politicians lie.
Well dang man, don't put yourself out their too far.
For a fan however, this was a fantastic show. The sound was excellent and the band moved through 19 songs with ease and zero hangups even with a sick vocalist. Might not be for everyone though.
Nothing More:
Battlecross: