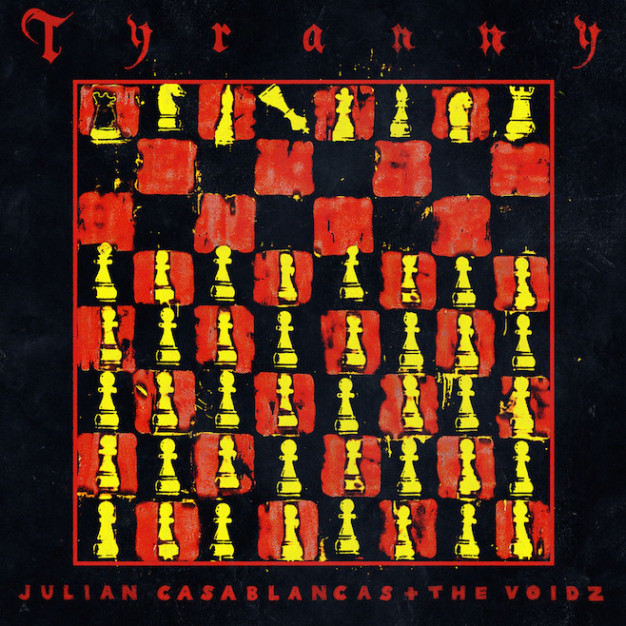 After a long while of gestation and several teaser videos we've already called to attention, Julian Casablancas has finally announced the details to his follow up to 2009's Phrazes for the Young. Called Tyranny, the album will be released September 23rd through Casablancas' own Cult records.  There's also a meandering, nonsensical trailer to go along with the news, which you can watch below.
If you make it to the end (or watch the previous trailer) there's definitely some promise in the riffage, a shade darker than anything Strokes related but surprisingly in a similar vein at times.  It seems that in place of continuing the synth-pop of his last solo album Tyranny will be rife with riff heavy post-punk and some grimy synth tones.  That all sounds well and good until you consider that this band played SXSW and embarrassed themselves with some truly godawful shows. You can find clips of that carnage on Youtube, I don't want to link because you're better off not ever seeing it.  Anyways, there's some tour dates as well, which will probably be pretty great or an absolute train wreck.
Julian Casablancas + The Voidz tour dates:
8/14 Guadalajara, Mexico – Teatro Diana
8/16 Mexico City, Mexico – Ceremonia
8/23-24 Los Angeles, CA – FYF Fest
10/16 Philadelphia, PA – Electric Factory
10/17 Washington, DC – 9:30 Club
10/18 Charlottesville, VA – Jefferson Theatre
10/20 Chattanooga, TN – Track 29
10/21 Nashville, TN – Marathon Music Works
10/22 Atlanta, GA – Masquerade
10/28 Birmingham, AL – Iron City
10/30 Austin, TX – Emo's
10/31 Houston, TX – House of Blues
11/6 Los Angeles, CA – Wiltern Theatre
11/9 San Francisco, CA – Regency Center
11/11 Portland, OR – Crystal Ballroom
11/13 Seattle, WA – Showbox
Also, his name sort of translates to "white house" doesn't it?  Not that it's consequential at all, just thought we might as well all be aware.