Now in it's fifth year, the Field Trip festival has in many ways become synonymous with the commencement of summer in Toronto. And in a festival environment that in one year may seem ripe for opportunity and the next oversaturated, Field Trip has found a way to outlast many of it's local festival contemporaries.
The festival game is a tenuous one in this city. Many promoters have introduced promising would-be summer mega-fests into this market only to see them vanish a year or two later. Virgin Festival, Riot Fest Toronto, Bestival, Edgefest. I've seen 'em come, I've watched 'em go. Even WayHome, which we were so fond of is experiencing growing pains in it's third year after shitting the bed with this lineup and acquiring the local moniker "StayHome".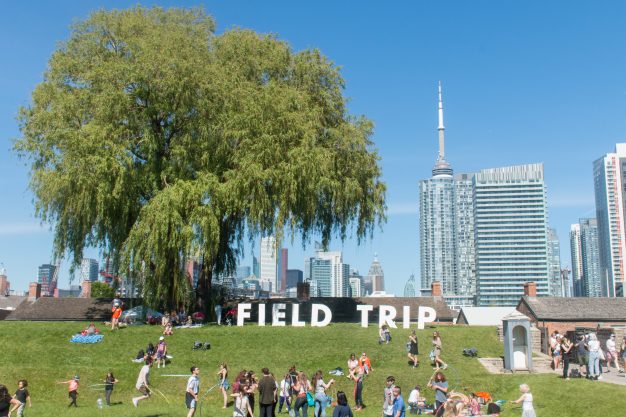 But benefitting from some Governor's Ball runoff and a plethora of Canadian talent chomping at the bit to be involved, Field Trip has quietly established itself is a delightful summer staple here. Part indie-rock hoe-down, part Canadian homecoming dance.
Field Trip was initially conceived of and branded as a family friendly event, replete with decentralized kids play zones, coloring stations, hula zones and a day camp featuring children's performance acts and bouncing castles. Naturally there were strollers, earmuffs, "Little Tykes" wagons, and befuddled toddlers o' plenty.
Torontonians in their thousands descended on Historic Fort York, the site of a battle/skirmish during the War of 1812, back when those pesky Americans were attempting to direct northward what they would later call their manifest destiny. But much of the old remnants were strategically concealed or cordoned off for the festivities. Tucked in amongst concrete and condos at all compass points, the park remains a surprisingly cozy and apposite setting for festivals in the centre of the metropolis.
Join us north of the border as we cover our favorite moments from Field Trip 2017! Naturally I was sure to have Mom sign my permission slip.
Welcome To Toronto – Matt Mays
A Nova Scotian no more, rocker Matt Mays, sans his old compadres El Torpedo got a rise out of the first large crowd of the weekend. He tested the new material waters early on with a charismatic Sentimental Sins from his latest EP Hell Of A Time.
But Canada's answer to Ryan Adams really kicked off the party when he unearthed the small-town anthem On The Hood, followed by a formidable Take It On Faith. During the latter he screamed while towering over the audience on the stage monitors and as beach balls filled the air.
"I just moved to Toronto," said the now Nova Scotian ex-pat. He then went on to thank Arts & Crafts (the seminal Toronto indie label that remains a partner with Live Nation in the creation and promotion of Field Trip) before he led his band through a banging protracted rendition of his first hit Cocaine Cowgirl.
The Lords Of Portland – Portugal. The Man
As the boys from Portugal. The Man took the stage of this indie-rock festival a familiar bell rang out over the speakers. It couldn't be…but it was. The Lords of Portland decided to channel The Lords of San Francisco with an instrumental cover of Metallica's For Whom The Bell Tolls, which presumably felt like an affront to more than a few of the patrons on hand.
"What's up Toronto?," vocalist John Gourley queried in front of stacked graffitied amps. He then belted out the familiar falsetto serenade of "I just wanna be evil, wanna be evil" as he led the band into Purple Yellow Red & Blue.
After reaching back to 2011 for Head Is A Flame (Cool With It), they threw down a blistering Got It All, still preaching about the revolution that never came. Bassist Zach Corothers was at one moment lost in sway and at another empathically flailing his everlong Fender Precision adding urgency to each quarter-note.
They were far from verbose throughout the hour-long set. In fact, I can't say with any certainty that Gourley even opened his eyes once throughout the entire set. But it didn't matter. Perhaps to reach zen-like focus, he needs to eliminate pesky visual stimuli.
The cruel sun scorch subsided as sullen bystanders leered over a drunken mosh pit that broke out during All Your Light (Times Like These). They then, as far as this reviewer could tell, played their only new song of the evening to close out the set. Of course that song was the rightfully ubiquitous Feel It Still.
It was time to hustle over to Cloud Nothings…
Boisterous Bro-Down – Cloud Nothings
The race was on the extricate ourselves from the main stage and get in the thick of it for Cloud Nothings. But a single narrow pathway nestled between two 200-year-old army barracks became a mid-summer-night's bottleneck, eating into many of the better sets of the weekend. Planning ahead was key.
This time-slot had to have more than a few casual indie-rock aficionados/moms and dads in pantie-knots on both days. Day one: extreme rock discordance. Day two: absurd, incomprehensibly adroit space jazz (aka Thundercat).
We rounded the corner of the grassy knoll to the Fort York stage just as the spasmodic drumming and ferocious angsty bellowing of Psychic Trauma faded. I've been championing this band for years, but their new LP Life Without Sound fell totally flat on these here ears. When they opted to venture back 2014's excellent Here And Nowhere Else for Pattern Walks and I'm Not Part Of Me, they were fully in their element. The audience appeared polarized, firmly entrenched in the extremes of either being a) aghast or b) enthralled. We were in Camp b).
Vocalist Dylan Baldi, now just a silhouette in the blinding sunlight that crept through the backdrop, took a few moments between songs to muse about local comic stores before returning to the new record for a string of tracks. His vocals had actually drastically improved relative to the last few times I'd had the opportunity to catch Cloud Nothings live. The group looked like they were gearing up for their typical ten-minute clusterfuck closer Wasted Days, but they appeared to be receiving cues to cut it off, unfortunately ending the set in a way that felt pre-emptive and lacked the bombastic closure we've become accustomed to.
Homecoming Part: 1 – A Tribe Called Red
A Tribe Called Red, Canada's premier First Nations musical export, was the only EDM act booked all weekend. When the three of them ascended to their elevated control station and began to rain down their unique fusion of traditional tribal intonations and electronic bleeps and bloops, it was abundantly clear that many in the audience had been aching to get their dance on all day.
The group took note of a revered figure who could be seen watching them from back stage. Canada's Sweetheart aka The Tragically Hip's Gord Downie looked on with tacit approval.
Their celebration set continued with a tasselled dancer taking centre stage, gyrating in a flurry of red, white, yellow and black.
Homecoming Part: 2 – Broken Social Scene
The social scene was far from broken on this night. And if it ain't broke…
Toronto's flagship musical collective owned the day with a cast of friends and former members on hand to exult in their return to prominence.
"We're Broken Social Scene. You know we love you," Kevin Drew pronounced as they got things started with Cause = Time. Then, before there was time collect one's thoughts, Feist was upon us for the dancy powerhouse 7/4 Shoreline. This could conceivably be the only time Feist performs with them on this album cycle, as she will be busy bedazzling across the globe, touring her own new record. It was a special night indeed.
Mr. Drew, the band's leader if ever there was one, segued into Swimmers by declaring "Here's another oldie we never play. But Emily's here." He of course was referring to Emily Haines who along with her Metric bandmate James Shaw, seem to be very much back in the scene having just performed shows with BSS in Europe. They were part of the performance when the band played Manchester the night after the recent attack there. But during this song, and throughout the evening Amy Millan took on a distinct role. She coaxed and egged on the rest of the group at times looking to physically extract more energy from them. Her provocations succeeded.
It was a night of friends, anecdotes and passion. At any given time, there we over ten performers on stage; not a one superfluous.
Surprisingly there were still tiny children scattered throughout the audience. At one point I saw a mother walking her two young twin daughters through the audience, taking them straight to the front. Perhaps not the most prudent of decisions considering that libations had been flowing on the grounds for nearly ten hours at this point.
Brenden Canning raised his bass to the skies during fan favorite IBI Dreams Of Pavement. They then performed Bonnie Tyler's Total Eclipse Of The Heart, goading the audience to sing along by raising their microphones out over them. And so we all did sing, "Once upon a time we were fallin' in love, now we're only fallin' apart.
Haines took the lead for a splendid twofer of Anthems Of A Seventeen-Year Old Girl and Backyards. Then all together again the not-so-Broken Social Scene reconvened to close out the evening with KC Accidental. And with that the throngs did wander into the night in anticipation of more splendor to come.
Merciful Skies – Day 2
A foreboding forecast and ominous skies had many facing the day with trepidation. The festival tweeted that "everyone should wear their mud-friendliest shoes" and made certain to note their policy regarding lightning on that other popular yet reprehensible social media site I refuse to name.
But the clouds dissipated and the puddles were few. It was time to dig in for day two.
Merciless Prowess – Thundercat
Thundercat is a beast. This wasn't my first dance with the robot-man, nor will it be my last. I popped in for a few songs and would be remiss not to make mention of this astro-funk, acid-jazz, free-form, genre-melding calamity. Thundercat himself certainly looked the part of the rock star who had just rolled out of bed, smoked a J and sauntered casually on stage, but when he strapped on that six-string bass and got down to bidness, those presuppositions undoubtedly disappeared.
This is one of the most talented three-piece bands in the game today. Having already toured their exceptional record Drunk in clubs in the Spring and now making rounds on the festival circuit, Thundercat is beginning to obtain the notoriety outside of the recording studio that he has for years been acclaimed for within it (having worked with Kendrick Lamar and Flying Lotus). His robot brain's tyrannical computational power knows no human boundaries. He scoffs at mere mortals while he processes mathematically mechanized bass-slaps and croons alternate melodies with is voice box. I've seen no convincing evidence to support this man is actually human.
Cavalier Chanteuse – Feist
Equal parts indie-commissar and rock n' roll siren, Toronto's own Leslie Feist can truly be whatever you want of her. Upon the release of her superb new record Pleasure, she played a beguiling show just one-month prior at the Trinity-St. Paul's Church; just down the road. Even then, on the first night of what will inevitably be a demanding and extensive world tour, the new songs sounded forceful and road-rested; as if the years away from the touring circuit hadn't occurred. And fortunately today, she decided to change up the setlist for the no doubt many eager beavers that found themselves in attendance during both shows.
Her vertical lighting had served as a backdrop to most of the acts that had played the main stage throughout the day, but now the audience would finally get to see just what they were capable of. She took to the stage shrouded in hot pink, arms peaking through a chic scarf to embrace her weathered Les Paul, and with a cavalier confidence, led her band through an array of new tracks right from the start. Much of the whole new record in reality.
Of these new tracks there were many standouts. The title-track Pleasure is itself a testament to much of what makes Feist so intriguing ie. insidious dynamics, and slamming unfettered sludge-riffs with unconstrained form. Century proved already to be a clap-along hit among the audience. The sombre sounds of A Man Is Not His Song and I Wish I Didn't Miss You showcased her piercing, uncanny and singular vocal prowess. She didn't come to fuck around.
She toiled intermittently with a vocal loop pedal. A loop drowning in amplified reverb was her modified ending to My Moon My Man.
Having seen her show on record release day, I found myself hoping the laws of nature would be suspended temporarily and that the sun would race without delay behind the billowing old trees in the back of the park so that the audience would be able to witness the full potential of her new backlighting. But it wasn't to be.
When she jettisoned her scarf it seemed to be a signal as she then veered into the oldies for the latter half of the set, commencing with the indelible inflections of Mushaboom. During I Feel It All a once confoundingly dormant apparatus at centre stage was revealed to be a resplendent floral-patterned Geisha fan; a striking transient backdrop. She then logged off with a re-envisioned 1,2,3,4.
Epileptic Transcendence – Phoenix
Opting out of seeing BADBADNOTGOOD on the far side of the bottleneck wasn't a choice made lightly. Those guys nail it every time. We opted instead to settle in for Phoenix and stake out a prime spot to observe what all of these mirrors were about. Feist's backlighting had been promptly removed and angled mirrors were being elevated as a backdrop. What was this chicanery to be?
Historically I've been quick to write off Phoenix as a dispensable indie-rock act; a flash-in-the-pan. Yet each time I find myself looking up at the French quartet on stage I'm reminded of what a spectacle their performance has become. When will I learn?
The full parameters of the visual exhibition were revealed as the band embarked with Ti Amo, from their new record of the same name due out this Friday. They literally have become a smoke-and-mirrors act. A top-down reflection projection of the band was to be their backdrop for the evening. A plexi-glass floor turned the band into shadowy caricatures on their own backdrop as a full spectrum of strobing color emanated from below.
As the last remnants of daylight faded during Entertainment, the visuals only intensified. But the full potential of lighting apparatus was truly realized during the visceral instrumental track Love Like A Sunset I, bolstered by projections of a primordial universe and constellations which dispersed and were replaced swiftly with those awesome cascading color pulses. Vocalist Thomas Mars laid motionless on the floor, appearing to be standing on the refection in the back.
Here is video evidence:
Of course it wasn't long before Mars swam victory laps atop the dancing audience during 1901, as he is wont to do. Field Trip booked two remarkably daring headliners on Sunday and they got two riveting, inimitable performances to cap off the weekend's festivities.
Check out our full Gallery below: