**Plus bonus coverage of QOTSA's warm-up club show in Niagara Falls, NY
Each year, the idyllic riverfront town of Montebello in Quebec undergoes a transformation. The quaint town, which sits conveniently in the middle of Montreal and Ottawa, and is home to a modest population of approximately 1000, is annually bombarded by a salvo crazy ones, misfits, rebels, and troublemakers.
Thirteen years ago, a 17-year-old rookie concert promoter grew tired waiting for things to happen and decided to create this festival in his hometown with a whopping three bands on the bill and 500 tickets sold. Fast forward to today and founder Alex Martel's Montebello (aka Amnesia) Rockfest has grown immensely to become one of the largest events of it's kind in North America. The town is transformed by an influx of 100,000 gutterpunks and metalheads coalescing from Quebec, Ontario, Upstate New York and beyond. The town's only hotel is often fully booked a year in advance.
Makeshift tent cities pop up on roadsides, in the yards of entrepreneurially minded locals, and at beside train tracks. Black shirted and heavily tattooed fans fill Rue Notre Dame, the city's main drag. It's a beautiful form of disarray.
This year the festival unveiled a bold lineup. The first three names alone were worth of the price of admission. A rare North American festival performance by German theatrical metal group Rammstein, admired the world round for their unrivalled stage production was undoubtedly the main draw. When the lineup dropped in February, Martel exclaimed that he was "extremely proud to welcome Rammstein in my little hometown. Their show is larger than life, over the top, pure madness, the biggest show on Earth right now. This is Rockfest's biggest catch in our 12-year run, a statement proving that the festival has reached a new level."
Indeed it has.
Throughout the last few years Rockfest has consistently amassed a panoply of hard rock, metal, punk, and rap acts. The other big get this year was Queens of the Stone Age's triumphant return to the stage. It's been a long and steady climb, but modern rock's reigning monarchs refuse to abdicate and have finally found themselves headlining major festivals. Their last show was way back on Halloween 2014. Or it would have been, if not for an arbitrary warm-up club gig that we found ourselves at two days prior. More on that to come.
The festival's lineup filled out with the venerable Iggy Pop, a long awaited make-up show for At The Drive-In, a unique full-album performance by The Offspring, and much more.
Our favorite moments are forthcoming, but my Rockfest started one night early and 400 miles away.
Throw A Dart At The Map – Queens Of The Stone Age at Rapids Theatre in Niagara Falls, New York
Imagine the disbelief.
Your favorite band hails from Southern California and stirs from an elongated slumber to perform a warm-up club show in Niagara Falls, New York, of all places. Just a skip and a hop away from Toronto.
One can imagine the band and their booking agent sitting in a hi-desert dive-bar throwing the proverbial dart at the map when deciding where Queens of the Stone Age would finally emerge from the shadows. But presumably a Rockfest radius clause prevented them from playing their first show in two-and-a-half years in any of the larger markets on the East Coast. And so an Upstate New York rustbelt town nabbed one of the most coveted shows of the year.
The Rapids Theatre, a restored vaudeville theatre erected in 1921, and with a capacity of 1,700 would house the incipient unveiling of songs from Queens of the Stone Age's new record Villains, their 7th. And this on the heels of a massive world tour announcement that saw unprecedented sellouts, including a large Toronto venue with a capacity of 16,000.
This one was going to be special.
In a recent NME interview, Homme called Villains an escape from "the bullshit of the day" and said that the record's got "an urgency without an emergency." Soon we would have more context to understand his intentionally cryptic abstractions.
The Rapids Theatre, quickly became the Rapids Sauna as the moment of arrival drew nearer. Murmurs of anticipation and speculation reverberated inside the increasingly humid venue. And then the lights went dark.
Feel Good Hit Of The Summer was an appropriate starting point one day removed from the summer solstice. Red strobes pulsated out of the darkness, blacklighting silhouettes of the band. Guitarist Troy Van Leeuwen jumped erratically like a rabid animal finally released from it's cage as the band ironically infused Amy Winehouse's Rehab into a song about wandering through the desert and trying clumsily to recount all of the drugs you had ingested that evening.
Guitarist/looming raconteur Joshua Homme whirled and slammed his guitar with purpose during No One Knows. There were a few minor hiccups here. An occasional botched drum fill. Brief, near unnoticeable missed cues and miscommunications. But that's what makes warm-up shows interesting right?
Following a flirtatious and chugging Smooth Sailing, Homme made an inquiry. "How's it going up in the back?" He was trying to conjure some life out of an oddly static audience. Red spotlights flashed again from behind as the familiar droning bass and sprinkling didgeridoo palm-muted guitar of Misfit Love was dusted off once again.
Surely the most notable moments of the set were when the band veered away from 2013's Like Clockwork, which they leaned on heavily throughout the evening. As drummer Jon Theodore launched into the drums of Millionaire, Homme stopped him in his tracks. "I don't wanna do what Jon wants to do. I wanna do what I wanna do," he teased. "Can we play a new song?"
And with that we were balls deep in the live debut of their swingy new single The Way We Used To Do. Homme vocals were intermittently muddled in the mix, making his lyrics near indecipherable. When a rousing Millionaire inevitably followed the majority of the audience remained motionless. In Flint the drinking water is contaminated by led. In Niagara Falls it's presumably contaminated by lithium.
The band generally avoided their more esoteric tunes. This was primarily a hits setlist. But the craving for new music was once again satiated. "You guys are fucking fantastic. We'd like to play another new song. It's a whale of a song and it's called The Evil Has Landed. It may get a bit confusing so I'm gonna drink. Trust me, this is gonna make this song a lot better."
Check out a fan video here:
This song was a visceral rager. Homme's falsetto chime lingered over crunchy guitars in a tune that would have been a logical fit on the 2nd Them Crooked Vultures record that never materialized. That is until one of their signature false stops careened the song over a sonic cliff. An insidious descending double-time punk outro was augmented by squealing bemusing Homme solos. This was the highlight of the evening.
They closed out the set with spastic drumming, ghoul harmonies and false-stop madness of Song For The Dead as the audience finally came to life opening a moshpit down front.
Queens abrade one's perceptions of what it means to be a rock band today. The band never ossifies; never ceases to spelunk in new caverns of sound. It would have been nice to have been blessed with more material from Villians, but if The Evil Has Landed is any indication, we're in for another labyrinthine beast.
________________________________________________________________________________________________________________
Rockfest Commences
Who needs sleep?
By the time I arrived at Rockfest I'd given up on the possibility of rest. An eight-hour drive through a near-zero-visibility deluge had us wondering whether the festival would be forced to shut down for the day. Thunderstorms and more rain were forecasted. The rain finally abated an hour before we arrived in Montebello.
The route in to the town was littered with makeshift camp settlements and people shaking off the hangover from the night before or imbibing their way towards their hangover for the next day.
This DIY festival has a history of growing pains and tumult. Shit-swamps, untenable ticket queues, last-minute band cancellations, disgruntled artist diatribes, an even infamous film called Casting At The Rockfest, have all been part of the storied abject and laissez-faire history of this wild experience throughout the years.
Recalcitrant Bro-Down – Pennywise
The heavy rains had taken their toll and it didn't take long to most people to give up on baby-stepping through the muck and the mire. On the walk in, faint sounds of Pennywise covering the Beastie Boys' (You Gotta) Fight For Your Right (To Party) grew in amplitude.
As we landed up at the main Budweiser Stage, the band was already in the midst of a massive bro-down. The stage was overflowing with randoms as the band laid into Fuck Authority. A sprawling midday crowd was already off to the races. Crowdsurfers and moshpits could be seen from both the regular ticket holders and the patrons in the VIP area. A behavior exclusive to Rockfest. Next came Bro-Hymn, accompanied by a discordant man-chorus chanting "whoa-oa-oa-oa" in inebriated semi-unison.
The majority of ticket holders ignored the ominous dark skies above as the grounds were packed by 3:30PM.
Unrepentant Pop-Punk – Goldfinger
This writer still has a soft spot for Goldfinger. And maybe we all should. On one side it's hard to imagine the heinous man-child army of Simple Plan's and Good Charlotte's existing without the influence of Goldfinger and their ilk. But on the flip side Goldfinger are still a solid band that consistently throw down live.
Apparently long gone are the days of former drummer Darrin Pfeiffer inviting overzealous fans onstage to eat twinkies out of his asshole or singing casually about going gay-for-a-day with Wayne Gretzky. But even without the gimmicks there was still a lot of fun to be had.
Beyond Goldinger's audience the crowds were beginning to reach peak levels.
Vocalist John Feldman (known perhaps more now in the industry for his production work with acts like Blink 182) was jumping emphatically to the sounds of Counting The Days and his fans followed suit. "This next song is a ska song. I want every motherfucker dancing,"  Feldman ordained. "This is our fourth Rockfest in Montebello." Inflated orcas, beach balls and mud cover humans surfaced from the crowds as they played Here In Your Bedroom.
One could reminisce about dropping in on the Warehouse ramp for the first time playing Tony Hawk's Pro Skater 1 when they veered into the ridiculously dancy bass of Superman. They then closed out the set with a choice punk rock cover of Nena's 99 Red Balloons.
I Think I'll Have Myself A Beer – Reel Big Fish
Innocuous ska-punk was the plat du jour at the Tony Sly micro-stages on Friday. Frontman Aaron Barrett, looked very much the same as he did when I saw them last a decade ago. He doesn't look a day over ridiculous.
The ska-section on stage right features a saxist, trombonist and trumpeter. As a unit they gave impetus to Reel Big Fish's swing beats.
Following Everyone Else Is An Asshole, Barrett took a break from standard rock pose to engage. "I wrote this song about you," he informed the audience before playing Sell Out.
They closed out their set appropriately with Beer and their commanding cover of A-Ha's Take On Me.
Menacing Mastery – AFI
By this time most patrons had clearly dismissed the possibility of salvaging their shoes and surrendered their feet to the mud.
Cool rain drops fell as AFI took their stage. They saved the best for first by choosing Girl's Not Grey to start things off. Vocalist Davey Havok kneeled on the monitors and leered over the audience as if to demand more in response. It worked. The slam guitar and gang harmony vocals of The Celluloid Dream had sections of the main stage audience in a tizzy.
Havok's been a busy guy lately. AFI is touring on their new record AFI (The Blood Album). But he's also been hitting the road with his dispensable side-project DREAMCAR, where his dominant stage prowess and flamboyant confidence is wasted.
Of the new tracks played Snow Cats elicited the most notable response. But even that was negligible relative to the anthemic outro of Silver And Cold along with Miss Murder. AFI never disappoint.
Insistent Iconoclasts – Bad Religion
Intermittent showers didn't stop Bad Religion from drawing a crowd. From the onset of Fuck You, fans shoved and crushed forwards. Mud-covered crowdsurfers bounced over the rails in their droves.
The veteran punk rock stalwarts delivered an hour-long set chock-full of two-minute power-chord punk-rock ditties and the fans ate it right up.
Highlights included You, Generator, Sorrow and habitual closer American Jesus.
Ixnay On The Hombre – The Offspring
The Offspring have quietly embraced the role of nostalgia act over the past few years. They toured extensively playing all of their seminal record Smash before performing shows playing all of Americana as well. Ask fans when the band last released a record. Then ask if they care.
In that same spirit of reminiscence at this, their third Rockfest, The Offspring decided to reward the faithful with a treat: a one-off performance of their fourth record Ixnay On The Hombre.
Many of these songs had not seen the light of day since the late 90's. Specifically the raw rocker Leave It Behind which had apparently never been played live. After opening the set with The Meaning Of Life, guitarist Noodles took a moment to acknowledge his surroundings. "This is my favorite festival to play in North America," he confided.
They followed up the Ixnay with a run of mega-hits. Awash in rotating yellow spotlights Noodles promised he wasn't "gonna make any mistakes on this song." That prefaced the slick hi-hat and poppy vocals of You're Gonna Go Far, Kid.
Next came the infectious surf guitar and ecstasy of Come Out And Play. Singer/guitarist Dexter Holland's vocals were relatively solid for most of the set but they faltered a bit during the broken-home anthem The Kids Aren't Alright.
Noodles implored the audience to check out Deadly Apples (Alex Martel's band) before the band closed it out with Self-Esteem with fans in their thousands providing vocal harmonies.
Transcendent Conflagration – Rammstein
At a festival with many unique highpoints one moment stood out as the true climax.
Rammstein shirts were ubiqitous in Montebello. I met people who had travelled from around the world to indulge in the rare absurdist spectacle that is a Rammstein concert. The band has only extensively toured North America once in the past 17 years. The scarcity only serves to intensify the devotion that can be seen in their fans. I encountered a couple in their 50's who were determined to spend a great deal of effort during their glory years to chase Rammstein shows; this, impressively, was their 6th.
The anticipation was palpable.
As the stage was suddenly illuminated, revealing an industrial backdrop, guitarists Paul Landers and Richard Kruspe were lowered from elevated platforms. They simultaneously dismounted amid fireworks and were joined by the rest of the group for the Marilyn Manson-esque Ramm 4.
Burly and imposing, vocalist Till Lindemann was a guttural force throughout the evening. And his outfit changes would put Cher to shame.
Enter Fruer Frei! Landers and Kruspe positioned themselves to the outer reaches of the stage, their faces now equipped with devices that blasted 20ft flames out to the skies in unison with Lindemann's yells of "bang, bang." The precision, theatrics, lighting, pyrotechnics and furious music all united to create the consummate rock show experience.
Their choreography was methodic during the scathing Du Riechst So Gut. Keyboardist, oddball and gag-ball biting Christian Lorenz was walking a treadmill which appeared to be synced to the BPM of each song they played during this stretch. After Mein Herz Brennt he even hopped down so Lindemann walk him around like a servile masochistic canine.
Skin singeing flames rose again from both guitarists during trashing metal riffage of Links 2,3,4. It was a straight-up sensory overload that spilled over into the dynamic intensity of Ich Will.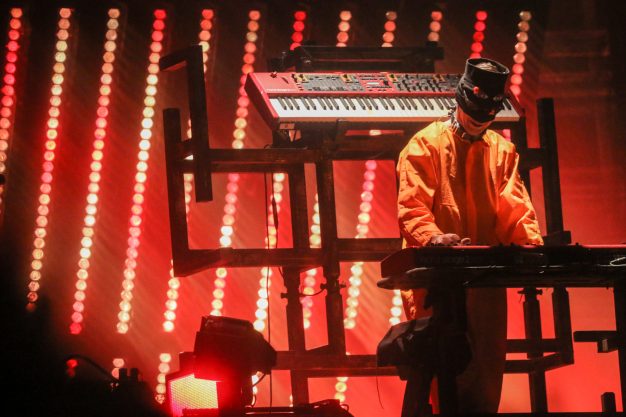 And then a searing (literally) Du Hast was upon us. Lindemann's outstretched arms conjured flames from below then flames from above. He was the maestro of the maelstrom, conductor of hellfire, deviating only briefly to take hold of bow which he used to shoot luminous red fireworks out over the audience.
Following an encore Lindemann, now fitted with ornate wings, was cable-lifted high above the audience for their final song of the evening Engel. And with a "merci beaucoup" they took leave of us to depart for another city to put their preeminent sorcery on display. What a show!
Sweet Sedition – Antiflag
Sunshine greeted early risers on Saturday. The mud remained omnipresent.
Pittsburgh's most renowned anarcho-communist punk rockers drew the unfortunate time slot of 11:40AM on the main stage. But surprisingly a hefty crowd turned out early for their spirited half hour set.
Just as we hopped into the fray bassist Chris Barker called for "the biggest circle pit of the day." The fans obliged as the band started into raucous rocker Die For Your Government.
On Rockfest, vocalist Justin Sane remarked that he couldn't "think of a better way to start the summer," before leading the band through a cover of The Clash's Should I Stay Or Should I Go. Barker then hopped off stage and into the crowd to rile up the crowds for Brandenberg Gate to close out the mini-set.
Precocious Punkrock – PUP
If your relationship can endure Rockfest it can endure anything. I suppose that was the mindset of one eager francophone. Having somehow talked his way on backstage prior to PUP's afternoon set, he took a knee on the small Tony Sly stage and proposed to his girlfriend. Spoiler: she said yes.
The newly engaged couple stepped back and the virulent Toronto rockers stepped forward. They started it off with Guilt Trip. Below them a dedicated cadre jumped and tossed only pausing to scream out "what am I supposed to do now."
"You all look like you've been up for 35-40 hours," guitarist Steve Sladowski quipped looking out over the wall of human shambles. In reality, his observation could have been a conservative estimate.
Oh how the mighty have risen. We first caught PUP in 2014 at Chicago's Riot Fest. Even on the smallest stage at the festival, and during the first time slot of the day, it was clear that this band had a future. Fast-forward to 2017 and they have nabbed high profile festival slots at Lollapalooza and Boston Calling, among others. Their sophomore record The Dream Is Over caught serious critical acclaim and they've been touring it hard.
Their abbreviated set, on a stage they'd clearly outgrown was surely an indiction of the avidity they now incite. The kids they did mosh.
After Reservoir the exuberant four-piece strolled through the uproarious twofer of If This Tour Doesn't Kill You and DVP. Take notice.
Espirit De Corps – Eagles Of Death Metal
Jesse Hughes was a rock and roll and evangelist, and we were his indoctrinated congregation.
After a pruriently furious Only Want You our preacher began his sermon. "Je ne parlais pas francais," he admitted. "Are you having a good time?" The converts raised their arms in approval as the band played Complexity, bearded guitarist Dave Catching raised his guitar to the rock Gods we were here to praise. To his left stood Serrina Sims, the newest addition to EODM's rotating cast and the only female performer I saw on stage the entire weekend. If Rockfest removed the "R" from their name and inserted a "C" would anybody bat an eye? But I digress…
"I got here late last night. It was a great night partying. I have not slept a wink," Hughes revealed. "I wanna hear it for this gang of rock n' roll animals." And then Hughes saw all he had made; the true believers did dance to the blistering I Want You So Hard (Boy's Bad News) and it was very good. (RNR 6:66)
"Rock and roll is the greatest job in the world," Hughes promulgated as a familiar face sauntered casually on stage and took a seat at the drum kit. Boots Electric and Baby Duck were united on stage once more. The audience erupted as Josh Homme led the band through Speaking In Tongues, their final song of the afternoon.
Frenetic Defiance – At The Drive-In
Heavy rains dissuaded us from catching Megadeth, but by all accounts Dave Mustaine managed to get through the set without lightning striking his tinfoil hat. Alexisonfire appeared to throwing down the gauntlet once again but we decided to settle in for for pressing matters.
At The Drive-In are back in earnest. When they reunited back in 2012, it was only for a handful of club shows and high-profile festival gigs at Coachella and Lollapalooza. At that point no one really knew if they'd hit the road again.
But last year their name popped up on the lineup for, you guessed it, Montebello Rockfest. Speculation about new music proliferated. Original guitarist Jim Ward departed from the band mere days before they were set to play a series of intimate east-coast shows. He was swiftly replaced, but in the days preceding Rockfest, vocalist Cedric Bixlar-Zalava's voice blew out and following his doctor's orders, he and the rest of At The Drive-In cancelled their Rockfest performance.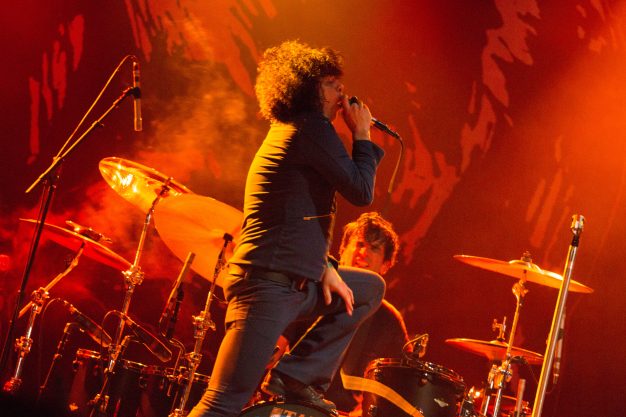 Jump ahead to 2017. Their new album in •ter a •li •a was released in May and it picked up essentially where 2000's Relationship Of Command left off. It's an uncompromising and grating rock record, one of the year's best thus far.
So it was only logical that Rockfest book the post-hardcore powerhouse again this year.
They took the stage dressed in matching blue suits. Guitarist Omar Rodriguez-Lopez's piercing acid squeals gained form until finally the drums kicked in. This was Arcarsenal. Cedric was everywhere at once. Jumping from the kick drum, rolling on the floor, jumping into the pit. He's the new hardest working man in show business. An intergalactic Hispanic James Brown.
"Who's gonna buy me a fuckin shot? Who's gonna buy me some biker shorts?" Cedric the entertainer mused in his own inimitable perplexing form of satire. He then began to sashay to Hostage Stamps, one of the choice cuts from the new LP.
The set was a healthy mix of old and new. Omar looked much like the Omar of old. He's known to occasionally linger disinterested in a corner at shows. But not on this night. He was right at Cedric's side during acerbic hits like Enfilade and Pattern Against User. Cedric tends to sing more than scream these days, but it works all the same.
They closed out the incendiary affair with the crushing One Armed Scissor as fans recklessly slam-danced below topping off the incredibly strident set, one of the weekend's best. Cedric dropped his mic and led the band off stage, looking like an afroed general who had just led his army to victory.
Part Deux – Queens of the Stone Age
It was inevitable that the two Queens shows would be quite similar, but that the environments were drastically different. At Rockfest, the enormous audience was charged up awaiting the return of rock's most formidable remaining innovators.
They took their stage shrouded in hazy blue backlighting without salutations. Feel Good Hit Of The Summer once again started the havoc. Bassist Michael Shuman jumped heedlessly about before returning to his mic the scream. Homme ditched his leather jacket before the sinister My God Is The Sun. His vocals are as exigent as they ever were. And they came through much more clearly this go round.
In many ways the coquettish Make It Wit Chu felt like the eye of the hurricane as it gave way to a baleful Sick, Sick, Sick.
When they finally got around to testing out the new material on a festival crowd it became abundantly clear that The Way You Used To Do had already infiltrated the zeitgeist. Much of the audience was already singing along a mere week after the song was released. But that was all for the new material. One can only wonder what tantalizing incantations await.
Much like the Rapids Theatre show, they opted to finish it up with Song For The Dead, showcasing drummer Jon Theodore's beast-mode acumen on the kit.
Eternal Nonpareil – Iggy Pop
The Queens took leave and adulation heralded the entrance of the King.
The venerable malcontent known as Iggy Pop may now be a septuagenarian but don't tell him that. His rugose, shirtless façade is just a cover for the tempestuous unbridled man-child that still dwells within.
The punk rock pioneer sprinted on stage, nearly tripping over his aimless feet like a confused toddler trying to run with his shoe laces tied together. His eyes were full of fire; his hair a flail. Incensed and manic he goaded on the audience from the start of the calamitous overdrive guitar of I Wanna Be Your Dog. Within moments he was already off stage, spitting at photographers and standing on the t-bars before being swallowed up by the crowd.
He and his band intermingled solo material with Stooges hits throughout the ephemeral set.
"Fuckin thanks for checkin us out" he shouted after The Passenger before instantly turning back to his band. "Motherfuckers go," he commanded. And go they did during a riveting Lust For Life as Iggy wandered over to stage right and tugged on the speaker cables, seemingly uninterested in what might happen if they broke.
Time fails to erode his words. When he belts out the "I'm a street walking cheetah with a heart full of napalm," during Search And Destroy, you still believe he is just that.
His brazen sporadic screams during T.V. Eye were a joy to behold.
And then we did wander over the muck and detritus, through the afterglow of Montebello's main drag, and into another world that awaited in the morning.
Rockfest!
The DIY mega fest pulled it off again. A few sour notes greeted fans and organizers alike on Monday when reports of a death just outside of the entrance of the festival began to surface (the first in the history of the event). A few other minor brushes with the law were reported, but most of what happened at Rockfest stayed at Rockfest.
Overall the little festival that could was better organized than ever before. Despite contrary forecasts, the skies were predominantly merciful.
The obstacles were many. Running on little to no sleep for days, ruining my shoes, ride-sharing with what turned out to be a petulant junkie and acquiring a poison ivy rash were but small footnotes on an otherwise amazing weekend.
Check out our Photo Gallery below: