It's the middle of winter and that can mean only one thing – summer festival announcements. Over the past 24 hours, numerous multi-day festivals (including the New Orleans Jazz & Heritage Festival) have announced dates and lineups for 2014. Here is a quick rundown for you:
Firefly Music Festival (June 19th-22nd, Dover Delaware):
Now in its third year, Firefly Music Festival will expand to a four day format. Hosted at the majestic Dover International Speedway; last year's festival saw massive overcrowding as Firefly has become a force to be reckoned with on the East Coast. With an expanded festival ground reported to hold upwards of 80,000 fans and a lineup including Foo Fighters, Weezer, Childish Gambino, and many more, it appears Firefly will once again be a raging success in 2014. Visit the official Firefly Music Festival website here.
Counter.Point (April 25th-27th, Kingston Downs Georgia):
Outkast has done an incredible job of reuniting and headlining virtually every major North American music festival in 2014. Roughly 70 miles from Atlanta, Andre 3000 and Big Boi will return to their home turf to headline Counter.Point 2014. While not a terrible lineup (especially if you are into EDM), one can only wonder if the likes of Foster The People, Sleigh Bells, and Pretty Lights are enough to bring out fans in a region that has both Bonnaroo and The Hangout Festival in their backyard. Visit the official Counter.Point website here.
Hangout Music Fest (May 16th-18th, Gulf Shores Alabama):
Located smack dab on the Gulf Coast, Hangout Music Fest has one of the cooler setups on the festival circuit. For 2014 the festival is of course bringing Outkast to the party, that shouldn't shock anyone at this point. What makes this appearance exciting is the fact Modest Mouse (who has been rumored to be working with Big Boi on their long overdue album) is also on the bill. A possible collaboration between these two is a rumor someone should start right now. If that doesn't do it for you, perhaps experiencing Jack Johnson, Flaming Lips, and Diarrhea Planet on the beach will. Visit the official Hangout Music Fest website here.
The Governors Ball Music Festival 2014 (June 6th-8th, New York New York):
Every white person who lives in Brooklyn will find themselves at Randall's Island over the weekend of June 6th through 8th, as The Governors Ball Music Festival has assembled the most hipster friendly lineup of 2014 (sorry Coachella). The Strokes will make their first live performance since 2011 and Interpol will finally come out of hiding. Other artists not named Outkast you will want to put up on Instagram as you brave the decrepit Downing Stadium include Jack White, TV on the Radio, and Deafheaven. Visit the official The Governors Ball Music Festival website here.
Big Guava Music Festival (May 2nd – 4th, Tampa Florida):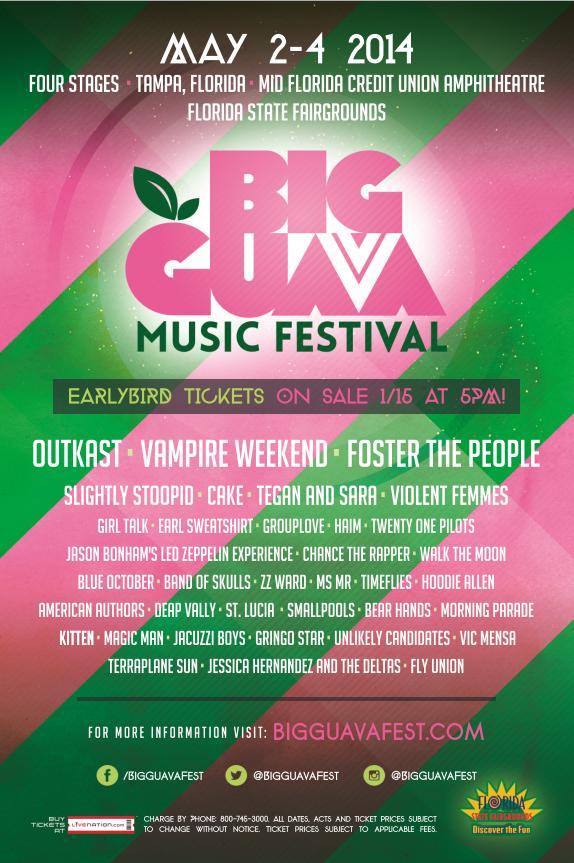 Here is an incredible venue name to fit on a t-shirt. The Mid Florida Credit Union Amphitheatre at the Florida State Fairgrounds is getting in on the festival action as Live Nation presents the first annual Big Guava Music Festival. Tampa's chance to see Outkast on one of four stages, the lineup also includes Cake, GirlTalk, Violent Femmes and Vampire Weekend. Visit the official Big Guava Festival website here.
Mountain Jam 2014 (June 5th – 8th, Hunter Mountain New York):
For the 10th year in a row, Warren Haynes will get a bunch of hippies out to a ski-resort in upstate New York for a few days of hacky sack and music. While we wait to see if Outkast joins previously announced headliners Gov't Mule and Bob Weir's Ratdog; Mountain Jam 2014 will feature performances from Wilco's Jeff Tweedy, Blitzen Trapper, two sets of Umphrey's McGee, and The Avett Brothers. As of press time, we can't confirm if the nitrous mafia will be in attendance, but with Pretty Lights performing a late night set, there is a pretty good chance of it. Visit the official Mountain Jam website here.
Shaky Knees Music Festival (May 9th – 11th, Atlanta Georgia):
Good news for hipsters with folk-sensibilities living below the Mason-Dixon line. The 2014 Shaky Knees Music Festival is a like a wet dream cum true for you as the Atlantic Center will host the likes of The National, Modest Mouse, Jenny Lewis, Jason Isbell, and many more artists who look good in plaid. For those who may not enjoy banjo rock, Dropkick Murphey's, Violent Femmes, and Cage The Elephant will bring some chaos to the ATL. Granted Outkast would be a bit out of place, perhaps Andre 3000 will show up with an acoustic guitar for a stripped down version of 'Hey Ya' during the final day of Shaky Knees? Visit the official Shaky Knees Music Festival website here.
Rock On The Range (May 16th – 18th, Columbus Ohio):
Now in its 8th year, Rock on the Range is back with another three days of hard rock and heavy metal madness. Hosted at the Columbus Crew Stadium (home of THE Ohio State Buckeyes) will feature headline sets from Guns N' Roses, Kid Rock, and Avenged Sevenfold. Other artists that make a trip to a football stadium in Ohio worth your time and energy include Mastodon, Down, Gojira, Kvelertak, and Exodus. The festival also promises a comedy stage for those who think the guys from That Metal Show are funny. Visit the official Rock on the Range website here.
Suburbia Music Festival (May 3rd & 4th, Plano Texas:
Bad news for all those kids in Plano Texas who overdosed and died from heroin back in the 1990's. They will all miss out on the inaugural Suburbia Music Festival at the Oak Point Park & Nature Reserve. While not a terrible lineup, 98% of the acts coming to Plano would be third or fourth line on a Coachella or Bonnaroo poster. But hey, at least The Dandy Warhols have an excuse to bust out Not If You Were The Last Junkie On Earth when they hit the stage down in the heart of Texas. Visit the official Suburbia Music Festival website here.
Boston Calling Music Festival (May 23rd – 25th, Boston Massachusetts)
Apparently Boston Strong also applies to festivals, as Boston Calling brings a strong lineup to the Civic Hall Plaza over Memorial Day Weekend. Yes, you are stuck with Jack Johnson as top dog, however performances by Death Cab For Cutie, Brand New, Modest Mouse, and Warpaint all but make up for the surfer who has re-recorded the same song for nearly 15 years. Visit the official Boston Calling website here.
Sasquatch! Music Festival (May 23rd – 25th & July 4th – 6th, George Washington)
Things are going pretty great for the state of Washington. Weed is legal, the Seattle Seahawks just won the Super Bowl and the annual Sasquatch Music Festival is expanding to two weekends in 2014. Adding in a July 4th extravaganza to go along with the annual appearance at the breathtaking Gorge Amphitheatre; two unique lineups compete for your hard earned dollar this year. Both lineups are beyond action packed and offer something for everyone. Hell the view of the Columbia River behind the main stage is worth price of admission alone. Visit the official Sasquatch! website here.
Rocklahoma (May 23rd – 25th, Pryor Oklahoma):
Only in Oklahoma could Staind be considered a headline festival in 2014. But hey with Deftones, Motörhead, and Jackyl, I suppose there are worse ways to spend three days in Oklahoma. Visit the official Rocklahoma website here.
Free Press Summer Fest (May 31st – June 1st, Houston Texas):
Located in beautiful Eleanor Tinsley Park in Houston Texas, the 2014 Free Press Summer Fest is nothing short of impressive. A lineup as diverse as the city itself, Deftones, Chvrches, DMX, Mariachi El Bronx and more will descend upon the Gulf Coast right as May gives way to June. Visit the official Free Press Summer Fest website here.
Skate and Surf Festival [May 17th – May 18th, Middletown New Jersy]
When Bamboozle Festival organized John D announced after the 2012 installment that Bamboozle was no more, it was declared that the Skate and Surf Festival, the original entity that eventually grew into 'Boozle, would rise once again. After a rainy logistical shitshow of a return in 2013, Skate and Surf is back for another year with a preliminary lineup that takes a step back toward the festival's pre-Bamboozle roots with reunions from both Midtown and Saosin with Anthony Green and performances from DMX, The Early November, Circa Survive, and many more. Check out the festival website for full ticketing information.
Oshega Music Festival 2014 (August 1st – 3rd, Montreal, QC)
All bands from all festivals in the United States head north of the border, where all sets will be performed in French Canadian. Okay, that's a total lie, but all these posters are starting to look the same and hey look, it's Outkast. Check out the official Oshega website here.
Heavy Montreal (August 9th & 10th, Montreal, QC):
One week after Jack White, Outkast and Lorde invade Montreal, the headbangers pay the beautiful city a visit. The Tom and Kerry show (aka Slayer) will headline one night, while Metallica will perform their only North American 'By Request' set as the other festival headliner. While we can all laugh at The Offspring being so high up on the lineup, Lamb of God, Exodus, Whitechapel and many more make this the best of the best as far as heavy metal festivals go in North America. Check out the official Heavy Montreal website here.
Bottle Rock (May 30th through June 1st, Napa, CA):
With a reported $2.5 million worth of unpaid bills from the inaugural event in 2013, Bottle Rock will once again return to Napa California in May. With headliners including The Cure, Outkast, and Eric Church, the most fascinating aspect of this lineup is how heavy on the 1990's it is. Weezer, Third Eye Blind, Smash Mouth, Spin Doctors, and Barenaked Ladies are just some of the finer musicians who hit it big back when Bill Clinton was getting BJ's in the White House. One must wonder if a wine country visit from Outkast means fans who flock to San Francisco's Outside Lands will luck out and not get stuck with them as a headliner in 2014?!?!?! Visit the official Bottle Rock website.