The 10th anniversary edition of Chicago's Riot Fest and carnival was a mucky, wet, congested, conflict-laden, mess. But it was our mess to share; a bash for punk enthusiasts from around the world to unite for the rock, and it featured one of the deepest and most eclectic festival lineups in recent memory. It wasn't difficult to find ecstasy in the chaos at Humboldt Park.
Day 1: Slayer, Failure, Gwar, Pussy Riot, Gogol Bordello, Offspring, Bad Religion @ Double Door
Day 2: Die Antwoord, Descendents, Wu-Tang, Cock Sparrer, Dandy Warhols, Wavves
Day 3: Primus, Dropkick Murphys, Tegan & Sara, Patti Smith, Weezer, Pup, Bouncing Souls
Nature threw a mixed bag of extremities throughout the weekend, first slapping us with unseasonably cold temperatures and heavy rains on day 1, leaving the festival grounds a ravaged, quicksand-like muck pile, only to revert back to a dead heat on day 3 when lassitude and hangovers were visibly peaking amongst the attendees. But this was a dedicated group, topping out at a sold out 55,000 on the third and final day, and despite all of the dissuading disorder, most clung desperately to the moment; a communal sea of smiling, smoking, tattooed misfits rocking mohawks, and leather and safety pins and studs, together to celebrate punk, the music and ideology.
Boasting not only a massive musical lineup, but also a plethora of carnival rides and games, a zombie house, chainsaw sculptors, an arcade, Riot (mini) Putt, an array of punker paraphernalia shops and a delightful lack of corporate propagandist advertisements, Riot Fest provided more entertainment than was safe for human consumption. Then, on top of all of this, came the 10th anniversary concept of convincing 10 bands on the lineup to play their seminal records front to back.
Bloody scumdog demon orgy: GWAR, 4:15PM Friday @ Rebel Stage
Before the mud came the blood. This was only to be GWAR's second show since the needle-OD-death of frontmonster Dave Brockie, AKA Oderus Urungus, and it was going to get messy. Shit, it already was a damn mess. The grounds were a muck den from the start.
"Where are we? In Cleveland" chided newly anointed frontmonster Blothar. "We have been called to save your stupid rock and roll music," he screamed. What followed was the traditional monster orgy/battle/bloodbath that the costumed hype metal outfit is revered for. And I guess they played some music. Of course, the music was but a distant afterthought to the spectacle of the ridiculous and comical carnage.
A wall of monsters with guitars stood at the edge of the stage and blasted through Madness At The Core Of Time while Blothar raised his demon blood utters and showered the audience in their mystery concoction of goblin hemoglobin.
Cleansed in fake blood from the waist up and accumulating a muck layer from the waist down, the audience was a filthy mess during the first song of what was for many, the first set of the weekend's festivities. It was easy to spot the GWAR fans throughout the weekend as many of them failed to wash off the dousing red stains from their skin.
Mechanized monsters took to the stage and began battling each other to the sounds of Hail, Genocide, which went on to feature the decapitation by circular saw of the fight's loser.
An exhumed fat-Elvis took a moment to honor the fallen scumdog. "Join us now as we sing his praise" he said, before offering up "free haircuts and abortions" to his blood spattered minions. Then there was a prolonged battle with a giant dinosaur. Why not right? Plentiful perversion and gore weren't a bad way to start the riot!
Return from parts unknown: Failure, 5:15PM Friday@ Riot Stage
Failure modestly took the Riot Stage in front of a small but dedicated crowd. The 90's alt-rock reunion act was a strange addition to the predominantly punk lineup.
Guitarist/frontman Ken Andrews noodled with the dissonant grunge riffage of Screen Man while bassist Greg Edwards' glowering indifferent expression almost made it seem as if he had been foretold of the scathing Failure-bashing tirade NOFX's Fat Mike would embark upon the moment they stopped playing.
"We are Failure. We are from Los Angeles, California," Andrews mumbled before they played Frogs. The droning slow build progression of Another Space Song went over like a lead balloon in the festival setting, before Andrews announced: "We're gonna pick up the tempo now and get a little warmer," leading the band into into a raw and powerful rendering of Pillowhead. They were at their best when they brought the heavy.
Insight from the motherland: Pussy Riot panel featuring Nadia Tolokonnikova, Masha Alyokhina, Henry Rollins, Greg Graffin, Tim McIlrath, Marcelle Karp and Michael Petryshyn, 5:45PM Friday @ Riot Fest Speaks Stage
Two years in the gulag for the silly non-violent crime of "hooliganism." The sentencing heard round the world brought international attention to the lunacy of Putin's Russia long before the most expensive Olympic games in history, the annexation of Crimea, MH17 and "Cold War 2.0" and made the underground feminist/communist protest collective known as Pussy Riot into a media sensation.
Friday's panel was attended surprisingly by a large group of curious festival goers, braving the cool breeze and persistent rains, and skipping NOFX to take in a candid and poignant political discussion featuring many of punk rocks brightest minds. With Henry Rollins as the moderator, it was no surprise that the conversation veered into the directions of punk rock history, lessons on civil disobedience, and modern feminism vs. misogyny. At times it was actually quite humorous.
"It has been the mission of Riot Fest organizers to bring Pussy Riot here" said Rollins before welcoming them to the stage.
This was the only panel of its kind to date that the cute Russian dissidents have done at a festival. Nadia Tolokonnikova, Masha Alyokhina spoke at times through a translator, and at other times busted out some English. Their handlers must have suggested English lessons.
One of the more interesting directions the conversation veered towards was the broad comparisons between Putin's Russia and Obama/Bush's America, with people in the audience vocally disagreeing briefly with festival organizer Michael Petryshyn's perspective that the Russian political beast is much worse than the system in America.
"Well if you think there is a big step from democracy to dictatorship you are wrong", informed Alyokhina. "When Putin moved for a 3rd term, we moved to punk to make a statement," later reiterating, "punk rock is a vehicle to action. Punk is not just music. It is a statement. A lifestyle."
Rollins appeared to be in the same camp. "The first amendment from time to time speaks up for you. Not in Ferguson and not at Occupy." He began discussing the progression of the punk rock ethos and those who have carried its proverbial torch. "You heard it," he told the audience, "we heard it, and all the way in Moscow, Russia, they heard it."
Tolokonnikova was quick to point out differences between Russia and the USA though, informing us that socially conservative politicians in her country "are trying to pass laws to prevent high heels and make women ask men if they can buy cigarettes."
Tolokonnikova then joked that she thought Putin had had a "personal vendetta against them" long before their innocuous performance at Moscow's Cathedral of Christ the Savior because she suspected he had heard their song Putin Pissed Himself.
Here are some other takeaway quotes from the fascinating discussion:
Bad Religion's Greg Graffin on punk idealism: "I always knew at home that I didn't care what I looked like, but I cared what I wrote."
Rollins: "I knew it was my duty to question authority."
Rise Against's Tim McIlrath: "Punk is always going through software updates and Pussy Riot is the latest version."
Graffin: "We have a very stupid right-wing contingent in this country that agrees with the way Pussy Riot was treated."
Journalist Marcelle Karp on the aforementioned Cathedral performance: "To get up there and say 'God is shit' required an incredible amount of bravery."
Tolokonnikova: "Bikini Kill forever."
It was difficult to walk away before the conclusion of the discussion, but doins were transpirin' elsewhere.
Gogol Bordello, 7:00PM Friday @ Riot Stage
After ripping on Failure and The Cure during a NOFX set that featured all of Punk In Drublic, Fat Mike mockingly referred to the gypsy-punk enclave that was about take the stage as "Google Bordello" just as NOFX was cut off during a rare performance of The Decline. The incessant shit-talking made the NOFX set one of the most buzzed about moments of the weekend.
Heavy rains began to fall as Gogol Bordello began to race around the Riot Stage, reaching back to their Gypsy Punks record early for a raucous Not A Crime while the audience took to dancing the cold away. Gogol is all energy, all the time. The only member of the merry band of ragtag eccentrics that doesn't frantically bounce around stage and jump on the monitors to entice the audience is for obvious reasons, their drummer.
"The conditions are extremely luxurious," singer Eugene Hutz joked before leading them into catchy riffs and gang shouts of My Companjera. Drinking from a bottle of red wine must have grown old because he opted instead to shake it out all over the fans in the front rows.
Their set seemed ludicrously brief, which is often a nagging issue at festivals. Immigraniada (We Comin' Rougher) and Start Wearing Purple were gifted to us as a large migration commenced.
Smashed expectations: The Offspring, Friday 7:45PM @ Roots Stage
There was a massive crowd swell at The Roots stage. At other times in the day the audiences had been pulled in different sonic directions and divided, but it seemed that everybody on the grounds was there to catch The Offspring play the highest selling independent album of all time, Smash.
When that all-too-familiar bass line preluded Bad Habit, the audience erupted into countless mosh pits and the crowdsurfers began to hit the waves in droves. Frontman Dexter Holland, leaned over the edge of the stage. Bright lights illuminated the crowd as they spat his lyrics right back at him; "you stupid, dumb shit, goddam, motherfucker!"
The rain was coming down, but steam was rising from the crowd during Gotta Get Away. Following the surf riffing of Come Out And Play, guitarist Noodles began to tease. "I'm gonna go out on a limb and say 97% of you guys are doable. Let's meet behind the tilt-a-whirl."
Self Esteem and All I Want were massive sing-alongs. Holland's whinescreams sounded better than I had remembered from shows past.
"I love this fucking crowd. They're goin' crazy out there," Noodles jested before going on to invite us all to again to "one big massive Noodles orgy behind the tilt-a-whirl."
They topped it off with a 3-pack of Americana hits: Pretty Fly (For A White Guy), Why Don't You Get A Job, and a raging The Kids Aren't Alright.
Tough choices: Slayer, 8:45PM Friday @ Rebel Stage
Rise Against vs. Jane's Addiction vs. Slayer playing Reign In Blood in its entirety? It had to be Slayer.
They took their stage in darkness, a nebulous smoke cloud enveloping them. Their backdrop consisted only of hanging gothic crosses, hung upside down. This was going to be brutal. They opened with a thrashing Disciple, bassist Tom Araya growling anguished at the audience, "God hates us all!"
Guitarist Kerry King looks like anger incarnate when Slayer plays. His fury and precision were unrelenting. They played War Ensemble with haste, as if to remind all of the punkers in the audience just how fast guitars can be played.
The rain had let up a bit by this point, but the ground at the parks north east side was a sinking muck mess. Earlier on, people were avoiding the more saturated areas of the park like the plague, but by this time most had clearly accepted the inevitability that their shoes were going to be residing at a landfill in the near future and accepted their filthy fates. Despite the rain and the cold and the mud, the majority of this dedicated festival audience stuck it out until the end.
Enter the soundtrack to Auschwitz, Angel Of Death; the merciless thrash-metal matching Araya's horrid retelling of history. The fact that they played songs like Criminally Insane and Reborn even faster live was as confounding as it was incomprehensible. No banter, just metal.
On the same stage where, during GWAR, blood had rained over the audience, Slayer closed out their hour long set with Raining Blood.
Pain and perfection: Jane's Addiction, Friday 8:45PM @ Riot Stage
Following Slayer's devastation I meandered towards the exit when something caught my ear. Jane's Addiction was still kickin' it, and they were just starting to lay into Stop. What appeared from afar to be two female trapeze artists ended up being two female pain artists being suspended from meat hooks high above the stage. Dave Navarro's crushing guitar tone was worth one more tromp through the mud.
Aftershow with the athiests: Bad Religion, Friday 11:40PM @ Double Door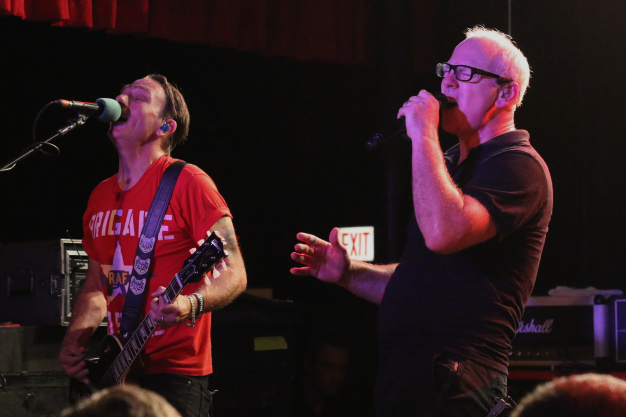 The rain, cold and filth that became a dominant narrative of Riot Fest's first day didn't deter the 500 lucky buggers who found their way over to Wicker Park's Double Door for an exclusive oversold performance from grandpa Greg (Graffin) and Bad Religion. It was tight in there. A stinky, sweaty near two-hour frolic in the club with some of punk-rock's elders was a stellar conclusion to a loaded day. Most of their songs top out at two minutes, so they understandably managed to cram a lot of them into this set. With fervor they blasted through Fuck You, Supersonic, and No Proof.
"This is a small venue. We don't normally play places like this," Graffin declared. And then it was Stranger Than Fiction and I Want To Conquer The World as the moshers could've given the Slayer fans a run for their money. They threw down with little to no concern for their poor bodies, all the while mouthing along to every politically charged lyric. It was cold outside but it was hot at the punk rock show.
Graffin asked who in the crowd had skipped NOFX to catch him earlier in the evening at the Pussy Riot panel, seemingly amazed that "people stood in the rain to hear 4-5 of us talking." He then joshingly demanded a beer, only to complain when it arrived in a can. "Who came here hoping for a production? This is our intimate show. There is no production… This is the first time I'm gonna get drunk in front of an audience in 31 years." His jovial temperament has always brought extra value to Bad Religion shows.
Bassist Jay Bentley looked a giant on the small stage, a smile glued across his face throughout. They appeared to be enjoying it as much as the audience was.
The rest of the show was a career retrospective condensed into a furious punch-run of hits. Los Angeles Is Burning, Generator, Sorrow, You Are The Government, Superman, Infected, and the sticky arpeggio bass of You were all ripped through in what felt like ten minutes. And then it was American Jesus and over and time for everyone to gear up to do it all over again the next day.
Day 1 Photos:
Day 1: Slayer, Failure, Gwar, Pussy Riot, Gogol Bordello, Offspring, Bad Religion @ Double Door
Day 2: Die Antwoord, Descendents, Wu-Tang, Cock Sparrer, Dandy Warhols, Wavves
Day 3: Primus, Dropkick Murphys, Tegan & Sara, Patti Smith, Weezer, Pup, Bouncing Souls