Venerable music Mecca Austin, Texas celebrated its 9th iteration of Fun Fun Fun Fest this past weekend with brazen aplomb and circumstance. Long lines on opening night and encroaching construction in festival site Auditorium Shores didn't inhibit the ever-growing festival's diverse denizens or quickening roster of big names, reunions, throwbacks, and oddballs. Antiquiet was there to indulge again.
Even at its lightest on the first day FFF maintained a healthy spread of people watching each color coded stage. Balding Japanese punk band Peelander-Z fired a taco cannon into a large afternoon crowd from the Black Stage, which soon after hosted some doom metal from Pallbearer, which stood the test of sunshine quite well.
Following that former Dead Kennedy's frontman Jello Biafra and his band The Guantanamo School Of Medicine rattled off some enjoyable punk songs along with other stuff about America being a feudal state and other such things you would expect a band with a name like that to say.
On the Yellow Stage, mainly reserved for comedy and random bullshit like Air Sex Championships that let oddly shaped people feel empowered, America's funnyman Neil Hamburger started a set aimed at musicians. One highlight was "Why was Jim Morrison's coffin so long? Why, to make room for the dunce cap, of course!"
Killer Mike and El-P of Run The Jewels, an ebony and ivory union of genius forged in rap heaven, enraptured the Blue Stage audience. The professedly pugnacious pair's unmatched interplay led the audience in a hearty "Fuck Sun Kil Moon" chant and offered other sage advice over a set of mostly new (badass) material.
Somewhat reunited post-sanity band The Blood Brothers ushered in the first night's darkness to rabid and eager fans. Roughly a decade ago they were a rising band that refined their crazy with each album but ultimately split to start a plethora of other projects. Dual wailers Jordan Billie and Johnny Whitney led the crowd with raucous vitriol into frenzy amidst a furious dissonance.
Death From Above 1979 pounded out a fun and fiery fan favorite set under a rapidly cooling night sky. It's testament to their ability as performers that the two Canadians don't have to rely on anything but each other to draw and move a massive outdoor crowd. It's rumored that they even roused some Dinosaur Jr. fans out of deep REM sleep over at the Orange Stage.
The always solid Atmosphere and the burgeoning Alt-J closed out the main portion of the first night at around the scheduled 9:45 PM, which would seem extraordinarily early if FFF didn't pour out into downtown Austin music venues late into the night, where bands like Steel Panther prey on young nubile women.
Long Island's Glassjaw are akin to a vampire that lies dormant for long periods of time but wakes up every so often to wreak utter fucking havoc. Day 2 of Fun Fun Fun Fest was one such event, but this beast played in direct sunlight, inviting sweat and fists towards the stage. Guitarist Justin Beck made sonic excellence look easy while Daryl Palumbo showed he still has one of the best and most recognizable voices in heavy music, one capable of raising the hairiest fist or dropping the tightest panties.
English electronic pioneer and Trent Reznor idol Gary Numan graced the Blue Stage soon after supported by a surprisingly heavy and dark set. His rendition of Metal sounded even more sinister than the Nine Inch Nails version and was well received in the broad daylight.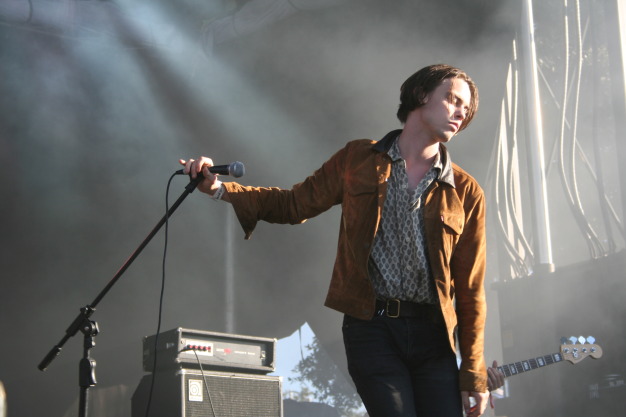 Hailing from what must be the bitter darkness of Copenhagen, Iceage took the Black Stage next, captivating a large audience with involved post punk and looks of utter disdain from singer Elias Rønnenfelt. They ooze maturity and somber dedication for such a young band, forming in 2008 when most of them were around 17. They must have hitched a ride from Denmark with King Diamond, who played later that night adorned in his iconic makeup underneath giant upside down crosses. Another highlight from that second night, which is undeniably amazing no matter who you are, was an actual meteor appearing behind the stage during Modest Mouse great set while they played Dark Center Of The Universe.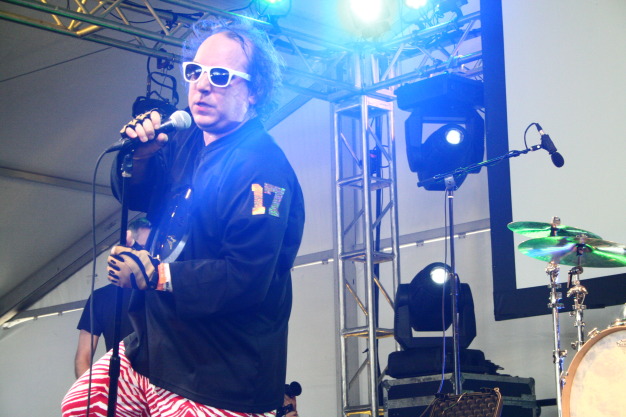 Day 3 brought a typically great and nearly nude performance from Har Mar Superstar, an unseemly vocal dynamo and hilarious persona that has to be seen to be believed. The Minnesota native has written songs for some huge pop names out there, including Jennifer Lopez, but incorporated the song Tall Boy into his own work after Britney Spears' management rejected it. It equates crushing beers to banging dudes on a wild night out, bad move Britney. Lady, You Shot Me was the highlight of the set, a song you would swear is a cover of a famous soulful blues song you can't quite place.
Deafheaven took the Black Stage mid-afternoon to sunbathe with a massive and motivated crowd. No doubt black metal purists were in some forgotten corner of the festival sourly cursing everyone having a blast and somehow finding the nerve to enjoy shoegaze with metal vocals. Frontman George Clark stood tall over the audience to beckon them closer with fierce eyes and robotic movements like some benevolent dictator.
The real headliner of the festival eclipsed the last light of the festival with her haunting presence and stilled the hearts of all passersby with a penetrating ethereal voice. Chelsea Wolfe easily bewitched the packed Yellow Stage tent area into a trancelike state for the entirety of her all too short set. Chelsea ended on a high note with an extended version of the song Pale On Pale, slipping off stage while her formidable band went berserk into cacophonous jam territory.
It was another solid year at a festival that prides itself in maintaining its cool as it throws together what might appear to be conflicting parties from all over the spectrum. After all is said and done we're not so different in the end.