The quotation upon the gravestone of Charles Bukowski reads "Don't Try." Listening to the 10th album from Eels, it's clear that Mark Oliver Everett has taken the late author's words to heart.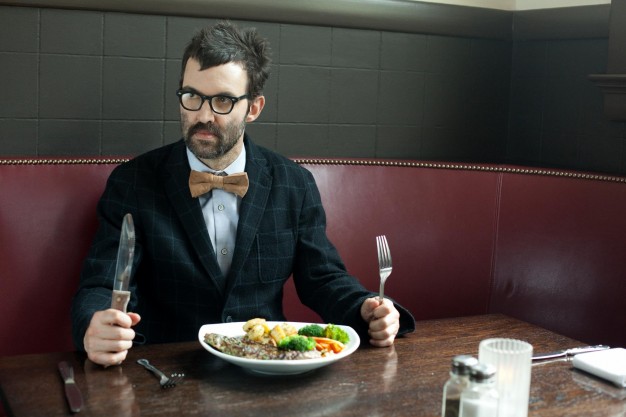 Wonderful, Glorious follows up the underwhelming album trilogy of Hombre Lobo, End Times and Tomorrow Morning with an equally uninspiring collection for 2013. Everett could have reworked the blueprint entirely, as he's done with past classics like Electro-Shock Blues and Blinking Lights and Other Revelations, but instead delivers more of the same; another 13 tracks bound to be skipped when your iPod is on shuffle.
The 13 track effort (26 if you ordered the deluxe-edition) kicks off with the promising Bombs Away, an anti-slacker anthem with rich instrumentation that serves as a perfect road map for someone hearing Eels for the first time. Snarling vocals, jaded guitar lines and deep enough beats to make you not regret buying those too-expensive headphones Dr. Dre sold you combine together nicely for an enjoyable listen. Kinda Fuzzy keeps the pace set by Bombs Away and is shockingly optimistic as the typically depressed Everett sings 'I'm Feeling Kinda Fuzzy, But the Future Looks Bright. Don't Mess with Me, I'm Up For the Fight.' Enjoy these two tracks, as it's all downhill from here.
One of the issues with Wonderful, Glorious is the bi-polar feeling of the music. Hard rocking and heavy hitting blues based songs fail to mix with soft and simple introspective numbers. While this won't matter in an era of massive music libraries shuffled day in and day out, those looking for an album experience must suffer through a rocky and often uneven listen.
The first of many slower tunes featured on the album is Accident Prone. The soft clunky song may clock in at less than three minutes, yet it feels like an eternity as the lonely protagonist accidently stumbles into some company. While the tempo picks back up with the album's first single Peach Blossom, the distorted bass lines and thundering drums aren't enough to drown out the lackluster lyrics. I get that they can't all be zingers, but this one is anything but timeless and will be long forgotten by the time you fire up the first BBQ of summer.
More proof of the "Don't Try" philosophy is the acoustic-open-mic-night-at-your-local-coffee-shop simplicity of On The Ropes. Anyone who has ever read Things The Grandchildren Should Know understands that life has been anything but easy for Everett. However falling back on the played out boxing cliché is a rather easy way to document the struggle to keep pushing forward in life and by this point in his career, Everett should be capable of coming up with a far better metaphor to capture his struggles.
The strongest moment on Wonderful, Glorious comes from the raucous second single New Alphabet. Comprised of great riffs and the catchiest hook found on the record, this is the one tune that will actually get stuck in your head.
True Original was truly amazing back in 2005 when it was called If You See Natalie. Yes, the piano lines have been replaced by guitar, but this is anything but truly original. Speaking of unoriginal, while Eels have used blues inspired riffs since Dan and Patrick were attending high school in Toledo; it's hard to not feel you are watching another ad featuring the music of The Black Keys when you listen to Open My Present. Yet if you are the type of person who enjoys holiday music year around, this swamp boogie about unwrapping gifts has your name all over it.
The one bright moment on the second half of Wonderful, Glorious is I Am Building A Shrine. It's formulaic, but with some unique guitar interplay (including some well-placed delay) and one of the few lyrical passages that truly makes you feel moved inside, it lets you know that Everett still has it deep inside him to move people with new music. It's just as shame he can't get to this point more often these days.
When you write as many songs as Mark Oliver Everett, you must expect some filler here and there. Yet with Wonderful, Glorious, the formula has gone stale. As a longtime fan it breaks my heart to say this, but it feels more like product to promote another trip around the globe then something designed to truly move those who have stuck with Eels for nearly two decades. Perhaps better suited as an EP, the captivating moments on the 10th full length record from Eels are few and far between. Let's just hope some fresh blood finds Eels and gets them over the "Don't Try" hump when album number 11 sees the light of day.
2.5/5
Reviews published prior to February 23, 2015 used a 1-5 star rating system.