Amanda Palmer is willing to die for her audience. She walks on stage with her opening act and Grand Theft Orchestra member, Jherek Bischoff, and greets her audience with a smile and a bow, and she never leaves. She sits in the far corner of the stage as Bischoff performs an exceptional set of both heavy bass music and string-based arrangements, accompanied by local Torontonian musicians – by Amanda Palmer fans. Palmer watches on intently. Another Grand Theft Orchestra member, Chad Raines, is now resting his head on her shoulder. She is stroking him, but her eyes are all on Bischoff and her ears to his music. She lips and murmurs the words to herself, and smiles when Bischoff smiles, and applauds as if she, too, was a fan, and she is.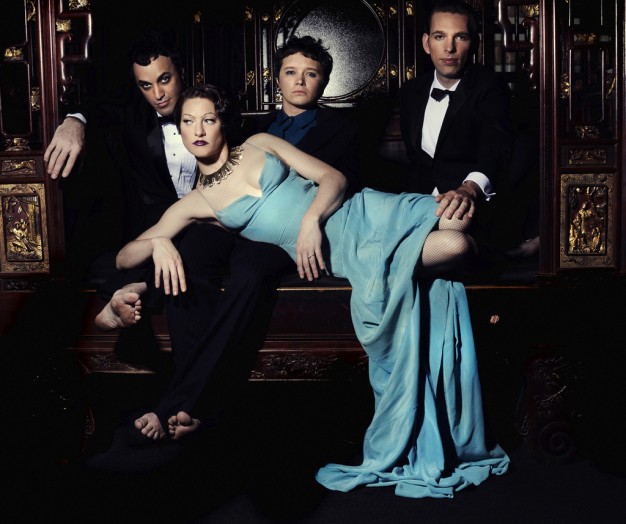 There is no pecking order in this environment. Even Palmer, who the audience has chiefly come to see, refuses look down upon her fans as if she is, in some way or another, worthier than them. A stage is meant to evoke that feeling. Everything is darkened, but you – the performer. You stand above your crowd like a deity, as you are applauded and wept over, and as hundreds of hands try to reach out for you and never do. Palmer, however, declines this separation between artist and audience. She is one of us, and when she performs, she isn't enacting previously rehearsed arrangements; she is sharing one precious moment after another. These are treasurable moments that she has chosen to impart. It's a privilege, in a sense, because they are so utterly personal that not many artists would have the courage to present them as openly as Palmer does. You can see the torment in her eyes when she performs the harrowingly private The Bed Song, and you see the audience empathizing, even mourning. They're crooning, they're crying, or they're silent, staring at the songstress in wonderment. It is authenticity that surrounds every one of Amanda Palmer's shows. No performance ever is the same, and each and every night with the songstress seems like something special, something different, and something unreplicable.
During an impassioned rendition of Bottom Feeder, with the first-rate Grand Theft Orchestra alongside her, Palmer positions herself on the ledge of the stage as she sings her song. She is as present as ever, singing with fire and fervency. It is all too clear that she wants to be here, among her fans. She trusts these fans, and she loves them. In fact, she loves them enough to die for them. "Throw me in the water, because I wanna' be a bottom feeder," she sings, and then, to everyone's astonishment, she plunges downwards onto her audience. Not one person misses their cue. They hold her up and embrace her, and she drifts across the Phoenix Theatre as the audience is blanketed under her beautiful silk gown. This is Wayne Coyne without his Space Bubble. Palmer trusts her audience enough to not want to be separated from them, and the audience affirms this trust. They move her smoothly across the seemingly endless froth of people and bring her back to the stage safely. Palmer carries on with her showmanship, as if unaware of everything that just took place. She is kneeling on stage now, and still singing fervidly. Moments later, she is on her hands and knees with Raines in her arms again. She's wallowing in her song before her audience. She trusts them enough to pull up all the curtains and to break down the separation between fan and artist. She is both fan and artist, after all.
The Grand Theft Orchestra is no backing band either. They are Palmer's equals, standing at the front of the stage beside her and she beside them. They all clasp on to their own distinctive personalities, and Palmer is merely the one band member that the audience knows better. They enjoy performing, and they play on stage. They play something akin to musical chairs during Missed Me, where each band member takes over the other's instrumental duties after the central piano chord is played. They also speak openly about their elation when just moments before the show Trent Reznor approved of their latest music video. There is also Palmer's little birthday surprise for husband Neil Gaiman. She had previously asked a number of her fans to bring body paint with them to the show. They were to write a birthday message for Gaiman on their own bodies. Midway through the show, Palmer invites them all to the stage, a group of wonderful misfits, and they strip down and begin to sing "Happy Birthday," to the prolific writer – every one of them realizing that for a mere moment, they have played a divine part in the romance of the two artists.
The passion that exists among this group of four musicians (and their fans and their roadies and their tour manager and everyone else associated with them) is unequaled. "You Are The Future of Music," a fan's sign reads at the front of the stage. Chad Raines asks for the sign, takes it, and points it towards the audience instead. "You are the future of music," he seems to be saying.
There is this familial relation both the audience and the performers on stage seem to have with Palmer. They love her, and it's not just the love of a fan for a performer. It's love. Palmer has always been exceptionally open to her fans. She has been honest enough to let them in, and to allow them to know who she truly is. "Artist" and "individual" are not distinct in Amanda Palmer's world, and there is nothing dishonest, nothing merely performative, and nothing veiled in Palmer's eyes. In Palmer's world, theatre is evil after all. It's genuineness that she craves, and not performance or production. Everybody knows her behind the make-up and behind the corset. They understand her. She has allowed them to. And then fans openly love her for her honesty and they love her for her vulnerability and they love her for herself. These are not rabid fanatics either. They are just beautiful misfits that are proud to embrace who they are, unjudged by their patrons, and undeniably unjudged by Palmer herself.
"You're safe here," she seems to say with every smile and every utterance and every piano key, and we are. To prove it she makes us dance and she makes us sweat and she makes us whimper, and not once are we judged for it. Everybody is equal in Amanda Palmer's grand cabaret, and everyone is beautiful.