For the first time in four years, Jay Z is on the road without any help from his friends. The throne Jay shares with Kanye has been dismantled, at least temporarily, and his Legends of the Summer tour with Justin Timberlake is now in the rearview mirror. Out on his own, Jay Z's Magna Carter World Tour stopped in Oklahoma City at the Chesapeake Energy Arena last night, allowing Jay Z to remind the world that while his collaborations can prove impressive and entertaining in their own way, he doesn't need the help to deliver a powerful headlining act.
That's not to say Jay was entirely alone – no, his live band was with him, complete with longtime collaborator Timbaland handling DJ and keyboard duty for the evening. Make no mistake about it though – this was a Jay Z show and was billed as such. With no opening act to warm up the crowd, Jay hit the stage a few minutes later than anticipated. Coming strong right out of the gate, Jay kicked the show off with U Don't Know, immediately giving some love to 2001's monumental The Blueprint LP. Jay was all smiles during the instrumental portions of the track, visibly excited to be performing and making it clear he still enjoys what he does.
Crown was up next, bringing the crowd up to speed with Jay's latest album, Magna Carta Holy Grail. As Jay tossed off his jacket and revealed a simple black t-shirt with a bright white cross on the back, he demanded that the crowd bounce up and down and he got precisely what he wanted. His boasts reach near Kanye level during the track (You in the presence of a king / Scratch that, you in the presence of a God), but with the way Jay controls the crowd it's hard not to believe his claims, at least in the confines of the arena.
As far as production is concerned, Jay Z's staging was fairly basic. Constructed out of what appeared to be disco-infused Rubik's Cube material, Jay and his band rested atop giant flashing panels with plenty of HD cameras on stage throwing out footage to the colossal screens flanking each side of the stage. It was simple and effective, and not near as flashy as Jay's previous tours with Kanye and Timberlake. Instead, it mostly provided simple lighting so the crowd could see Jay center stage, relying more on his skills as a rapper and performer than on any visual tricks.
The grinding, Justice-sampling On To The Next One got an abbreviated performance before giving way to the Timberlake-laden Holy Grail, one of the stronger songs from Magna Carta. The night was predictably peppered with tracks from the critically divisive new LP, including Picasso Baby, Somewhere in America, FuckWithMeYouKnowIGotIt and Tom Ford. The crowd responded well to most of the newer material, but it was Tom For that really seemed to light a fire under the collective feet of the audience. Diamonds got tossed up, girls kept it "trill" (as instructed) and the song's stuttering beat had everyone doing their best to move in time with the track.
Jay Z spent a big portion of the night reaching back into his sizable discography, dusting off everything from Dead Presidents II to mega hits like 99 Problems (a crowd favorite) and Dirt Off Your Shoulder. Jay did take a brief break in the second act of the show, letting Timbaland take over and run through a small sampler set. Timbo ran through bits and pieces of his past productions, including Ginuwine's Pony and Timberlake's Cry Me A River, but Timbaland largely seemed disinterested in being on stage. Maybe that's how he always is or maybe he was having an off night – either way his appearance led me to believe that he wasn't enjoying being on stage near as much as Mr. Carter himself was.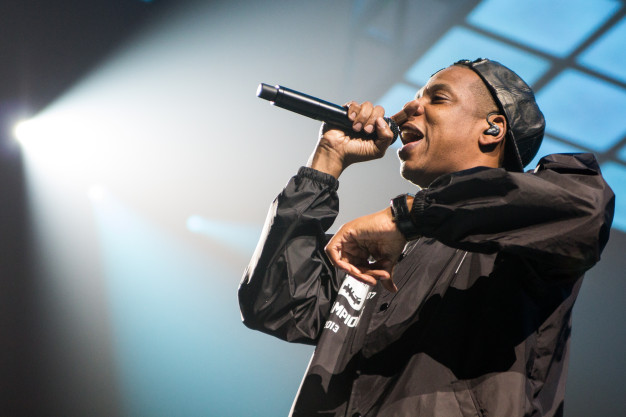 Jay touched on his work from Watch the Throne, putting out a brief tag of No Church in the Wild and then a full performance of Niggas in Paris, where he asked the crowd to pick up Kanye's lyrical duties. It was weird hearing the tracks without Kanye, but the crowd could not have roared any louder once the Will Ferrell sample marked the beginning of Paris. In fact, just to get the crowd more riled up, Jay restarted the song midway through, but not before telling security to stand down and to let people move into the aisles and come down on the floor to get some value out of their tickets. Power to the people.
Jay asked the crowd to sing later in the evening, having them pick up Rihanna's portion of Run This Town, which closed out the main set. He did the same during Encore, before eventually just taking a few minutes out of the show to shine the spotlight on people in the audience who had caught his eye during the show. He drew attention to a few inebriated ladies, some extra-intense fans on the front row and even an older white guy up in the 200s section, with Jay jokingly noting that the man must be attending his first rap concert ever as his dance moves weren't quite working. As far as rappers are concerned, I've never seen anybody engage with the audience in the same way Jay Z did last night. For someone who's music is generally anything but humble, the rap giant definitely appeared to be appreciative of his crowd.
The encore also contained a phenomenal take on Jay's love letter to NYC, Empire State of Mind. Jay encouraged the audience to light up the arena with their cell phones and they did just that as Jay offered his glowing endorsement of the city he's from. The show ended with Forever Young, with Jay giving a brief dedication to Nelson Mandela before leading the crowd through The Blueprint 3 highlight. All in all, a great way to cap off a great performance.
While the show was fairly short, running just over 90 minutes, it was paced almost flawlessly. Jay knows how to place his classics while dropping in the occasional new song, and when partnered with his fiery stage persona, it's hard to walk away unimpressed. You've got until the end of January to catch this show when it swings through your city – don't miss it if you want to catch Jay Z solo; it could be another five years before he comes back around without his friends.
Setlist:
Higher Intro, U Don't Know, Crown, On To The Next One, Holy Grail, Fuckwithmeyouknowigotit, Beach Is Better, 99 Problems, Picasso Baby, Dead Presidents II, Pound Cake, No Church in the Wild, Tom Ford, Timbaland Interlude, Somewhere in America, Big Pimpin', Nigga What, Nigga Who (Originator 99), Dirt Off Your Shoulder, I Just Wanna Love U (Give It 2 Me), Niggas in Paris, Public Service Announcement, Clique, Run This Town, Encore, Empire State of Mind, Izzo (H.O.V.A.), Hard Knock Life (Ghetto Anthem), Forever Young
Check out a few more selected shots followed by our full gallery: