By Albert Santos at 6:42 AM Thursday, November 15th 2012
"Absence makes the heart grow fonder," the old saying goes, and in the case of Radiohead, Australian fans prove this all too true. Eight years since their last tour of the country was abruptly cut short due to health concerns, Radiohead return to crowds waiting for hours in line under the Sydney sun, proudly donning worn-out counterfeit t-shirts and singing along to even the most mumbled of Thom Yorke's lyrics. These are the type of fans that have been greeting them around the world, selling out over forty shows throughout the year. And as they reach the tail end of their tour, they know very well that this devotion is but a mixed blessing.
New Zealander Connan Moccasin opened proceedings with a short sample of his psychedelic-throwback-styled pop. For the most part, he seemed just happy to be there, constantly thanking the audience for the warm reception offered. Whether it mattered to most of the crowd is debatable, but at least he and his band, including a man that seemed to be wearing naught but a kimono and a strategically-placed bass guitar, were having fun.
Radiohead arrive to the sound of Bloom and immediately spark a fuse across the whole audience. The band is now at the tail-end of the King of Limbs tour, with only a handful of shows remaining, and the elation this gives them a new life. Thom Yorke, specifically, seems happier than usual, jumping and dancing beyond the norm, even doing a hilarious imitation of the Australian pronunciation of Tibet as he took to his piano. Even Ed O'Brien and Johnny Greenwood break their stern gazes with a slight smile now and again. Relief proves to be the elixir that brings a band renowned for their at-times cold stage presence out into the wild.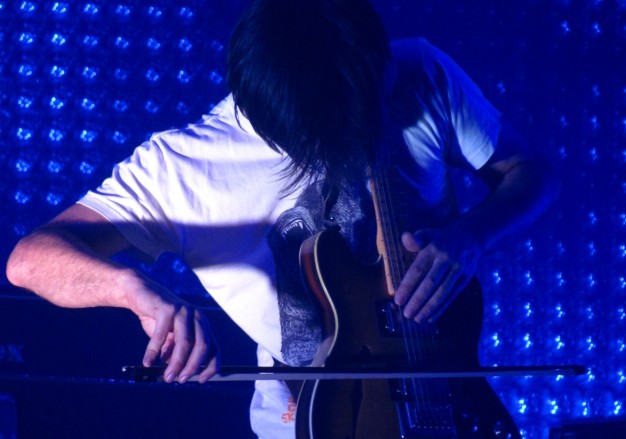 As an arena act, Radiohead have to be one of the most experienced out there. Their sound is crisp, with a clarity that many other touring acts unfortunately miss (including those with better venues at their disposal). At one point, four of the six men on-stage are banging on drumkits. At another, Johnny Greenwood is quickly trading his guitar for a moog piano, then trading that for his laptop. Yet every layer of sound produced fills the 12,000-seat arena, turning an airline hangar into a chapel.
And while that is decent praise, it can at times be empty; U2 sound great in stadiums after two decades of touring them, but the drawback there is that it's only place they sound good these days. In the same vein, as arguably the reigning kings of alternative music Radiohead do often rest on their laurels. When a handful of new songs are played mid-set, you could feel waning attention across the arena. And while no setlist by any band with eight albums and three decades worth of music  at their disposal would be perfect, the sentiment for many afterwards was that the set neglected many of their classics despite including Paranoid Android, Idioteque, Pyramid Song and Everything in Its Right Place.
But does it matter when an audience is this insatiable? Most of the audience probably weren't allowed to leave the house after 10pm the last time the British quintet toured. Radiohead fans have been compared to Star Wars fans due to their similar levels of unconditional devotion. The way the crowd is held by every move, every note, nay, every mere flicker of the multi-screen light show that form the backdrop, is testament to this. Whether you call it resting on your past successes, or trusting a fanbase enough to follow your musical directions no matter what, Radiohead remain innovative. In many ways, it's this willingness to experiment with their audience, and their willingness to accept, that has kept their music fresh over the past few years. And no doubt many Australian fans left declaring that this was the all-time "best show ever".
A Radiohead show remains a place exclusively for the die-hard fan – if you were expecting the live experience to convert you, you are going to have a bad time. Thankfully for them, there are many fans the world over who are willing to take a working night off, sometimes more, for their music.
Radiohead's Sydney, Australia Night 1 Setlist:
Bloom
Lucky
Morning Mr Magpie
Weird Fishes/Arpeggi
Myxomatosis
The Gloaming
Separator
Staircase
Videotape
Nude
Ful Stop
Lotis Flower
There There
Planet Telex
Feral
Bodysnatchers
Give Up The Ghost (encore #1)
Pyramid Song
These Are My Twisted Words
Reckoner
Paranoid Android
15 Step (encore #2)
Everything In Its Right Place
Idioteque (encore #3)