Before we dig into some really exciting developments we have coming your way in 2016, we need to close the book on 2015 and distribute verbal gratifications to twenty five albums that we somewhat democratically agree were the year's very best. For a less filtered smorgasbord of recommendations you'd need all day to get through, you can check out all of our individual top songs playlists, but if you sleep on any of these albums, you better cross the street if you see any of us coming towards you.
01. Failure, The Heart Is A Monster
There was certainly no shortage of so-called "comeback" albums in 2015. The highest standard they could reasonably be held to is justification. You cross your fingers and hope that after ten or fifteen years of time off, these older, fatter, more comfortable people are somehow going to find a way to make an album anything at all like that one you'd blast while you were cutting school back before you got older and fatter and more comfortable yourself. For the most part, 2015's re-entrants, featuring the formidable likes of Faith No More and Refused, pulled that off. But the biggest surprise, hands down, was Failure's The Heart Is A Monster.
It's not just "as good" as their first three albums. It's their best, despite being a massively ambitious effort of eighteen tracks. It might be logical to assume a band would have more than a few handy after such a long break, but how often does that happen in reality? Everyone plays it safe, a humble ten or so, just to renew the lease and get those muscles moving again. Failure gave blood. Aside from a few segues, a la Fantastic Planet, The Heart Is A Monster is a flood of well-crafted dark-pop-rock songs that seem to perfect the prototypical formulas that originally inspired a generation of goth-art rockers that discovered those other albums. Failure didn't just come back. They broke out, when whoever has been holding them back all this time finally turned their heads.
02. Marilyn Manson, The Pale Emperor
He may be controversial critically more than socially these days, but we'll defend Marilyn Manson just as quickly as the next guy. Still, even we wouldn't have guessed 2015's The Pale Emperor would rank so high above a long list of expected releases that looked unbeatable on paper. The fact that he's still writing killer rock songs is impressive alone. But this set is his best since 2000's Holy Wood, thoroughly potent and vicious despite all the reasons you'd expect otherwise.
Antiquiet Review: The Pale Emperor
03. The Dead Weather, Dodge And Burn
Rock and roll can't get much sexier than Alison Mosshart on the mic. Jack White is almost an unnecessary distraction at this point, making glowing reviews easier than they have to be. But Dodge And Burn shows up higher than it would otherwise be here thanks to those moments like the bridge in Three Dollar Hat, and the squealing riffs throughout Cop And Go, when the whole band is firing on all pistons.
04. Noel Gallagher's High Flying Birds, Chasing Yesterday
It's not often enough that every track of an album hits the mark, and it's not often enough that an artist's second album ups the ante after a great debut. Even the best songwriters of his generation have faltered in their middle age, if not run out of inspiration completely, but with his High Flying Birds, Noel Gallagher is proving to be a stronger creative force than ever before. And he's showing no signs of slowing down.
Antiquiet Review: Chasing Yesterday
05. City And Colour, If I Should Go Before You
We know marketing and dollars have a shit ton to do with this sort of thing, but it's always going to be hard to fully understand how artists like Dallas Green (from Alexisonfire, more currently known as City And Colour) aren't multi-platinum artists just by virtue of being so talented and out in public. Beautifully sung, soulful music sells just fine, certainly in 2015 judging by the charts. Anyone hearing this album accidentally should mandatorily result in a sale, and more people hearing it accidentally. If every caramel macchiato came with a copy of If I Should Go Before You on CD, no one would complain, and the new mainstream would sound so much better than the old mainstream.
06. Jason Isbell, Something More Than Free
It takes a special type of musician to have an album debut simultaneously in the top ten upon both the County and Rock Billboard 200 Album charts. With Something More Than Free, Alabama native Jason Isbell did exactly that in 2015. While he is hardly the first to have these two genres meet at a manic musical crossroads, what sets Isbell apart is his flawless execution of highly personal lyrics. From the struggles of losing a loved one in Speed Trap Town to straight up blue collared blues of the album's title track; Isbell's lyrics leave the listener vulnerable no matter if you are a hippie, a hipster, or a hillbilly. In the event that's not enough for you, check out the way Isbell takes a lush string section on Children Of Children and has it segue effortlessly into a searing guitar solo.
07. Chelsea Wolfe, Abyss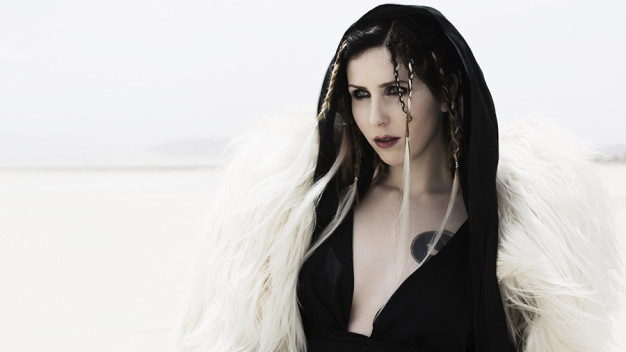 Let no one say that they don't still make artists like PJ Harvey or Nick Cave or Mazzy Star. Granted, they may still make them by resurrecting the old souls of burned witches in the bodies of pale orphans, but we'll keep turning a blind eye to that racket if we get music like Chelsea Wolfe's out of the deal.
Outside of Antiquiet, praise for Abyss hasn't been quite as unanimous as the reviews of 2013's Pain Is Beauty. But while it may be a little less accessible, the structural focus of Abyss makes it respectable beyond the cool, but ultimately aesthetic suicide vibes that first brought us in.
08. Cancer Bats, Searching For Zero
There is so much to love about Toronto's Cancer Bats. Speaking strictly sonically, there's a lot of overlap with not just classic hardcore, but with crust punk and southern metal as well. And their untamed onstage energy puts them in a rare class of stage warriors alongside acts like The Bronx and Refused; Just check out their headlining set from our SXSW showcase, filmed in the rain and mud in Austin in March, a highlight even for many attendees not as biased as us.
The band has continually been perfecting their craft over the years, and Searching For Zero is their best album to date.
Antiquiet Session #20: Cancer Bats
9. Kendrick Lamar, To Pimp A Butterfly
Kendrick Lamar's To Pimp A Butterfly is a jazz-soaked masterpiece – a highly ambitious, angry, indulgent, romantic blast of self-critique and declaration inside a molotov cocktail. A dense flourish of racial narratives, throwback soul and confident funk, this concept album posing as a sociopolitical barometer is far better than we hoped for – and our hopes were damn high.
10. Clutch, Psychic Warfare
In 2015, Maryland's finest stomp-rock prophets returned with twelve tracks of pure piston-pumping juggernaut uppercuts of devastatingly clever excellence. No fat, no hesitation, just finely-tuned muscle and cerebrally hilarious acrobatics.
Two decades deep into a Zappa-meets-Sabbath-on-acid spin that's earned them a reputation as one of the most technically proficient and comically quick-witted bands on the circuit, Clutch deliver some of the finest tracks of their career including the comically conspiratorial opener X-Ray Visions, the man-slut consequence of A Quick Death In Texas, Sucker For The Witch, and the album's highlight curveball, the House Of The Rising Sun cousin Our Lady Of Electric Light.
11. Alabama Shakes, Sound And Color
If you skipped this album, it's probably because you didn't fall for 2012's ubiquitous Boys & Girls, and that wouldn't make you crazy. Bands that ride in on those "retro" waves tend to be overrated by the masses and scoffed at by amateur rock geneticists that can draw straight lines to all of the old and classic records they already have.
But Sound & Color isn't Boys & Girls. There are signature hints and tricks here and there, but overall, it's this album, and not the first one, that establishes Alabama Shakes as a force to reckon with. It's beautiful and soulful as expected, but also progressive, occasionally weird, and thoroughly original.
It should be noted that Justito hates this band.
12. Sleater-Kinney, No Cities To Love
After a ten-year hiatus, Sleater-Kinney returned in 2015 with No Cities To Love, their most polished and accessible album so far, their radicalism focused for it, not softened. Like a few other surprises on this list, No Cities To Love is the kind of album that hones long-gestating potential and can turn a band that everyone else has been talking about into one that you can finally start listening to.
13. Father John Misty, I Love You, Honeybear
Let's face it; we all have it in us somewhere to be just a little bit of a douche from time to time when we're feeling bold. On I Love You, Honeybear, Father John Misty lets that douche flag fly proud and high in the most tender and intimate of ways. A sassy, sarcastic, and damn sexy self-reflection; the album features J. Tillman evolving from a wasted burnout to a loving husband while struggling with the distractions of an out of focus 21st century. From satanic Christmas Eve dinners with his wife on the charming Chateau Lobby #4 (In C For Two Virgins) to the depressing struggle of the world in 2015 on Holy Shit, Father John Misty hit it out of the park while not reminding us once again that he happens to be a Dodgers fan.
14. Graveyard, Innocence And Decadence
Swedish stoner rock outfit Graveyard is an easy recommend for anyone with musical tastes in a number of broad vicinities, from classic metal to americana. They most often draw comparisons to Black Sabbath, but parts of 2015's Innocence And Decadence puts their soulful bluesy side on full display, with the band sounding more like the Black Crowes. It's a must-have if you've read this far, sure to go over well with any fans of Witchcraft (the band or literally), 90s-era Corrosion Of Conformity, The Sword, or Uncle Acid & The Deadbeats.
15. Built To Spill, Untethered Moon
To hear Doug Martsch (guitarist, songwriter, singer, overall mastermind of BTS) tell it, no one needs yet another Built To Spill record. It's unnecessary. That's probably what led the band to write, record, and ultimately trash an entire album before coming back with Untethered Moon. Featuring their most direct set of songs since Keep It Like a Secret, it's also among the finest displays of guitar playing you'll hear this year. Pared down to a power trio, Martsch puts on a clinic in layering, detour building, and eccentric soloing (see: lasers to the heavens on On The Way, the squawking southern rock breakdown of All Our Songs, the stomping stoner riffs of So, and the wailing chaos of When I'm Blind).
Perhaps most importantly, the band brings the potent combo of Martsch's voice and searching lyrics that strike Built To Spill's ultimate emotional sweet spot of guarded catharsis and cautious wonder. Fuck what the band thinks, music this inspired is always necessary.
16. The Decemberists, What A Terrible World, What A Beautiful World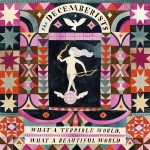 The Decemberists are one of those bands that are almost too good for rock and roll, like R.E.M. or 10,000 Maniacs, who could probably just as easily write bestsellers and speak at universities or stage successful broadway musicals. They clearly know a lot of things the other bands don't. It may still be awhile before they top The Crane Wife or The Hazards Of Love, but every album they've released has been one of that year's best, and 2015's was no exception.
17. Torche, Restarter
The Florida sludge metal quartet known as Torche returned in 2015 with an even heavier than usual twist on their mechanical yet oddly elegant sound. Torche manage to meld their odd noises into pop songs that grant the band staying power far beyond the initial novelty of their relentless repetition and reverberation. 
18. Slayer, Repentless
Danzig's Deth Red Sabaoth was the last time one of our favorite bands walked back in out of nowhere and surprised us with an awesome album well after we had given up and moved on. Guitarist Jeff Hanneman's untimely (but metal) death by necrosis in 2013 seemed to guarantee Slayer's decline would only continue. They replaced him with the highly formidable Gary Holt of Exodus, but an even better move than that was ditching Rick Rubin for Terry Date. That's a crazy thing to say if you're only comparing producer resumés, but Repentless hit us with an undeniable, long-absent vigor that proves every decision Slayer made was the right one.
19. Refused, Freedom
It's comical to reflect on Refused's Freedom six months later and realize that the only real criticism we ever had is that it's "safe" compared to 1998's massively influential and genre-changing Shape Of Punk To Come. No shit! Its quality was never in question though, and hopefully Freedom is bringing more people to discover their favorite band's favorite band, with some fierce new entries into the post-hardcore canon, like Dawkins Christ, Thought Is Blood, and 366.
20. Local H, Hey, Killer
Another band who surprised us with their best album so far in 2015 is Chicago's Local H. Hey, Killer is their eighth now, with no hiatuses or comebacks to worry about over a career spanning 25 years and some change. From the punky fun of City Of Knives, Freshly Fucked and John The Baptist Blues, to the more mature and depthy tracks like Mansplainer and Leon And The Game Of Skin, It's an album that will make you a fan of Local H even if you've never cared about anything that has come before. As a few too many of Scott Lucas' 90s-rock peers' energies fade, leaving them to purvey increasingly milquetoast dad rock, Local H just soldiers on, still screaming and still cool.
Antiquiet Session #25: Local H
21. The Districts, A Flourish And A Spoil
The Districts hit that elusive bulls-eye that so few bands manage. Firstly, they bring riffs. Tangly, interlocking things, each guitarist is prone to complete the other's thoughts with the rhythm section pounding holes through the thickets, capable of bludgeoning into submission and pulling back abruptly to expose a shimmering, sweet center. Wiling to trip you up in your timing to relent one moment, come back harder then before the next; this band brings heat. But then, there's the lyrics; alternating from vivid imagery to plainly spoken assessments, bolstered with a touch of surrealistic apparent-nonsense here and there. The Districts are willing to get dark, but never melodramatic, personal but not self-pitying. Whether the goal is outright catharsis or just feeling too much or sending a 9-minute extended jam to the rafters, A Flourish And A Spoil is the sound of a young band hitting their marks.
22. Battle Tapes, Polygon
Battle Tapes' long-awaited debut LP is probably an even better album than we're saying it is, in the same way locals are never quite as impressed by the tourist attractions they get to see every day. We first discovered the band in late 2013 as we were planning a SXSW showcase. We booked them then, and we've gone to every show of theirs that we have been able to get to since.  They're one of the best bands playing shows in Los Angeles right now, approaching their technically "electronic" dance music as ambitiously and holistically as the best from all electronic genres, from Nine Inch Nails to Moby; with a combination of live and electronic instruments and a vision that extends to all aspects of their output, including their poster and t-shirt designs and album packaging. Every time they get up on stage, they get stronger.
23. Doomtree, All Hands
Minneapolis indie Hip Hop collective Doomtree is crucial. We talk a lot around here about the kind of energy and chemistry our favorite rock bands have, but the best rap crews make those bands' division of labor just seem unadventurous. There's nothing quite like the whirlwinds that'd get whipped up by groups like Souls Of Mischief, Hieroglyphics, N.W.A. and of course the Wu-Tang Clan. Doomtree is keeping that model alive, featuring Sims, P.O.S., Dessa, Mike Mictlan, and Cecil Otter, all fully capable solo artists, backed by the combined forces of DJs Paper Tiger and Lazerbeak.
All Hands, their third official album finds a group that started as outsiders maturing into their own with envious accomplishments and brutal attacks delivered particularly effectively through the EDM/punk crossover tracks like Gray Duck and Cabin Killer.
Antiquiet Session #27: Doomtree
24. Queen Kwong, Get A Witness
Queen Kwong was one of the best live acts we saw in 2015, after Carré Callaway's reboot of sorts that collected a head-turning arsenal of backing talent in Wes Borland, bassist Fred Sablan, and drummer Hayden Scott. The band's debut album never had a chance of perfectly capturing that live energy, but it's gotten more than enough spins to land on this list, working equally well as a soundtrack to a crime-of-passion murder as it would be to a heroin overdose, alternating between unhinged feral lashings out in every direction and brooding, schizophrenic accusations.
Antiquiet Stream: Get A Witness
25. Modest Mouse, Strangers To Ourselves
Modest Mouse have reached the point in their career where they simply make Modest Mouse albums, and even after an 8 year wait the result is another Modest Mouse album that could have come out 5 years ago. But Issac Brock keeps finding ways to tell us the world is fucked and we are broken and that we're somehow in it together. And the band keeps finding ways to turn demented rock & roll into demented funk and slide guitars into monolithic elephant wails and caustic wit into soothing melodies. Ultimately, every Modest Mouse record is a meandering, searching beast paired with a hard look within. And even if you find a stranger in there, despite all the acerbic bluster and glacial pace, Modest Mouse is here to help.