The words "surprise Glastonbury headliner" sounds like a real gamble. But when the big reveal is the debut of The Smile, a new band made up of Radiohead's Thom Yorke and Jonny Greenwood, and drummer Tom Skinner (Sons of Kemet), the payoff is certainly worth the risk.
The Live at Worthy Farm streaming event on Saturday (May 22), was an open stream for the public to enjoy, after a ticketing process fell apart in early staging. The five-hour concert was arranged after Glastonbury was forced to cancel for a second year running, due to the Covid-19 pandemic. The Smile set begins at the 2:46 mark here.
The Smile, whose name is pulled from a Ted Hughes poem, filmed their performance in Glastonbury's Greenpeace field earlier this week under a veil of secrecy. Yorke, Greenwood & Co. delivered a refreshingly intense set from a shed with what looks like a parachute for a ceiling, with LED lights punctuating the music – which had a distinct Hail To The Thief stylistic nature. Fans will notice a version of Radiohead's unreleased "Skirting on the Surface" opening the set, in a different time signature, although the title appears to now be "Skating on the Surface".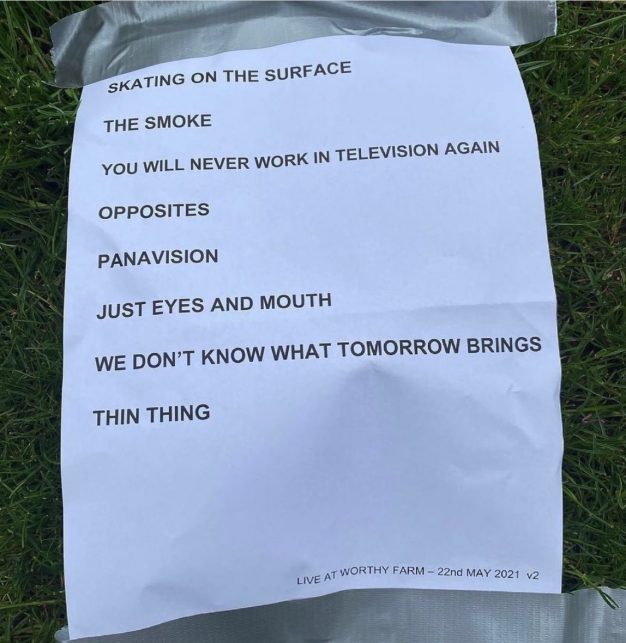 The Smile played eight new songs total, spanning just over 30 minutes, with Yorke and Greenwood alternating instruments. Yorke introduced the band in Yorke fashion: "Ladies and gentlemen, we are called 'The Smile.' Not the smile as in 'ahh!', more 'the smile' as in, the guy who lies to you every day…"
Most notably different in the sound from Radiohead's spectrum is the understated funk grooves ("The Smoke"), as well as Greenwood's aggression in the bassline at various points including the refreshingly intense "You Will Never Work In Television Again".
So far, there is no info to share about studio-version release of the songs they performed, or plans for the project in the future. When announcing the project, Yorke credited Nigel Godrich as a producer, though Godrich didn't perform at Glastonbury.
More to come….