It's nearly that time of year again! Riot Fest looms on the near horizon and we at AQ can't wait to haul ass back to Chicago to bring you the goods.

As you may have gathered from last year's 10th anniversary Riot Fest coverage, we were a tad enamoured by this festival's charms. We had a wonderful time dancing in the muck to an audacious assembling of artists, some embodying punk in sound and others in temperament.
Riot Fest organizers have once again toiled to concoct a bold and unique lineup, distinguishing themselves from local or national festival competition.
Just as as we were about to publish organizers revealed the schedule for this year's edition. Cover your eyes chirruns. There are some painful conflicts. But contain that social media rage. Haven't we all come to expect tough conflicts at this point?
No Doubt vs. Ice Cube vs. Motorhead.
The Prodigy vs. Modest Mouse.
Eagles Of Death Metal vs. Every Time I Die.
Iggy Pop vs. System Of A Down.
Rancid vs. Billy Idol.
(This is not happening…)
So start digging through the closet. Air out that haggard old studded denim with Dead Kennedy's back patch and anarchistic button flare. Dust off those stanky old skank-dancing shoes. Perhaps you may be so inclined to reacquaint yourself with that grievous mohawk you rocked for six weeks in high school. Join us as we count down the reasons we can't wait to Riot once more.
Against Me!
We've always championed Against Me! We relish any opportunity to catch up with Laura Jane and gang. Last October we were fortunate enough tap them for an endearing Antiquiet Session, which you can check out right over here.
Eagles Of Death Metal
It's been nearly seven years since EODM released Heart On. Needless to say, we're salivating for some lecherous new ditties from Boots Electric (Jesse Hughes) and Baby Duck (Josh Homme). We got a taste when they dropped Complexity back in June. The new LP Zipper Down drops in October but at Riot Fest you'll have the opportunity to hear them road test these surefire pre-coital ditties. Homme sat in on drums for them at shows earlier this year. Perhaps he will again.
Ice Cube
This one is being billed as "Ice Cube & Special Guests performing Straight Outta Compton Remix". There is a lot of potential here considering the release the Straight Outta Compton film is finally upon us. Not to mention that monumental LP Dr. Dre just dropped out of the blue a week ago. And Snoop Dogg is playing the festival as well. We're not speculating on those special guests, just optimistically theorizing. Either way, Ice Cube brings it live and we know this one is going to be a huge draw.
Douglas Park
(Aerial view of the grounds at Humboldt Park following the 2014 festival)
We had a great time last year, but it was a hot mess at times. We're hoping that with the move from Humboldt Park to Douglas Park that many of these problems will be ironed out. It would've be unfair to blame anyone when another Windy City deluge flooded the grounds one night before a festival of this magnitude. Much of the grounds were a sinking sludge mire throughout the weekend, the depth of which was exacerbated by narrow transit lanes and immense, boisterous crowds. We're hoping that this change of venue eliminates these tribulations. Perhaps the skies will relent this year.
System Of A Down
It's been nearly a decade since the Armenian-American quartet released new music. They haven't indicated that they plan to hit the studio anytime soon. Fortunately, the five albums they did release are more than enough to assuage the absence of new material. Re-invigorated and touring again in commemoration of the 100th anniversary of the under-acknowledged Armenian Genocide, System Of A Down is going to bring fury. Stay safe out there kiddies… their audiences are often savagely devoted.
Iggy Pop
The sagging lizard-skinned madman is back. We wondered how or if Iggy would proceed following the death of Stooges drummer Scott Asheton last year. The revived Stooges years were an enrapturing spectacle for those fortunate enough to behold that run of shows. We should have known Iggy wouldn't quit though. Expect to prop the 68-year-old punk messiah up while he crowdsurfs without abandon. Expect a dance party on stage. Expect a riot.
Drive Like Jehu

We were pretty thrilled to hear these guys were back for select shows last year. If you've never had the pleasure of nose-diving into 1994's Yank Crime, you need to get all over that.
The Prodigy
Prodigy is one of the top live acts in the game. Period. You may be struck unawares because they don't get over to this side of the pond all that often…which is all the more reason to catch them while you have the chance. It wouldn't be unfair to say that Riot Fest is anti-electronic music. They booked one cataclysmic electronic act last year in Die Antwoord, a stuck firm adding one more this year. Don't. Miss. The Prodigy.
Mariachi El Bronx
Whether devastating as The Bronx or serenading as Mariachi El Bronx we've always stood firmly behind these guys. Who'da thunk that they would already have dropped 3 LP's as the latter. Is Mariachi El Bronx really still a side-project at this point?
Alexisonfire
And then they were broken up forever…and then they weren't. The pride of St. Catharines, Ontario, Canada (this writer's hometown), Alexisonfire have said farewell to saying farewell once more. Guitarist Dallas Green appears to be on the verge of dropping a new City & Colour LP, but apparently he still has time to cash in on one more run with the screamo-Canuck quintet. You know we'll be there.
Fans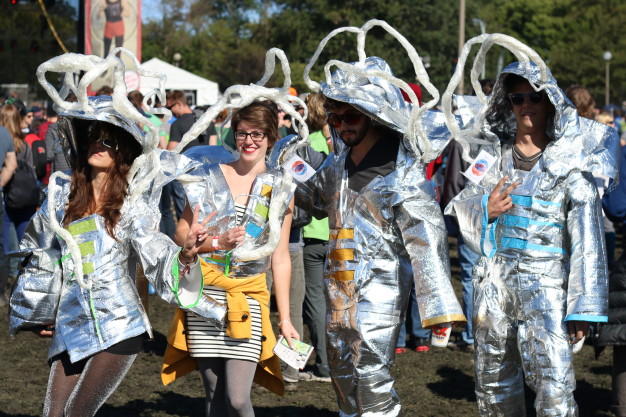 Riot Fest draws our kind of clientele. On average they were ostentatious but un-pretentious. DTE and DTF. But honestly, we had a great time mingling with the masses last year and look forward to doing it again.
No Doubt
Admit it. You want to check this one out too. Sure, the ex-Mrs. Rossdale has been off gallivanting with those garishly vapid solo albums for a long while now. It's easy to slag on all of that. But No Doubt is still cool in our books. We plan to get emotional during Don't Speak. If that bothers you, the door is right here.
These are just a few of the reasons you should join us at Riot Fest this year. This lineup is stacked. We're pretty hopped up on the idea of getting intimate with the likes of Faith No More, Modest Mouse, Motorhead, Tenacious D, Snoop Dogg, Rancid, Billy Idol, Echo & The Bunnymen, Millencolin and Everytime I Die, among others. And of course they are also throwing impressive festivals in Toronto and Denver.
3-day passes for this year's Chicago romp are still available at Riot Fest's home page for a respectable $189.98, but little birds are telling us supplies are low. Single day and VIP passes are also available. See you all next month at Douglas Park!