Following last year's stirring but destructive muck romp at Chicago's Humboldt Park, Riot Fest's organizers were left without a venue to host them in 2015. The quicksand mud that covered the grounds last year grew deeper and more aqueous as the weekend went on, leading to an unmitigable and expensive mess (the bill Riot Fest paid for damages to the park was reported to have totalled $182,000).
A group of nearby residents banded together back in May to run Riot Fest out of the park, essentially with pitchforks. But perhaps the excommunication was for the best in the end. Despite losing that coveted proximity to Wicker Park, this year's festival, located at Douglas Park was with few exceptions, a masterful re-envisioning. Of course it didn't hurt their cause that they brought one of the best and most eclectic festival lineups of this year's North American crop either.
There were even concerns raised a week before the event was set to transpire as new neighbor St. Anthony's Hospital filed a restraining order in federal court threatening to have the event rescheduled or even cancelled if organizers did not comply with their demands. Fortunately, cooler heads prevailed and the issue was put to bed with an amicable out-of-court settlement.
Its not easy being a punk rock festival on the run…
Join us once again as we disseminate the moments that made Chicago's Riot Fest, despite occasional hiccups, a resounding success.
Commencing Serenade: Mariachi El Bronx
"It was supposed to be rainy and muddy and shitty all day. Look what happens when we put on these suits" singer Matt Caughtran jested.
Paying attention to the weatherman in Chicago is a fool's errand. The sky had opened up just in time for a lovely little set from AQ's old pals from Mariachi El Bronx.
48 Roses was too pleasant. That violin, simultaneously soothing and piercing. Its sonic counterpart in a screeching trumpet. That delightful flamenco guitar. And of course, Caughtran's serenade.
"We have so many amazing friends here" Caughtran acknowledged, taking time to specifically give a shout out to Buffalo's Every Time I Die. The 8-piece Mariachi not-such-a-side-project then brought the chillout with a 2-pk with High Tide and Everything Twice replete with an accordion and wonderful vocal harmonies. It wasn't quite a riot, but it was a charming way to start the weekend.
Pizzazz And Razamataz: Eagles Of Death Metal
Jesse Hughes AKA Boots Electric took the Rock Stage in a risible red cape. No Homme in sight (though the prospect of an appearance by the Ginger Elvis on the kit was diminished in advance by the surprise return of Queens Of The Stone Age in Los Angeles on Thursday evening).
"How's everybody doin' tonight?" Hughes queried. "Looks like we got some rock n' roll animals in the crowd tonight."
And then we were balls deep in Heart On. Guitarist Dave Catching was raising his Flying-V to the sky to conjure some zeal out of an early weekend crowd that was really just starting to fill in and rise to life.
Hughes walked the fine line between absurdity and prurience, as he is wont to do. "All you ready to become possessed by the spirits of rock n' roll?" Hughes teased before leading them through the pulsating machismo of Complexity.
"This is the greatest job in the world" he noted before razamatazing the audience with a bawdy Only Want You. Then the race was on…
Conflicting Dustups: Against Me!
He was a teenage anarchist. She's now a trans soul rebel.
These are Laura Jane Grace's self-asserted labels. "Damn fine rock band" is the only label I see fit to tag them with at this point. You may tend to agree with that claim if you check out the session they did with us last year.
It wasn't easy to run away from Boots Electric and crew, but stumbling upon a headbanging Grace and the rest of Against Me! as they commenced with True Trans Soul Rebel it was immediately evident the right choice had been made.
They drew heavily (of course) from the Transgender Dysphoria Blues LP, while sprinkling in their oldies in dashes. FML666 was countered with a fervent White People For Peace, bassist Inge Johansson jumping without abandon during the latter.
"This is a song about tolerance, anti-homophobia and anti-transphobia" Grace exultantly proclaimed in her "Gender Is Over" shirt as she led them forcefully into the absurdly catchy pop riffs of Transgender Dysphoria Blues. And then, somehow naturally, they pushed on with of Black Me Out, the swelling midday audience in full participation mode, arms raised screaming "I wanna piss on the walls of your house…"
What's not to love about this band?
Celtic Shindig: Flogging Molly
We popped in for a bit of the frenzied slam-dance that was Flogging Molly. Vocalist Dave King raised his middle finger to the skies during Swagger and the swarm below him never looked back.
The bright orange hue of the sun's final remnants illuminated the aimless flailing bodies that were proliferating in circle pits. Drunken Lullabies was a prolific smashup and the acoustic shanty Float played us of into the darkness.
So Much Room for Activities: Carnival
The layout is so vastly improved this year. The plan to dump alternating main stages on both sides of a carnival is a bafflingly simplistic but practical arrangement. At Humboldt Park last year, the confluence of human tributaries led to near unfathomable wait times slugging through the muck between sets. This year the grounds feel wide open.
Stay Back: No Doubt
Why is this not a band? Well it is… but these guys (and gal) should be everywhere all of the time. Judging by the response to their name topping this lineup its pretty clear that there is still generally a ravenous gosh darn appetite for hitting up the ol' No Doubt show. How dare them crafty organizers throw Ice Cube and Mötörhead up against them!
From Hella Good to Spiderwebs this one was a rager. Gwen Stefani was vivacious and everywhere. She climbed the rafters during Just A Girl, getting guys to battle gals in a sing off. She spotted a male fan with a (now) Ms. Stefani tattoo and claimed she was heading down to kiss him, but it was hard to see if she actually followed through.
Following acoustic run-throughs of both Simple Kind Of Life and Excuse Me Mr. they delighted with the ska grooves of Sunday Morning.
These guys need to stop sporadically dabbling and take a firm dive into the deep-end of the reunion pool already.
Straight Outta Sweden: Millencolin
How wonderful is it to have Millencolin back?
Unfortunately, their already fleeting return to Chicago (an early 30-minute set) was diminished further by a late start. But goddam did they bring it.
Stepping out to Egocentric Man, the lead-out track on their new LP True Brew, the Swedish quartet delivered a raucous kick in the teeth.
"We are back in Chicago. It's been 10 years" guitarist Erik Ohlsson jubilantly proclaimed as they reached back to Pennybridge Pioneers for Best Ride I Ever Had.
Bassist Nicola Sarcevic's vocals haven't lost any edge. "I wish we could stay longer, but our Viking wives are calling us" he toyed. What followed was a rushed but rewarding run of new and old. The sliding guitar and chugging riff breakdown during Autopilot Mode was a blast. But it was followed with a delectable run of highschool headbashers. Bullion and Lozin' Must were unleashed in rapid succession, but the crowd finally sprung to life during the anthemic No Cigar, screaming along to "I won't waste my time fitting in because I don't think contrast is a sin".
Offensive To All Senses Award
When your festival totem is blow-up-doll, you are bound to make some bizarre friends. When you are dressed like this you're bound send those new friends off running. Only at Riot Fest can you hit the streets pulling off this look.
\m/  \m/: Pennywise
Pennywise were 90% hubris and 10% punk rock… and all was well in the world.
Singer Jim Lindberg, now back in the fold following a brief departure from the band a few years back, was downright intrepid as he led the guys through political-punk anthems like Fight Til You Die and You'll Never Make It. Naturally, those tracks were placed between extended and comedic diatribes about Bieber and why "Lemmy [Kilmister of Mötörhead] should be President."
"Jump around. Get the fuck up ya lazy bastards" towering guitarist Fletcher Dragge prodded while roadies skank danced behind the Riot Fest curtains on stage left. "Make some fuckin' noise for Bad Religion" he growled following a furious cover of their track Superman.
"We can't wait to get off stage so we can watch some bands" Lindberg joked, adding to the communal atmosphere this festival dwells within. Then blared that familiar power chord crunch and we were in the throes of Fuck Authority. Crowdsurfers surfaced and reemerged during Bro-Hymn, everyone chanting along to "oooo-o-o-o-oooooo-ooo-o-o-o."
Hot damn, Pennywise was a good bit of fun.
Resuscitated and Rapturous: Alexisonfire
The boys are back. And with guitarist Dallas Green's City And Colour set to release a new LP and tour in November, it looks like this re-re-re-reemergence of St. Catharines, Ontario, Canada's pride and joy is set to be a short-lived one.
The suspense was palpable as the post-hardcore/screamo 5-piece commandeered their stage with Accidents, each member playing a unique role. Screamer George Pettit was vigorously attacking the air, as if locked in combat with a violent hallucination. Green's vocals were searing and faultless with years of road tested frontman experience clearly adding a new urgency to Alexis' dynamic. Guitarist Wade MacNeil (Gallows) and bassist Chris Steele were both lunging and retreating and lunging and retreating, providing chorus harmonies, but being steadily outscreamed by the crowd shouting right back in their faces.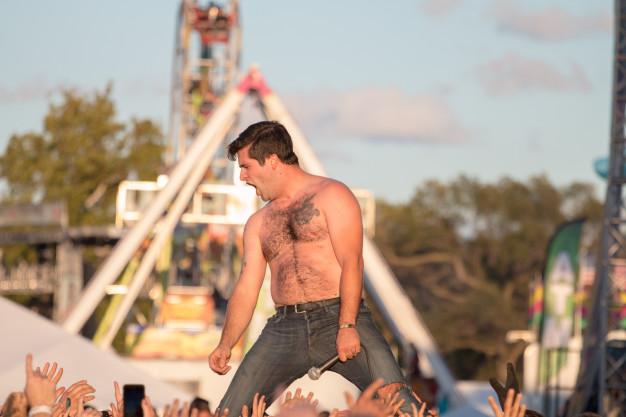 Pettit was pacing the stage like a jaguar stalking its prey during .44 Caliber Love Letter. "This our first show in five years or something" he later recognized. His shirt gradually became more tattered throughout until he tossed it aside during This Could Be Anywhere In The World and then headwalked on the crowd for Young Cardinals, pulling an Iggy Pop mere hours before Iggy would most probably do the same.
A Riot Fest Without Muck…
Heaving a pair of sogging, filth-covered shoes into the trash bin following Riot Fest should simply be considered part of the annual tradition at this point. The higher transit zones of Douglas Park were becoming frictionless mires at points, especially around the carnival rides.
Someone Forgot to Send the Memo: Drive Like Jehu
San Diego's Drive Like Jehu had been inactive since 1995. That was until August 2014, when they returned most unexpectedly with a string of select shows. Despite the rarity of the occasion, whether out of indifference or ignorance, the audience did not turn out.
How unfortunate for those who missed it.
They opened with the deliberate dissonant riffage of Caress; singer Rick Froberg's wails were as angst-ridden and recalcitrant as they were in 1991. But the set really caught an edge during Do You Compute and Here Come The Rome Plows. Guitarist John Reis wore a pensive mien throughout while blue backlighting showered over his shoulders.
They closed out the frenetically beguiling sunset set with the droning post-rock sludge of Luau.
Effervescent Veteran: Billy Idol
By all accounts, Rancid threw down the gauntlet and delivered one of the best sets of the weekend. But we were quite content with our selection of Mr. Billy Idol.
The 59-year-old spiked platinum rocker impressed with a set heavy on hits and that patented Idol snarl. His face may have aged by his essence is as vitalic as it ever was. He jabbed at the air to add emphasis to the swaying melodrama of Dancing With Myself while guitarist Steve Stevens wasted little time to flaunt his dexterity, playing a seemingly impossible riff with his guitar poised above and behind his head.
The set was really coming into its own during an enchanting cover of The Doors' LA Woman, but the sound cut out suddenly leaving a dry bass soliloquy. The band kept playing until the problem was temporarily resolved.
But then it cut out again… and again. It's hard to say exactly what was going on when one when everything but one instrument was dropped, but as a spectator it got to be frustrating.
He forged on regardless, closing out the set with a stellar Rebel Yell, an acoustic rendition of White Wedding and of course, Mony Mony.
The Show that Almost Never Was: System Of A Down
Thrown into the fray casually in a second wave of artist announcements, System Of A Down proved once again that they are devastating force. Re-emerging from another hiatus this year, SOAD hit the road for their Wake Up The Souls tour commemorating the 100th anniversary of the Armenian Genocide. The North American dates on this tour have been sparse, which perhaps is what led to the conflagration that later ensued.
From the opening thunder of Deer Dance, it became overwhelmingly evident that this was going to be a dangerous situation despite Iggy Pop and Taking Back Sunday siphoning off albeit meager chunks of the massive Saturday night crowd. Following Aerials, the sound went dead, but different reasons than what had occurred at the neighboring Rock Stage during Billy Idol moments earlier.
The situation was immediately dire despite the stalwart efforts of the front-row security team. Pockets of the audience were sinking under the swell as people slipped in the mud only to land on more humans. You'd reach in to pull somebody to their feet only to find more people gasping for air somehow crushed underneath. And despite the desperate nature of the situation, much of the audience simply refused to relent. The brief reprieve essentially amounted to "time out in the corner" for the audience. Many ignored requests to calm the tantrum only to return as petulant and vicious as ever. Again during BYOB, System were forced to stop playing. Guitarist Daron Malakian pleaded with the audience to "step back" as the melee ensued. "We love playing these shows, but it's not worth one person getting hurt" Tankian reiterated.
This band unleashes a unique madness in people.
People were literally rioting. What's more, System doesn't really have that low-key ballad to pacify their fans in a situation like this.
But they gave it another go. Following a brutal run back to their Self-Titled LP for Soil and Darts, they smashed through the duelling vocal harmonies and changing tempos of Radio/Video as a tsunami of crowdsurfers flooded over the rails, some looking more mud than man. This was to be a shorter set than the average System performance. They no doubt had this in mind as they raced without let-up leaving little time for banter. Singer Serj Tankian was teeming with intensity as he leaned over the edge of the stage during Chop Suey. Malakian went on to rile up the audience when he infused a quick "Chicago" into Lost In Hollywood.
It was a merciless affair from start to finish. But it did eventually end with calamitous grouping of Prison Song, Toxicity and recurrent closer Sugar. Props to security for their professionalism and dedication to safety. This had the potential to be a catastrophic situation and they rose to the occasion.
Two-Step
We started our Sunday by popping in for a little ska-punk punchup during Less Than Jake. The skank-pit was bumpin during 90's party anthem All My Best Friends Are Metalheads.
Ridiculous Merriment: Andrew WK
It would seem that all of these years later Andrew WK is still a white-clad, filth covered party animal. Good on him.
Insane in the Membrane: Cypress Hill
B-Real and Sen-Dog it appeared, hadn't aged a day since the last time this writer caught them nearly a decade back. They're still smokin' joints on stage and they're still spittin' heat.
They threw down with Hand On The Pump early on, egging the throngs on with "left hand on a 40, puffin on a blunt". No doubt many in the crowd partook without reluctance on both fronts.
Chillin' out in a THC cloud. Listening to How I Could Just Kill A Man and Insane In The Membrane and Rock Superstar. Good times indeed.
Balloon Break
Good luck finding much time to for repose at Riot Fest!
If you were fortunate enough to find time to rest those weary limbs, the turf on the northeast side of the grounds provided a dry place to do so. And the view wasn't all that bad when sunset came around.
Double-Team Supreme: Tenacious D
The choice between catching Snoop Dogg doing a run-through of Doggystyle and rockin' with Jables and Rage Kage may have seemed like a toss up. But it wasn't. The rock gods would've been mightily displeased had we not witnessed The D bring the thunder. And bring the thunder they did. (Side note: Snoop Dogg reportedly came out 40 minutes late and was cut off way early to make way for Modest Mouse).
The Rise Stage was packed for "the greatest and best song in the world… Tribute." Singing along to that incendiary acoustic mamojam the audience was a raging devil choir.
Following a ridiculous bit of jazz tomfoolery, JB, KG, and their adroit backing band bestowed Kickapoo upon the unworthy masses. The singalong to Jack Black's vocal gobbledygook outro must have sounded like an aghast mass simultaneous epileptic fit.
Then shit got heavy. It was time for Beezleboss (The Final Showdown).
"Let the rockoff begin!"
And with that the devil choir was singing about gargling mayonnaise and taking it up brown-town. If you missed The D, you done fucked up.
Psychosomatic Attack: The Prodigy
It built slowly. The strobes were flashing in contrasting waves leaving temporary corneal imprints. The anticipation was building.
The sound was droning on for ages before disappearing and falling away to that familiar beat. It was Breathe. Singers/rappers/antagonists Maxim and Keith Flint unleashed those UK grit vocals with fury, bouncing with haste, disappearing and reappearing through the strobing backlights. The audience immediately erupted in response with moshpits bursting the crowd open.
Prodigy don't get over to this side of the pond all that often. Before being thrown onto these Riot Fest lineups they hadn't performed in North America since 2009.
Their shows are over-stimulating aural and visual salvos made all the more acute by their rarity.
Every song managed to penetrate. Even new singles like Nasty and The Day Is My Enemy which seemed semi-hollow on record, managed to exacerbate the bedlam. Unlike most of their toothless EDM counterparts, The Prodigy features a live drummer. Liam Howlett beat that kit raw during Firestarter while Flint leered over the masses with a menacing grin.
"Bring the riot" Maxim urged as the the moshpit transformed into a dancepit for Invaders Must Die, which endured during a visceral Smack My Bitch Up. The bass was literally bone-rattling.
They then managed to convince the audience to get down in the mud. We obliged. "Get Up" Flint shouted, leading to another slam dance to Their Law, leaving the audience wanting.
The Prodigy continued to prove their dominant stage prowess. They are with a certainty and with all objectivity, one of the best live acts in the business.
But they turned out to be the penultimate act of our Riot Fest this year. Funnelling out their crowd the indelible reverie of Modest Mouse's Spitting Venom caught hold of us for one last spastic gritty hurrah.
In Summation
Riot Fest brought the goods again. Once again, the lineup was incredible and distinctive. They layout was spacious. We could breathe this year! On the flip side, it didn't take long for the grounds to look more like a bog than a park and the subway lines were atrocious. But those are inevitable incidentals at most festivals in this city. Douglas park was a near perfect setting for the riot.
Gallery