Celebrating their 10th anniversary this weekend, Austin's Fun Fun Fun Fest braved uncharacteristically cool and rainy weather in order to have a seriously happy birthday. Issues from years past like long lines and rough staff were nonexistent as the festival finally reached maturity and worked out their kinks, leaving only good times to be had. To celebrate these improvements, we at Antiquiet offered you the chance to streamline the recap process as well. Did your favorite band make the cut? Let's find out.
Friday
As with most festivals, the Friday crowd was understandably thin during the day thanks to boring responsibilities like work or school. Most organizers understand this and save the good bands for later time slots – and many of your AQ artist choices followed that trend – so I had some time to explore bands I'd never heard before. I decided to follow the heard because big crowds equal good music, right?:
The biggest crowd in the early hours could be found at the Orange Stage for Mikal Cronin. Providing the people with happy garage-pop (a generic description, because labels mean nothing these days), Cronin attracted the masses and helped them forget about the damp ground beneath their feet. Though his set veered closer toward forgettable than life changing, the 29 year old Ty Segall bandmate received his strongest crowd reaction with 2013's Weight. Clinging to his 12-string for 45 minutes, Cronin was successful at drawing in more people than those he lost to other stages, and that's at least worth mentioning.

Speaking of crowds, the one at the comedy stage for Eugene Mirman was so thick that people were pouring out of every tent-orifice. If you look closely above, you can see the comedian on the stage, closing his act by analyzing public responses to various surveys. Written out, that all sounds extremely tiresome, but the Bob's Burgers voice actor landed every line.
Mirman set the bar high for the local Altercation Punk Comedy Tour to follow – who unfortunately failed miserably. I didn't even stick around to see JT Habersaat round out his 40 minute set after having to suffer through jokes about being so lazy that having Dominos walk in the house to deliver pizza to the bedroom, then army crawling to the bathroom in order to projectile shit in the tub was jokeworthy, among other pathetic excuses for humor.
Leaving the comedy stage for good, I moved to catch the Dwarves, one of the most requested bands of the weekend for us to cover. Given that its the 30th anniversary of the band, they celebrated by tearing through their classic album Blood Guts & Pussy to much acclaim. Though there always is something laughable about a frontman repeatedly informing the crowd how they are "real" punks, the group did a good job in their performance by proving just that.
Though their music is not as hardcore, Canada's Viet Cong earned a little punk cred this weekend after American Airlines lost all of the band's gear. Not only that, but travel issues also forced the band to take an Uber from Dallas in order to make their FFF gig. Vocalist Matt Flegel informed the crowd that their set would be stripped down thanks to the events, but the crowd didn't bat an eye. Viet Cong powered through their unfortunately short time slot and set the tone for the day: you don't need a bunch of fancy gear or lighting to put on a killer show.
As periodic rain began to tease festival goers, I caught a bit of Parquet Courts while waiting for the band scheduled after, as I knew many AQ readers wanted Courts coverage. I'll be the first to admit that I've never been into the band and their performance didn't do anything to convert me. In fact, I don't remember anything about the music whatsoever, but I do remember an intense radiating love from fans in the crowd. All weekend, this band stuck out as the one with the happiest fans. So they lived up to that, at least.
Shortly after, Babes in Toyland took control of the Black Stage, providing a little estrogen for the day. I was surprised at how few people stuck around to catch their set but that quickly turned around after they broke into their first song. Playing for just 45 minutes, Babes hit every high point from their career, and none of the lows. Drummer Lori Barbero proved herself as one of the finest talents of the weekend at that. While I had some concerns about their reunion tour – especially after Maureen Herman's quick departure – it was immediately clear: the time is right and people are ready.
I'll quickly touch on Peaches because I know you guys wanted it. The girl drew a crowd, thats for sure. Half of the people around me showed up for the dancing vaginas or the Taco Cannon, then stayed for all of the ass flashing. The whole experience felt like a joke, aside from the moment when two men in Peaches' own "Whose Jizz Is This?" t-shirts got engaged on stage. It was a nicely staged moment in a mess of lesser quality gimmicks.
One of the most talked about groups at FFF this year was Antemasque after they announced that Blink-182 drummer Travis Barker had joined the band. The crowd packed in early and were clammering through the cold night, only to meet frustration. 20 minutes into to their 50 minute set, the stage remained empty, a fact that irked many waiting fans. When they finally did show, vocalist Cedric Bixler-Zavala attempted to pump the crowd up by telling a story about corrupt politics inspiring them to create angry rock music. Failing to land a joke about Hilary Clinton, the singer grew noticeably angry. After being informed that they had 8 minutes left in their slot, he continued: "We're just gonna talk for the rest of our set since that last joke went over so well," he paused, "We bought this next song at CVS, fucking go." Unfortunately, the music didn't do much to challenge the negative vibes; it did indeed sound as if their album could be purchased exclusively at a convenience store.
Saturday
I'm not going to even step around it, I didn't go to day two of the festival. It was raining – which led to gates being delayed until almost 2pm – and half of AQ's coverage requests were during that time. While I would liked to have covered Jane's Addiction for you guys, it wasn't worth it. And I heard many accounts that confirmed my apprehension. But still, enjoy some shots:
Fucked Up:
La Dispute:
Fuzz:
Grimes:
Gogol Bordello:
NOFX:
Wu-Tang Clan:
Jane's Addiction:
Sunday
One noticeable thing about FFF is how a majority of both its bands and attendees are male, for reasons unknown. That is especially true at the Black Stage, aka the spot reserved exclusively for punk and metal bands, and where our coverage for the day was focused – so those reasons are a little clearer. The first band to hit the Black Stage on Sunday challenged that notion a bit, however:
Together PANGEA, an LA trio, drew a very female crowd. While their sound felt better suited in the alternative and indie leanings of FFF's Blue or Orange Stage, the band had no problems packing the field on Sunday morning. The MTV darlings attracted more and more fans during their noon set, finishing with crowd favorite Too Drunk to Cum. Their style was unique for the stage but it worked. Even the punks waiting for the next band were bobbing heads.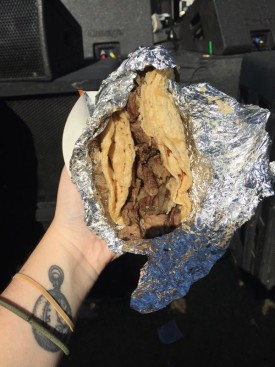 To round off lunchtime, the Black Stage became home to FFF's own Taco Cannon. After delivering special 10th anniversary beach balls to the crowd, the cannon was wheeled out and loaded with Chilito steak and onion tacos. I was lucky enough to catch one, also earning myself a bandana in the process. While the taco was significantly underwhelming, that was a thing of pride.
Later in the evening, the cannon returned, manned by Andrew W.K. who looked incredibly confused by the whole event. I mean, he only said the word 'party' two times!
Quickly changing into a more familiar gear, Texas' own Power Trip took the stage as the sun's wrath intensified. Breaking into a stacked metal-punk-crossover set, singer Riley Gale encouraged festivalgoers to open the first pit of the day. Fans happily obliged and quickly leapt on stage to test their abilities. While the opportunity was there, the crowd was not yet thick enough to support stage diving, leading to thump after thump onto the packed grass below. That in itself was entertaining, even beyond the band's incredible power. I've never swayed toward metal, but I found myself jotting down their information for future reference.
I would write about Title Fight because their crowd seemed to believe they were the best band in the entire world — except they were absolutely not.
If you're one who loves short, sweet hardcore songs with ample stage chatter from Keith Morris in between, an OFF! set is your haven. While not everybody has faith that 60-year old punks can put on a show with power anywhere near their peak years, the crowd on Sunday thought the opposite. The Spongebob stickers on Steven McDonald's bass were no distraction from his raw performance; a faded sharpie heart drawn on Morris' hand was a nice touch as the vocalist screamed "Fuck you!" to the crowd. Though it was possible to smell the band's need for a good shower from the barricade, they were anything but stale.
As the sun began to weaken its hold on the Black Stage, Californian classic Chain of Strength took control. Succeeding where Power Trip failed by bringing the crowd on stage, vocalist Curt Canales was the best host. And when a skinhead fight broke out in the pit, the frontman proudly commented on the calm security team and how his fans quickly broke the scrap apart. The group's 50 minute set felt amazingly short compared to their predecessors as the crowd clearly wanted more, and so did I.
When the time finally came for Dag Nasty to take the stage, I was buzzing along with the rest of the crowd. Playing their only reunion show, the group came out to tremendous applause. Lifetime fans showed up just for Dag Nasty – a man behind me drove from the band's home of DC just for their 50 minute set – and they were not disappointed. The band played a 17 song set including a cover of Minor Threat's Little Friend and a tribute to recently hospitalized Dr. Know from the Bad Brains. There was love all around during the incredibly tight set. If you didn't know their history, there was no hint that this lineup has only played one other show together in almost 30 years.
As with Babes in Toyland on Friday, it began to feel as if the festival organizers sought one band a day to fulfill a woman-focused quota. Fortunately, fans got lucky in each case because both groups happened to surpass the talent of some of their stagemates. L7 was a shining example of this as the four-piece drew a diverse and adoring crowd. Rolling around on the ground and cracking jokes, the band shared the joy between their assortment of hits. The first few rows were packed with fans who waited in place for hours to see L7, creating a sense of loyalty that guitarist Jennifer Finch would later credit as providing the night's energy. Ending with Fast and Frightening, a song that was repeatedly yelled out in requests through the night, the lyric "got so much clit, she don't need no balls" hung appropriately in the air. They were a fan favorite with good reason.
---
Overall, Fun Fun Fun Fest proved itself to be a heavy contender among a constantly expanding crop of American festivals…and that is all without even touching on the wrestling ring or Skate/BMX ramps that you guys decided to pass on. Port-o-potty photo booths, Tonsil themed activities, and all the free cough drops and popcorn you could ask for also helped make FFF15 one to remember. Til next year.
* Thanks to the festival for providing us with all of their excellent staff photography. Give props.