Guess who's back? Back again?
It's September.
Of course that means AntiQuiet was back in Chicago to tear it up with the who's who of the punk rock world once again. The 10th anniversary lineup lured us in two years ago. Last year (after being chased out of Humboldt Park with proverbial pitchforks) the location changed but the lineup may even have grown more monumental in stature. So in many ways this uniquely ambitious festival has become an annual pilgrimage, the lineup being too delectable to snub time and again.
Riot Fest. The nexus of live punk rock. Home to an arcane genre replete with a rabid fanbase which continues on year-after-year with unwavering support despite an industry which moves further and further away from the core tenets it collectively espoused.
We love Riot Fest.
And what's not to love? The 2016 incarnation of this celebration brought with it a smörgåsbord of our favorite acts as well as a rare festival set by sanctimonious crooner Morrissey and the coveted return of The Original Misfits following a 33-year absence.
Would a deluge ravage the festival grounds for a third straight year? Would Morrissey bother to show up? Would GWAR summon Ktulu to devour us all? Would Glenn Danzig's belt hold?
Come along as we unveil our favorite moments from a festival we've come to adore.
The End Is Nigh: The Dillinger Escape Plan
Have y'all heard? The Dillinger Escape Plan are calling it quits following an extensive touring run for their new record Dissociation. At first the move was described as an "extended hiatus" but later firmly clarified by vocalist/maniacal screamer Greg Puciato as "breaking up" when he spoke to Metal Hammer earlier this month, elucidating the move as "thematic resolve" and as "closing the circle." He seemed adamant.
So if you've never taken in the apocalyptic, mathematical discordance of these guys live, now may very well be your final opportunity to do so.
The band was a thunderously intricate cacophony from start to finish. Incomprehensibly spasmodic instrumentation was complimented by Puciato's anguished pitch-perfect screams of "I can't see anyway" during Milk Lizard. Room Full Of Eyes was a smashup that saw both Puciato and plaided guitarist Ben Weinman crowdsurfing mid-song, both channeling a peanut-butter smearing 1970's Iggy Pop as they stood tall on the hands and heads of their acolytes.
Typical of the Riot Fest we've come know so intimately in recent years, the weather was an immediate concern. Cold sprinkle-showers and overcast windy skies provided a foreboding ambiance that seemed to be in symbiosis with the brooding sounds on stage. Until suddenly they didn't. The skies opened up, the sun rained UV love and the calamity on stage continued unrepentantly with the abrasive sounds of One Of Us Is The Killer, audience in full approval.
Giant douche vs Turd Sandwich: GWAR
Ask us why we expected anything different to go down.
A sinister, smoking, purple-clad harbinger also known as Sleazy P. Martini takes the stage. He is joined by a humanoid, cauliflower-eared Barack Obama before declaring "tonight you will witness how democracy really works."
And so it goes…
The warrior kings of absurdism known as GWAR filled in around the doomed President and started with the chords of Madness At The Core Of Time. Of course a green axe-wielding monster known as Bonesnapper relieved Obama of his head and blood rained on a boisterous audience.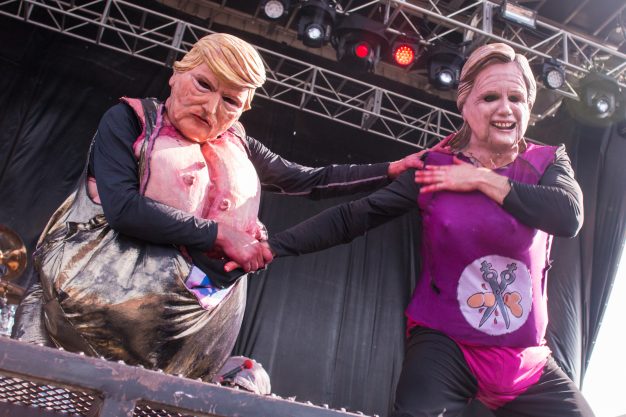 Naturally what comes next is the epic showdown we've all been waiting to see end. A veritable battle of the Cretans. A leatherfaced Hillary Clinton stands at the edge of the stage claiming supremacy only to be challenged by a rotund ogre Donald Trump. They exchange blows in a mock flurry of violence before Clinton peels the skin from Trump's face, disembowels him and flagellates him with his own entrails. Fascist Drumpf blood sprayed erratically into the masses below. Some scattered bloodied like they were on the beaches of Normandy. Others basked in the bloodletting.
It was a political abattoir and it was wonderful.
"Hello Cleveland," howler Berserker Blowthar jibed. "Bernie Sanders, we're sick of you. Hillary Clinton, we're sick of you. Donald fucking Trump, we're fucking sick of you."
His demon utters sprayed as Bonesnapper soaked the audience with a cannon and a mutinous, amorphous Bernie Sanders slithered across the stage.
GWAR didn't come to earth to ingratiate. They came to incinerate.
Urbane Nostalgia: Jimmy Eat World
Back at the affixed main stages the crowd grew unusually large for Jimmy Eat World as the wane of the sun doused the band in an orange glow.
Touring on this year's Integrity Blues, set to be released in October, vocalist Jim Adkins and his crew managed to salt and pepper their set with a healthy mix of new and old material giving vindication to the concentration of zealous diehards of which there appeared to be a great many.
The band were silhouettes poised in front of their their backdrop of melding illuminations during fan favs like Crimson And Clover and Big Casino. Adkins appeared to be an honed zen state, guiding the band with casual dexterity through Pain. We waxed nostalgic for The Middle then continued to wander the grounds.
Someone's Gonna Lose An Eye
These dudes were everywhere. I asked around. The average time in took them to prepare was 35-45 minutes.
The Swedish Invasion Part 1: Refused
It can be tricky to pin down which sonic milieu Refused dwell within. Their sound pulls from the genres and subgenres of metal, punk and hardcore. Put simply, they are of the last great arbiters of rock music. Frontman Dennis Lyxzen adorned in a bright red ensemble led them with a furious rendering of Elektra to start the set. His acumen as a showman is steadfast and unrivaled; his screams unwavering in their precision and vigor.
He strutted and pulsated and twisted and awed centering his compatriots on stage as they forged through Rather Be Dead, followed by two of the choice cuts from their 2015 comeback LP Freedom, Thought Is Blood and Servents Of Death.
Of their resuscitation since their return at Coachella back 2012 Lyxzen remarked "It's been quite a journey. Thanks for taking part in it."
Despite the fiery performance the meager amplification at the Rock Stage put a damper on things. But they forged on either unknowing or undeterred.
Lyxzen took several moments to, as is often the case at a Refused show, vent erudite and quixotic diatribes between songs. This time to chose to excoriate festival bookers for only bringing in 12% female artists. "I wanna live in a world where we can look our sisters straight in the eyes and call them our equals," he exclaimed, hoping to ameliorate the disparity by making it known.
Then came that familiar descending guitar riff adjoined to drummer David Sandstrom's popcorn fills, prefacing a blistering Summerholidays vs Punkroutine, with the swelling satellite stage anarchic audience swing dancing, and with moshpits dotting the humanscape.
They closed out the impressive hour long outing with New Noise capping off one of the best sets of the weekend.
Earmuffs Children: Fucked Up
Toronto's Fucked Up done fucked up to start their early Saturday set. That is to say that growler and charismatic frontman Damian Abraham and their sound mixer fucked up. It's a festival. Sometimes the sound sucks.
When we made our way over the grassy knoll leading to the Rock Stage Abraham's hoarse voice was unbearably hot in the mix, drowning out the rest of his seemingly adroit band. They remained on stage while he wandered aimlessly, screaming in the crowd, is he is wont to do.
This is the paradox of Fucked Up. They've got some great songs. But in many ways Abraham holds them back from achieving more. He's rousing and engaging as an entertainer but often breathless and incomprehensibly grating as a vocalist. I just like good music. Fuck me right?
Fortunately, a respite from this mess came as the front-of-house mixer brought the rest of the band out of Abraham's sonic shadow by the time they laid into Queen Of Hearts. Suddenly the strident vocal harmonies of bassist Sandy Miranda and guitarist Ben Cook were alive in the mix.
Abraham took time between songs to babble about inspirational Chicago bands, pro-wrestling and his recent weight loss. "I lost a lot of weight lately. It's because I started smoking weed." He then cajoled an "I Hate Summer" chant out of the audience guiding them into the song of the same name.
Despite early hiccups, they did manage to throw a semi-admirable set.
Why Am I Here?: Motion City Soundtrack
How many hollow, toothless, and vapid emo-pop-punk ditties can you endure before you restore your dignity by bailing in haste? I believe I made it to 2.5.
This show was being hyped as the penultimate gig of the band's career. The final show would occur at an official Riot Fest aftershow the following evening. No amount of hype could get us behind this neutered, softcore Coheed & Cambria.
All subjective jabbing aside, these guys did draw a vociferous and dedicated crowd. Kids were flying over the rails in droves during Make Out Kids. But this was the nadir of our weekend.
The Swedish Invasion Part 2: The Hives
Anticipation was high as ninja roadies took their cues to exit the stage. And then The Hives were upon us like 8 Red Bulls, a shot of adrenaline and an open palm smack to the face.
Drummer Christian Grahn busted out of a freeze pose to commence the salvo. His cohorts joined in one at a time in an instrumental crescendo that constructed into the ruthless punch of Come On.
Guitarist Niklas Almqvist's death stare gave way to a rocking Main Offender. His brother Vocalist Howlin' Pelle Almqvist's cat-like screeches served to exacerbate the chaos in the audience below.
These guys are artisans of hype. Bastions of pomp.
Then rang out the revving riff of Hate To Say I Told You So, and Howlin' Pelle was everywhere: jumping off of the kick drum, kicking the sky, climbing the trusses on stage left, posing for photographers and taking to the audience. His classic trick of pitting the audience against themselves now featured a gender-neutral category.
"Ladies."
"Wooooo."
"Gentlemen.
"Wooooo."
"Everybody else."
"Woohoo."
They closed out the fleeting and temerarious affair with Tick Tick Boom.
Milo Goes To Riot Fest: Descendents
Descendents have been a state of semi-retirement for a while now. They've limited themselves mostly to festivals for several years now. So a Descendents show still packs with it that electric feeling of seeing something special. And rightfully so. Milo Aukerman and crew are a blast every time.
Two years ago, they played a nighttime set for Riot Fest's 10th anniversary that featured a full run through of their seminal record Milo Goes To College. This year they would draw heavily from the very same record as well as from their new LP Hypercaffium Spazzinate, their first since 2004.
It wasn't easy skipping out Brand New but when Descendents play live, you heed the call.
The look of bewilderment that is painted on Aukerman's face every time he steps in front of a audience is an amusing phenomenon.
What followed was approximately 30 malcontent anthems in 60 minutes.
Stephen Egerton's crunch guitar and flailing chromedome led Everything Sux. This was followed by hurried but resolute Hope, still one of the best love songs of all time.
The Milo tracks were the highlight of course. The petulant sounds of Suburban Home, Bikeage and Myage were sprinkled intermittently throughout the set. Harsh pop-punk jams I'm The One and Thank You from 1996's Everything Sucks LP were saved for later.
Devastating Disappointment: White Lung
This was a tough one to swallow.
Now touring on their 4th and most polished LP to date, Paradise, Vancouver expats White Lung are a band to keep an eye on. This year they were nominated for Canada's top critical music accolade, the Polaris Prize. Vocalist Mish-Barber Way is a contributor for Vice's Broadly page. Rolling Stone even labeled their 2014 masterpiece Deep Fantasy as #38 on their top 40 punk albums of all time.
These gals (and guy) have pedigree.
Tucked away, or segregated if you will, back in the time out corner of Riot Fest AKA the Stoneyheart Stage, this set was marred by excessive amplitude. The vocals were damn near indecipherable for the majority of the set. Blistering new tracks like Narcoleptic and Kiss Me When I Bleed were muddled and distorted.
To their credit they really gave it their all despite being visibly rattled. Barber-Way even took time to out to mention that she couldn't hear herself the entire set. We stuck it out to the end when they gave it one last go with Drown With The Monster and then left disheartened.
It's a shame. White Lung play with an unchecked ferocity and tap into something visceral that has led to brilliance every other time we've had the fortune to catch them live.
Sanctimonious Moz: Morrissey
It wouldn't be a Morrissey festival gig without some tumult now would it?
Catching Morrissey at a festival is an unmatched rarity at this point. His famous Coachella 2009 walk-off due to grilled meat stank is a moment of festival folklore at this point. For years it's been rumored the Coachella kingpin Paul Tollett has offered to make the festival meat-free if The Smiths were to reunite.
I'd also be remiss not to mention the wave on cancelled gigs and tours Moz has booked in recent years. To be fair he was silently battling cancer.
When his name was featured on the Riot Fest Chicago lineup the internet was baffled. Apparently so was somebody in his camp. His appearance was promptly cancelled, but then hours later the cancellation itself was cancelled. It was on after all.
But the preamble continued. Signs were posted around the festival grounds on Saturday which read:
"Because of Riot Fest's respect to Morrissey and his animal rights activism there will be no meat cooked or served during the hours of 8PM to 10PM on Saturday. Thanks you for your support of Riot Fest."
Naturally this drew the incredulous ire of festivalgoers on site and the furor of Twitter in the aftermath. As if being able to stuff your face with dead animals without interruption, ever, should be sacrosanct. I mean what's more punk rock than telling 45,000 that you aren't stepping foot on stage until grilled death and suffering are removed from the equation.
As a vegetarian myself, I found myself humbly on team Morrissey. That the festival gave him carte blanche was seemingly impressive. Until…10 minutes passed following the planned start time of the set. Then 20. Then 40.
You don't make friends with salad? Well you really don't make friends by telling them they have to eat salad while you're around and then you choose to show up 40 minutes late.
Needless to say, this set was doomed from the start. Plenty of people were on their way out of the festival grounds long before Morrissey even walked on stage. As is often the case at his shows, videos of classic acts like Tina Tuner, The Ramones and The Clash were played while people waited. There was a lot of booing and jeering.
Taking his stage to the sounds of Suedehead, he took a moment to speak in his patented debonair swagger. "You must know it's my great privilege to be here."
He bloviated about the state of British politics and about the Bernie Sanders screwjob before Ganglord which was featured videos of American police brutality on the backdrop.
For his part, there were moments of enchantment. Particularly during Speedway which he sang partially in Spanish (to the approval of many travellers in the audience).
He stuck mostly to solo material from the past decade or so. His austere croons perhaps not what the once were but still enamoring at many moments throughout the truncated set. Irish Blood, English Heart still packed a wallop.
His encore featured Meat Is Murder's What She Said, the only Smiths song he chose to dust off for the entire set.
A Morrissey festival set is an apparition, but a bafflingly negative one at that.
Maximum Audience Participation: The Bronx
Our old pals from The Bronx were posited in the same time slot they had back in 2015 as side project Mariachi El Bronx. But this set was a whole different monster.
"What's up motherfuckers? We're The Bronx from Los Angeles, California," vocalist Matt Caughthran announced. Before long he was lost in the crowd where he would remain for the majority of the set.
A circle pit opened around him during Shitty Future, his face growing more florid as he screamed and incited fans by moshing with abandon, even taking time mid-song to help lift the fallen from the fray.
"Today is a blessed day. This weekend is a blessed weekend," he preached before diving into the raging They Will Kill Us All (Without Mercy). A dust cloud stirred up from the pit as Caughthran was encircled by doting fans mouthing every word.
This was the perfect kick in the teeth to chase that Sunday morning hangover away.
Canadian Wunderkinds: Billy Talent
I still don't know why Billy Talent never caught on south of the 49th parallel.
The Canadian quartet has amassed five records to date (including this year's Afraid Of Heights) and has an ardent following in both Canada and Europe. In Toronto they sell out hockey arenas. In Buffalo they play 1000 capacity clubs. This is likely due in part to the fact they rarely play any shows in the Land of the Free. But also likely due to their unfair relegation by some critics as a screamo act.
On this day they hinted that they were ready to give the U.S. another go.
They looked hungry as they took the stage to pounding riffs of Devil In A Midnight Mass. Vocalist Ben Kowalewicz was a tinderbox of enthusiasm thrusting himself into a hunched ball on the monitors and belting out his unique screamspeak.
Guitarist Ian D'Sa's adroit guitar work and infallible vocal harmonies were on full display during Red Flag.
"I know we haven't been to Chicago in a very long time and I apologize for that," Kowalewicz acknowledged. "One of the most beautiful things in the world is seeing what we get to see from on stage." These words seemed the ideal way to ease the audience into their first single Try Honesty as old Warped Tour pal, Rise Against's Tim McIlrath looked on from side stage.
They closed out the ephemeral set with Viking Death March. This set could've been twice as long and no one would have batted an eye.
Novelty acts supreme: Juliette Lewis vs. Dee Snider
We popped in for bits and snippets of these sets.
Juliette Lewis was a gallivanting fireball in an Evil Knievel outfit. We hung out for a hot minute while she pranced and galloped and jumped and wailed to some generic rock numbers.
We edged towards the Roots Stage to catch Twisted Sister's Dee Snider covering Nine Inch Nails' Head Like A Hole. He then started a "Riot Fest sucks" chant before taking a solemn moment to thanks the "rock gods" and to thank "mother nature for not being a cunt." Where the hell am I?
5-years of PARTYING: Andrew W.K.
5 years! Andrew W.K. continues to edge out GWAR for being the band with the longest Riot Fest streak. As the filthy ageless beefcake commenced with Ready To Die people went full-on bonkers. The front row T-bars were bending under the pressure. Crowdsurfers inundated security. Sweat and long hair and devil horns filled the air above the audience. This was our 3rd straight year catching AWK at Riot Fest, but this set was different.
After She Is Beautiful, AWK proclaimed "It is the most challenging times that call for the best parties. We must leave everything on the stage." And so they did because this was the ideal segue to everybody's favorite 2001 beer commercial anthem Party Hard.
And then there was this guy.
The set featured AWK doing a guitar solo rendering of Star Spangled Banner in the vein of Jimi Hendrix, but without the subtle brilliance. It featured a histrionic shadow boxing match with the sky. It was ridiculous.
Andrew W.K. is "joie de vivre" defined.
Best Dad Ever: This Guy
Oh, the jubilation.
Bad Religion
The grandfathers of political punk rock were back. It was tough skipping out on Kathleen Hanna's The Julie Ruin, but we made a call and we're cool with it.
Professor Greg Graffin raise both middle fingers to the sky as they commenced with Fuck You, the afternoon crowd below vast and celebratory. "You guys don't really care about the old material do you," he teased as an introduction to Generator.
Graffin's cerebral lyrics were once again complimented by swift power chords as they reached back to 2002 for a somber Sorrow. During American Jesus he opted to adjust the lyrics to "I feel sorry for the Earth's population, because so few live in Chicago."
30+ years in the game and they still manage to bring it every time.
So Conflicted: Sleater-Kinney and Rob Zombie
What does one do when Sleater-Kinney performs at the same time as Death Grips and Rob Zombie? Especially considering the only two Sleater-Kinney shows of 2016 were at Riot Fest Denver and here in Chicago. And that Rob Zombie was set to play White Zombie's Astro-Creep in it's entirety for the first time in forever, if ever. We made a tough call to split our time between the Portland songstresses and the Devil's Reject.
Sleater-Kinney were laconic, choosing to cram as many raw jams into their one hour set as they could. They made the right call.
You wouldn't know guitarist Carrie Brownstein was currently juggling two acting gigs (on TV's Portlandia and Transparent). She seemed fully engrossed and practiced while playfully leading SK through early dancejams Bury Our Friends and Jumpers. Resplendent hues exuded from their ornate backdrop.
And then we hightailed it over for the start of Rob Zombie's circus.
The lighting was dim and ominous and nebulous smoke billowed over the stage risers. Guitarist John 5 made his way out of the shadows, leering at the humans below.
Then came the ostentatious zombie hippy himself. He clung to his microphone stand, screaming "devil man, devil man," demon growl in full swing as they slammed through Super Charger Heaven in a manner that was ostensibly brooding but more accurately just a heinous party.
It was a frenetic outing but the remainder of Sleater-Kinney seemed a more alluring option, so we took flight once more.
We arrived back at the Rock Stage just in time to catch New Wave from SK's 2015 comeback album No Cities To Love. Brownstein was dancy and exuberant while she sped through the sludgy riffs. Their audience had diminished as people jockeyed for position for the Misfits set that was soon approaching.
They slowed things down for Modern Girl. Vocalist Corin Tucker's mellifluous vocals were being drowned out by the aforementioned conflicting sets. They topped it all off with Entertain.
Halloween at Riot Fest: The Original Misfits
This was the defining moment of the weekend. Festival organizers saw to that when they pulled a Bonnaroo and shut down all of the other stages so that everybody on the grounds would have no choice but to take in this headlining set together.
33 years of squabbles and lawsuits and bickering through media proxies and here we were. Poised to see Glenn Danzig, Jerry Only and Doyle Wolfgang von Frankenstein (along with Dave Lombardo – formerly of Slayer – on drums) play their 2nd reunion and perhaps final reunion gig (the first coming 2-weeks prior at Riot Fest Denver).
This was punk-rock royalty, in the flesh, reunified. The proliferation of painted faces and skull-faced t-shirts in the audience throughout the day were a testament to devotion of their fans. Throughout the day there seemed to be a gravity emanating from the Riot Stage which slowly pulled in more and more people until 45,000+ coalesced for this moment.
A panoply of Halloween paraphernalia decorated the stage. Giant elongated orange jack-o-lanterns were positioned on right and left. Microphone stands made of chains sat idly in between. Then the lights went dark.
Out they came. A leather clad Danzig, followed by Only and Doyle, both with devilocks on full display. 52 year-old Doyle was jacked to the hilt. Was this a punk show or a WWE pro-wrestling match circa 1994?
For their part, the band looked wholeheartedly thrilled to be back on stage together. They exchanged smiles during the forward-pushing I Turned Into A Martian, chanting "Whoaaa-oo-oo." There was a palpable feeling of excitable reverence in the audience as many jumped and swayed to songs that took on a new life in a live setting in 2016. Because let's face it, most of these songs sounded utterly reprehensible on those poorly recorded records.
Danzig took several moments between songs to remind everyone that they were "witnessing history." We're of the assumption that he an Axl Rose have the same masterful tailor. How else could he have squeezed into that outfit. He looked exasperated between songs, but to fair when the vocals weren't fully overtaken by the instruments, he did sound quite good at times.
Doyle's pacing was manic. He was here there and everywhere during Teenagers From Mars. If you took a pin to those pecks and biceps I wonder if they'd have popped.
"Did you ever want to kill your boyfriend or girlfriend because they pissed you off? That's what this next song is about," Danzig stated as they ripped into the baleful Die, Die, My Darling, with the massive audience reaching peak delirium.
They closed out the clamoring 80-minute headlining set with Skulls and Last Caress before encoring with hits like She and Attitude. Conversations overheard while exiting the grounds had us convinced that most left content with the performance. The punk-rock-purists were no doubt satiated, but the rest of the throngs were likely much more ambivalent.
Addendum
Another year in the books. Riot Fest really got it together this year with the wonderful redesigned layout of the grounds. Jumping between stages was a breeze. With all of the stages facing semi-north, sound bleed was less of an issue as well.
And the weather! I didn't ruin one pair of shoes this year. Don't…believe.
Despite the large crowds this festival still feels like a clandestine bash. Where other festivals have progressively grown more homogenized, Riot Fest has continuously featured a niche lineup that no other festival can touch. They pander to no one, and the people keep showing up. When Warped Tour started introducing programming for 12 year-olds, Riot Fest began to appeal to their parents. Real punk-rock. And what they've put together year after year is something special to behold.
We can't get enough. Is it September 2017 yet?