It's safe now to say that the Boston Calling Music Festival has reached critical mass in its sixth year of existence. Co-curated by The National's Aaron Dressner, this once germinating, peripheral bash has flourished into one of North America's premier music festivals. All while managing to wholesale reject the invasive yet lucrative compulsion to book from the miasma of vapid EDM acts.
The 2017 edition of the festival came with a discernable shift in gravitas, drawing in major headliners like Tool and Chance The Rapper. This shift necessitated a venue change to increase capacity. So Boston Calling landed up at Harvard's Athletic Complex.
Even if 2018's festival class weren't so destitute, this lineup would've been impossible to overlook as it featured a menagerie of veritable progenitors and nascent trendsetters of rock, hip-hop, and indie. Antiquiet was already primed to bring you more show coverage of both Queens of The Stone Age and Jack White, but we were also treated to formidable sets from St. Vincent, The Decemberists, The Killers, Paramore, our pals Portugal. The Man, among many others. This year's lineup also featured an array of ancillary programming including collaborative multimedia performances hosted by one Natalie Portman, as well as live podcasts in Harvard's hockey arena.
Oh, and Boston Calling went out and got the realest MC on this earth. A resurgent Eminem topped off the bill and the weekend with acerbic vehemence.
We went to Harvard to get our doctorates in the shiznit. Our highlights of Bean Town's preeminent party, including long-form performance reviews and extensive photo galleries, are available now for your perusal. Baawston brought the bangers and we captured a glimpse of the splendor.
Harlequin Mob Agitprop: Pussy Riot
***Take this initial invective with a grain of salt because this weekend got heaps better following this set.
It wasn't all that long ago that we found ourselves standing in solidarity with this anti-Putin syndicate. Who doesn't revel in seeing anyone stick it to Vlad the POTUS-maker. A few short years have passed and Pussy Riot's degeneration into hapless disseminators of egalitarian platitudes is now complete.
Their set essentially commenced with a 30-point video countdown of their collective worldview featuring groundbreaking philosophical insight such as "sharing wealth is the best antidote to populism." Part elucidation into the minutiae of Russia's internal corruption and part modern paraphrasing of The Communist Manifesto, ­this pseudo-utopian nonsense went on so long that laughing at it became boring. They were quite literally extolling the virtues of virtue signalling. Proletariat pushers performing for festival folk consisting of predominantly bougie urbanites and college students aka the beneficiaries of capitalism.
A question was posited on screen. "What do you want?"
An instant riposte arose over the silence of the audience as a woman shouted "Paramore," whose set was forthcoming. Lolz.
Finally, a DJ entered alongside former gulag inmate and bane of the Putanist regime, Nadya Tolokonnikova. When the music finally commenced it was as hollow was the ideologies they were espousing. Trap beats over excoriating raps about prison exercises and bad apples…in mellifluous, honey-sweet Russian. Fun!
Their recusant punk-rock cred and perseverance in the face of objectively absurd state oppression simply does not equate to talent in the entertainment industry. Whoever keeps dumping money into this poor man's proselytizing, anarcho-communist Die Antwoord should probably find a new venture.
Fortunately, the politics remained mostly outside of the festival gates for the remainder of the weekend. While Pussy Riot continued to no doubt smash the patriarchy with neon balaclavas and vagina ditties we split and settled in for the Lords of Portland.
Merited Ascendance: Portugal. The Man
Portland's finest went and broke through to the mainstream. Many are the years that AntiQuiet has championed Portugal. The Man, but the cat is now out of the proverbial bag and we couldn't be more glad.
Beating hot sunlight was assuaged by strong cool winds. A panoply of interweaving psychedelic video tapestries with footage of Beavis & Butthead formed an encompassing backdrop. The latter 90's braindead MTV icon then instructed us all to "bow down to the greatest band in the world…Portugal. The Man." They then started their set with a covers of Metallica's For Whom The Bell Tolls and Pink Floyd's Another Brick In The Wall Part 2.
The frenzied pace of Purple Yellow Red and Blue was augmented by visuals of expanding and contracting geometric patterns. We escaped for a few moments to cool down and grab some eats before returning during a bass-heavy, rockier Atomic Man. The sunlight waned behind a patchwork of clouds as the song collapsed leaving singer John Gourley alone to sing "I'm the moon that pulls the tides that take the sand, I'm atomic man."
Then came an eternity-long Live In The Moment backdropped by globus amorphous blobs and a 32-armed (I counted) Krishna-like deity. Likely it was closer to 20-minutes, but still, it was a significant journey which served as a showcase for their immensely gifted guitarist Eric Howk.
We headed over yonder and narrowly avoided tripping over three young men, laying on the ground, gazing into the sky who definitely were not peaking on LSD, as the band concluded with their brand new yet apparently seminal hit Feel It Still.
The little band that could done did it.
Effervescence Personified: Paramore
It's safe to say I was not prepared for how exuberant and entertaining Paramore were going to be. Fangirls (and surely also a few fanboys) had been lining the Delta stage's front row t-bars for hours. When Hayley Williams and her upbeat pop-punk comrades took the stage, the fangirls shrieked in deafening unison.
They started it off with Hard Times, which broke down intro a sly cover of Blondie's Heart Of Glass. Williams was erratic and fiery right from the hop, her every movement a photogenic pose. She got the moves like Jagger. Ya I quoted Maroon 5, wanna fight about it?
The inherent skeptic within always had me convinced that Paramore was another disposable, banal, transient act without staying power. Three songs into this set and I was converted. And the re-envisioned girl-power they espouse by example is nifty as well.
"We're playing at the same time as The National, and that's sad" Williams remarked when taking a quick break from running around like a rabid Tasmanian Devil on Adderall. "Thank you guys for coming to our set and hanging out. This is so rad." The poppy power-chords of That's What You Get were then upon us and hoards of college girls began dancing along.
Following the funky bass of Told You So, we started to pack up to enter the metastasizing mass at the main stage where The Killers would soon perform. "The smartest thing you can do with your life is dedicate a portion of it to music" Williams told her fans just as we walked out of audible range. Indeed.
A Soldier Without Soul: The Killers
Friday night's headliners The Killers are always a mixed bag. This show was no different. Their fans were beaming and jubilant, but the band, particularly singer Brandon Flowers, did at times leave much to be desired. With that said their performance was a spectacle and did contain many notable moments, one of which came straight out of the gate when they opened with Mr. Brightside as The Victims (yes, fans apparently refer to themselves as The Victims) jumped and sang along rapturously.
Frontman Brandon Flowers was beatific and seemingly incredulous throughout, sharp eyes gleaming out over the sea of humans at his feet. "We're The Killers brought to you by Las, Vegas, Nevada" he shouted, prefacing a thrilling and clarion Somebody Told Me. But his vocals started dip in-and-out of key at this point. It began during Shot At The Night and occurred sporadically during their 1h 40m set. Some moments were so flat and so sustained that you couldn't help but react with a wince.
The rest of the band was tight though. Specifically drummer Ronnie Vanucci Jr. His furious rolls and fills set the pace throughout. Never was this more evident than during Run For Cover. Flowers then wrangled in a 17-year-old fan affectionately known as Nick who had been holding a sign near the front of the audience. It read "I can drum For Reason's Unknown." He wasn't bullshitting. With all of the coolness and poise of a tenured drummer he blasted through the song in front of fans in their tens-of-thousands, taking every moment he could strike a pose during his rockstar moment. Fans chanted "Nick, Nick, Nick" as he joined the band at center-stage to take a selfie. He then departed, rejoining the crowd, and likely became a man soon after.
Flowers' vocals reached a high-point during Human as pink confetti was blasted into the sky, but dipped again The Man. His effort was endearing but his execution wasn't always on. They then covered Tom Petty's Free Fallin' including a clever interjection of American Girl.
As they closed out the set with When We Were Young, we peeled back through the dancing swell, strolled through the gates, and crossed the Charles River to prepare for a big day two.
Surrealist Surprises: Natalie Portman & Friends
The Arena Stage was home to a variety alternate programming throughout the weekend and provided a cool reprieve from the swelter. We jumped in Friday and Saturday to catch whatever surprises laid in wait for Natalie Portman's appearances. She returned to her alma mater to curate her Female Gaze film series in conjunction with Boston Calling during the days preceding the festival.
On both Friday and Saturday she popped out briefly to introduce live score accompaniments to avant-garde, surrealist films, the latter featuring the vocal inflections and abstractions of St. Vincent's Annie Clark.
Initially the macabre dread and isolating fragmentation of the films felt completely out of place amid the bustle of an excitable, unengaged and increasingly inebriated festival crowd, but the result of the symbiosis between the live ambient musical meanderings and these turbulent films was an irksome yet contemplative gestalt, as well as an escape for those practicing disciplined focus.
Strident Delirium: Thee Oh Sees
Apparently Thee Oh Sees are a main stage draw now. Fancy that!
Our Saturday commenced early with the frenetic punk-rock-jam-band-garage-psychedelia of Thee Oh Sees or The OCs or Oh Sees or whatever they are calling themselves this week. This band tweaks their name as often as they change their lineup and release records. In other words, too often. Try to pin down or define this band. I dare you.
A man wall lined the stage centered by two drummers playing in hysteric synchronicity as they started with the dynamic amusement of The Static God. Trenchant eccentric and lynchpin John Dwyer was electric as they veered into The Dream, jumping, gyrating, and mouthing the notes he was playing on his high-strapped guitar with an expressive tongue. The song broke down into an improvised rendering as he finger-picked and whispered, only for it to regain its original form.
The younguns were moshing and stirring shit up to the macho guitars of Toe Cutter/Thumb Buster. Crowdsurfers took rise and fans were dispersing joy with the infiltration of bubble-makers and beach balls during the delay vocals and squeal guitar of I Come From The Mountain. Despite the dead heat they were ready to get at it. After encouraging the audience to join them later at their after show down the street at The Sinclair, they closed it out with the synth/guitar interplay of Nite Expo.
Conflicts Calling: Brockhampton
The kiddies were in a frenzy for this hype Brockhampton set. The riot-gear clad collective were tripping over themselves, jostling for attention, as a massive crowd swelled at the satellite Delta stage. Fans jumped and banged along to the greasy fury of Boogie as the temerarious and incipient hip-hop machine began to unpack a set chock full of goodies for Generation-ADHD.
Unfortunately, a porcelain rock goddess was on the cusp of hitting the stage at the opposite end of the festival grounds, so we made a swift and sullen exodus. And wouldn't you know it, the following day Brockhampton decided to cancel the remaining dates of their US tour to retool after booting member Ameer Vann amid allegations of sexual misconduct.
Daring Resplendence: St. Vincent
Annie Clark's rise has been the result of relentless slugging and experimentation. Rising out of the ranks of The Polyphonic Spree to spread her wings as an anomalous rocker-pixie, to recording and touring alongside David Byrne, to transforming again into a hedonistic neon pop-tart upon the release of last year's Masseduction, Clark's ambition and hunger appear to be limitless.
Her band stood motionless afront a wall of bulbous lights as she sashayed on stage with choreographed solemnity. Her poker face broke into a simper following Sugarboy as, enveloped in smoke, she raised a fist to the air for Los Ageless, the audience singing along to the fluid lyrics "how can anybody have you and lose you and not lose their minds."
"Hello Boston" Clark called out, before integrating some civic-pride lyrics neatly into a melodious soliloquy as an upbeat take on New York: "Boston isn't Boston without you love."
Looking like a photo negative of Milla Jovovich in The Fifth Element, she then unpacked the prurient pillowtalk whispers of Savior.
Her new songs appear to have permeated the Zeitgeist but amazingly many of her older tracks fell on deaf ears. The twitchy Marrow put an exclamation point on that assertion, as most fans stood bewildered while she stomped emphatically during the guitar solo. The spritely guitar and Madonna-like cadences of Cruel again drew modest reactions. Regardless of the audience, her elaborate new show was a multi-sensory marvel. Daring, yet vulnerable.
Relegated, Subdued, Exigent: Queens of the Stone Age
Boston Calling's stage arrangement was peculiar but it only became problematic during Queens of the Stone Age. A makeshift Green Monster provided a conduit between the main stage and its petit satellite alternate stage, which was where them crooked Queens were set to play a tight 1h 15m set leading up to headliner Jack White. But the issue here wasn't size, it was amplitude.
The superlative rocker brood has been criss-crossing North America around the early summer festivals before their impending departure for Europe. We caught up with them just three weeks ago at Shaky Knees. Since then, ringleader Josh Homme may or may not have been battling an illness on the road. Fortunately, there was no evidence of said malady on this night.
The other bizarre variable here was the diminutive size of their audience. Fans could essentially hop in at stage right minutes before the show and find themselves situated very close to the front. Most fans were clearly split between leopard-haired degenerate Tyler The Creator and jostling for position for Jack White.
A shortened set duration meant there was no time to fuck around. Queens took the stage as the sun crept below the horizon line throwing down the menacing combo of Millionaire and No One Knows straight away.
The spring-mounted light fixtures that illuminated and pulsated through the smoke on stage once again became the band's playthings. Homme was kicking and dancing amongst them, taking but a moment to catch his breath as robotic drummer Jon Theodore blasted through a solo under nebulous, beam-me-up spotlighting. Then came the baleful intrusion and crunching payoff of Feet Don't Fail Me, replete with guitarist Troy Van Leeywen's slamdancing flair.
"There's so much good music here today" Homme said with a frenzied smirk as they careened into the unhurried deviant wah-riffs of Smooth Sailing. This was the moment when the haze ascended and reality set in. The sound was meek. Even Royal Blood's earlier daytime set on the same stage had been louder. You could quite literally hear yourself singing the songs over the band 100ft from the stage. This wasn't by any means a deathblow to this set, but it again begged an inquisition into why anyone thought it made sense to drop the hi-desert's finest on this stage. With that said, the band didn't seem to notice at all, and they continued to deliver hit-after-hit throughout this lean, compact performance.
Following The Evil Has Landed, Homme, ever the epitome of debonair recalcitrance took to the mic when security was attempting to force a fan down off of another fan's shoulders. "No you can stay up on the shoulders. Security it's fine. These people are here to party." Josh Homme, man of the people. This served as a segue to an attenuation in the vibe as they played Make It Wit Chu, during which Homme encouraged fan participation in his inimitable way. "Sing it like you mean it. But don't make it rapey."
The gaslighting thunder of Sick, Sick, Sick renewed the pace as we roamed across the narrow divide to settle into the sardine can for Jack White. The barely audible wraith harmonies and chaotic false-stops of Song For The Dead concluded another set from the superlative quintet. Homme climbed the lighting on stage left, fixing his guitar strap to the equipment and discordant open-string guitar noise rang out until the sound was cut.
Incisive Versatility: Jack White
Lurid, contrasting blue lighting enshrouded the main stage as the venerable Jack White graced Boston Calling with his appearance. As soon as he strapped himself in (to his guitar) he bolted over to the drum riser to connect with bassist Dominic David and drummer Carla Azar for Over And Over And Over, recklessly whipping around his guitar while rotating screens behind the band all featured hyper-reality waveform arrays pulsing over the live video feed.
Following the rapid reversals between White's soft vibrato and ape-screech during Wasting My Time, he loomed over the precipice and screamed with incitement "how do you feel Boston?" Hotel Yorba then tickled us in the soft spot.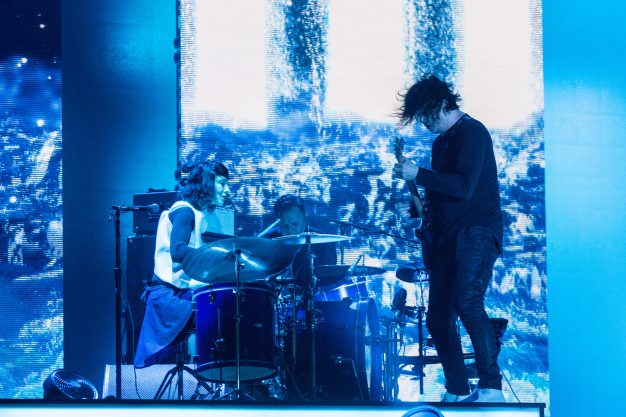 White sported his Ernie Ball Blue Music Man guitar, St. Vincent Signature Edition for Hello Operator, before dusting off The Dead Weather's I Cut Like A Buffalo. Queens of the Stone Age's Dean Fertita, also a member of The Dead Weather, did not make an appearance. There was an incestuous element to this expertly curated day of modern rock. You know, the good kind of incest. No? No.
The paroxysmal incursion of Black Math fired everyone up. White was frantically racing around to direct his band between songs as if desperate to sneak as many of them in as his time slot would allow. Steady As She Goes and Hardest Button To Button are mainstays on his setlist but the both demanded passing acknowledgment in the least.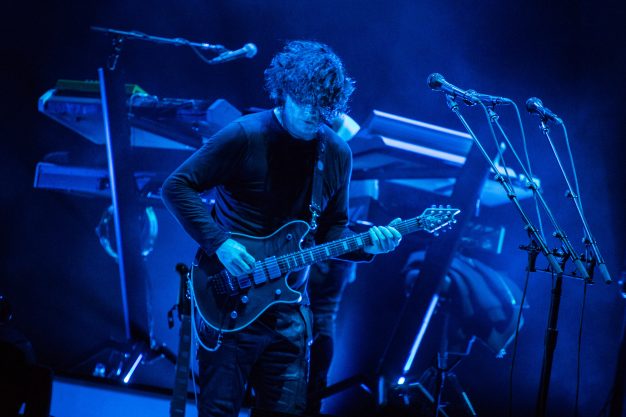 Following an early ceasing of the main set (during which White is rumored to often sit backstage feeling out whether or not his audiences are deserving of more) the band returned. "What a day it's been" White insisted. "It's so nice to see St. Vincent, Queens of the Stone Age, Royal Blood and Lillie Mae." He then unloaded The White Stripes' Little Bird and I'm Slowly Turning Into You.
Jack White has an exploratory and tempestuous oeuvre. Despite this foreknowledge, the rapid transition from Why Walk A Dog? to Sixteen Saltines was still a shocking twist. Following a twanged-out Ball And Biscuit, White hit pause to say "I don't wanna go, but they're makin' me go." Of course Seven Nation Army came next, the audience chanting out the infectious melody while he sang out the final verse.
His parting words: "Please go out tonight and spread positivity and not hate."
Bleak and Frigid: Sunday Weather
We hopped in to the fray a bit later on Sunday. The weather was dismal. Biting winds cut through frigid and sustained drizzle for the majority of the day. Out were the booty shorts and tank-tops, in were the plastic rain-ponchos, sweaters and winter jackets. This put a damper on the revelry and fans were wearing the displeasure on their faces early on. But they were a resilient bunch, and the best was yet to come. Surely libations and the impending appearance of the real Slim Shady would liberate the masses from their collective climate-induced gloom.
Arcane Wizard: Thundercat
Looking like he had just rolled out of his tour bus' cubby bunk bed and dressed in his Sunday-best, (a bright red hoodie and ostentatious dragon-embroidered silk shorts) experimental acid-jazz bassist Thundercat bedazzled and perplexed as light rains continued to fall. "This'll pull you out of the rabbit hole" the manic magician asserted as he led the adroit trio into the confounding catchiness of Captain Stupido. His slippery and deft maneuvering of his imposing 6-string bass was creating processing errors left and right. When he wasn't ripping arpeggios with furious mathematical precision he was serenading with the sweet falsetto of a road-hardened soul-singer.
Many of the band's songs accelerated into varying degrees of convoluted, meterless noodling, their improvisational acumen though baffling in its complexity was sometimes difficult to digest. The intricacies of their maddeningly florid compositions no doubt left many in the audience aloof as hoards of sunken-faced, Stan-hat donning Eminem fans laid claim to their spots at this, the festival's main stage. More on them later.
"Everybody put two fingers in the air" the artist known as Thundercat requested. "I feel like we need this shit now more than ever." The band then forged through a superb cover of Kendrink Lamar's Complexion. Soft keyboards were laid over the extemporaneous and hurried bass and drums, giving off the air of elevator music after the cables had been cut.
"This is drinkin' weather right?" he posited to tacit agreement. "It's always drinkin' weather." They capped off the late-afternoon set with the enchanting bass grooves of Them Changes.
Of the few jazz acts with the notoriety and mass-appeal to break into the major festival circuit, Thundercat surely sits on top of the heap.
Sanguine Escape: The Decemberists
The Decemberists truly made the best of the predicament we all shared. The elements they were unpleasant, but the music ameliorated the situation. The release of I'll Be Your Girl earlier this year saw a synthy reinvention of sorts for the Portland veterans and this set would contain many of those songs.
They kicked it off with a flurry of folky new tracks capped off by Make You Better. "It's a pleasure and a privilege to be sandwiched between Julien Baker and Fleet Foxes" urbane frontman Colin Meloy noted. "This is a song about mining." They then launched into a delightful twofer of Rox In The Box and Down By The Water, the former featuring multi-instrumentalist Jenny Conlee's delightful accordion and the latter her dulcet vocal harmonies.
They went on to cover Lin Manuel Miranda's Ben Franklin, featuring the PG lyrics "do you know who the fuck I am. I am poor Richard's Almanak-writing Benjamin fuckin' Franklin." Just after, Meloy pointed to a child in the audience and said "sorry young man. And sorry to your mother."
The droll raconteur used a breakdown moment during Everything Is Awful to throw in melodious offhand zingers like "There's a white supremacist in the White House" and "a bunch of kleptocrats in his cabinet." Many of the acts this weekend alluded to the trying times in which we all reside without resorting to diatribes and rhetoric, or by giving name to the pumpkin-headed pussy-grabbing POTUS, which actually, was quite refreshing. It can be nice to forget how stupid everything is for a weekend.
As tantalizing a prospect as hanging on for the inevitable Mariner's Revenge was, we decided instead to skip across the grounds to lay in wait for Mr. Mathers.
Lost In The Moment: Eminem
As former Beastie Boy and funky ass jew Mike D DJed in front of a colossal backdrop filled with seemingly unconnected TV streams, hostile fans began packing in far too tightly at Boston Calling's main stage. There was a feeling of anticipatory madness in the air; as if you could smell the bellicosity. The humans were building makeshift scattered barricades against impending intruders. Light rains continued to fall. Many fans, having waited at this stage for hours to see Eminem's first New England performance in 13 years, were growing impatient as the effects of the intoxicants began to wear off for some and grow fiercer for others. We were in it now.
All day long there had been visible shift in the festival's clientele. The single-day ticket holding trailer-park contingent was proliferating. Face tattoos o' plenty. Full sets of teeth, less plentiful. Fights were breaking out with semi-regularity only to be broken up by other fans, as security was often too far off to even take notice. The contracting of gonorrhea seemed imminent.
Fortunately, tension dissipated into exhilarating elation as a massive curtain fell and Detroit's OG took his stage for the first time since his return in April at Coachella. Smart phones in their thousands were raised in the air as Eminem rolled through Dr. Dre's Medicine Man. His band consisted of fourteen contributors as well as DJ Alchemist.
His exaltation was palpable as he ran vigorously to the fringes of the stage during 3 a.m. But the real bouncing off point came five songs in when he reached back to The Marshall Mathers LP for Kill You. "Wait a minute. Look at all these muthafuckin' people out here" he acknowledged. Somehow he managed to look dumbfounded and intrepid simultaneously. His entrancing, singular syntax was on full display during an indelible Rap God. Slim was spittin' ruthless fire.
A trimmed but penetrating The Way I Am preceded the arrival of Skylar Grey, who has over the years become Eminem's de facto female vocalist at concerts. Looking elegant she readily stepped into the roles of Beyoncé, Rihanna and Dido. She stood a solitary vigil at center-stage for Stan, and is if by some divine synergy, the rain which had temporarily abated, returned, providing apt accompaniment.
Royce da 5'9'' popped in briefly to duel it out with Eminem on the Bad Meets Evil track Fast Lane. A burning rust-belt suburban warehouse was the video backdrop for the The River from Eminem's anemic, self-aware, and superfluous new record Revival. He had to sprinkle the new stuff into the mix. It was expected and admissible.
Following up a pyro-infused performance of The Monster came the climax of Boston Calling. "How many of y'all are fucked up?" Em inquired. Recently achieving ten years of sobriety himself, he asked "can we take you back to when we used to get fucked up?" What ensued was the medley of all medleys. My Name Is, The Real Slim Shady and Without Me all entwined with masterful precision. I don't doubt at all that the Shady clones I'd seen fighting earlier on were now bro-ing down together in triumph.
"Boston, thank you to every one of the fans who stuck with me through this fucked up career I've had" he said effusively before Not Afraid. Following a brief encore break he returned for the only song he was ever going to close with. We lost ourselves in the moment. We owned it. We'll never let it go.
And with that, the largest audience of the festival weekend dissipated and funnelled out into the streets of Harvard's Athletic Complex and beyond.
 Baawston, you're a peach.
***Photo galleries below also feature Perfume Genius, Royal Blood, and Julien Baker