The prestige of American music festival has been on the decline for many years now. It's become easy to deride the Coachellas, Lollapaloozas, Bonnaroos and GovBalls as they've steadily fallen into the feckless, homogenized abyss of basing the entirety of their lineups on Spotify play counts and giving amplifiers and stature to record-player players.
This was inevitable. We come to think of these festivals as being our own because our experiences within these hallowed augmented realities often feel so profound and transformative. But the corporations have meticulously and insidiously infiltrated our isolated and fleeting pockets of joy, one by one, and put profits ahead of posterity.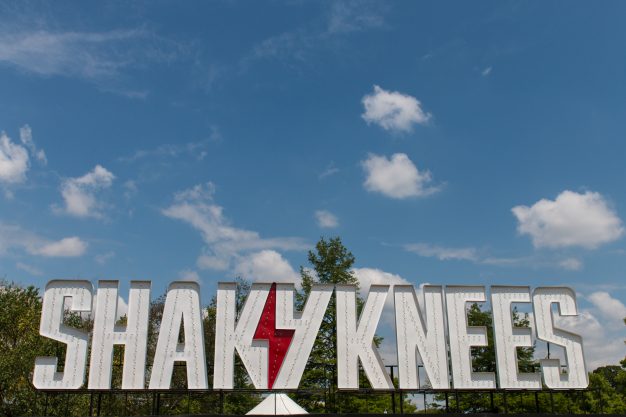 Enter Atlanta's Shaky Knees festival. While so many other festivals have languished in an attempt to cater to ADHD-riddled Gen-Zers and furry-hatted molly-gaggers, Shaky Knees has consistently offered a tantalizing alternative, not to mention a decent-ass rock lineup.
This year they went big, drawing in modern-rock paragons Queens of the Stone Age and Jack White, as well as a surprising handful of rarity sets from Tenacious D, Cake, The Voidz and The Distillers (who recently reunited after a twelve-year collective sabbatical).
This jigsaw fell into place too nicely, so this year AntiQuiet decided to hop in on the fun. Join us as we run down the highlights of the weekend and check out our comprehensive photo gallery below.
Scottish Stalwarts: Franz Ferdinand
Touring on their irrefutably catchy new record Always Ascending, Glasgow's perennial midcarders Franz Ferdinand were a histrionic delight. Many of their more recent records have been relatively overlooked, but they've been churned out dancy-rock jams with a consistency rarely seen in today's music business. "We are Franz Ferdinand and we are so glad to be back in Atlanta" frontman Alex Kapranos remarked before leading them into the title track of the new record.
While the rest of the band remained in mainly fixed positions, Kapranos was everywhere and in the air, kicking and thrusting and jumping with precision, somehow maintaining proximity to his microphone. "How you doin' Shaky?" he queried preceding the flicking funk guitars of No You Girls as fans danced and kicked up dust. The sound was impeccable and it was clear that their flair for the dramatic had only been exacerbated by their FFS collaborative album and tour with Sparks.
The lyrics for Do You Wanna were swapped for a cheap thrill. "Here we are at a Shaky party. I love your friends, they're all so arty, oh ya." There was nothing convoluted about it. Just a steady stream of ditties free of superfluous allegory.
The indelible guitar melody and lustful lyrics of what remains today as their biggest hit, Take Me Out, played us out as we scurried across the increasingly arid dust bowl and down the hill towards the Peachtree stage to settle in for Anatomy 101 with professor Byrne.
Idiosyncratic Congregation: David Byrne
Tenured and dapper professional weirdo David Byrne released American Utopia back in March (his first solo release in a decade). The former Talking Heads frontman, dressed in an asymmetrical suit with far too many pockets, sidled through the wall of hanging chains that served as the backdrop and sat alone silently at a table at centre-stage. The stage was otherwise bare. After examining his thousands of students and attempting to keep his poker face intact, he picked up a plastic model of the human brain. He then rose to his feet and began singing Here, which essentially amounted to a musical lecture on the anatomy of the brain.
Slowly his band filtered through the chainmail until the stage was filled with a diverse lot of performers in matching attire. I lost count of them after I ran out of fingers to count with. The audience was excitable throughout but sprung into another gear when the band performed the Talking Heads twofer of I Zimbra and Slippery People. At this point the scope of their choreography became staggering. Their collective playful sashay was premeditated. The lackadaisical clumsiness was routine. Even Byrne's suspect facial expressions and awkward glances were part of the act. Clearly he had vastly expanded upon his collaborative tour with St. Vincent back in 2013.
While the new material was the soup du jour, the esoteric conglomerate reached back again for a sublime Once In A Lifetime as fans triumphantly and repeatedly sang out "same as it ever was."
During a Carribean-rendering of Burning Down The House the group were interweaving, each acting out a sudden loss of equilibrium, before forming into a conga line. Again, ostensibly chaotic but actually vigorously plotted. They then ended the set in a form of protest by covering (and updating) Janelle Monae's Hell You Talmbout, ardently listing off the names of the countless black victims of American police brutality.
Truncated Robot Rock: Jack White
The new Jack White record Boarding House Reach is a fragmented, self-indulgent trainwreck. This reportedly was the first time he had used Pro-Tools in the recording studio and presumably the last. Hopefully a blip in the radar. But the man is a force in concert; multi-talented and unrivalled in his dexterity and fervor.
The stage was awash in dim blue light which illuminated the dust in the air as White and his band took their stage to the manic riffing of his new song Over And Over And Over which was actually quite a rousing way to get the show started. And was that Autolux's Carla Azar on back on drums? Indeedy it was.
White was desperately trying to incite a reaction out of the audience which remained chronically listless throughout. After jamming with Azar and bassist Dominic Davis on the drum riser during Dead Leaves And The Dirty Ground and again during Black Math, he stood on the stage monitors and screamed out to the audience. "Atlanta, are you with me? In my mind I'm here as long as you wanna be here." He then took a moment to recognize his predecessors. "Courtney Barnett in the house! David Byrne burnin' down the house." Clever. The next thing he rambling about robots and holograms and only he knew what the hell he was on about.
Soon after swaying on down to the Hotel Yorba, White headed back to second drum kit to work in tandem with Azar while shouting "do you wanna start a fire? Well, you can watch it burn."  When the three LED backdrop fixtures weren't rotating, their imagery often consisted of networks of blue/black cathedrals and labyrinthine tunnels and abstract dystopias.
Following a five-minute intermission, they returned with a thunderous and hurried Steady As She Goes. White's voice was clear and searing. Then another old bandmate found herself in the mix. Lillie Mae (Rische), who had performed earlier in the day, added sweet country harmonies and scratchy violin for the live debut of What's Done Is Done. A welcome compliment. "Lillie, would you mind helpin' us out on another track?" White asked.
"I would Jack" she replied, as they came together again for Love Interruption. Their synergy was darling.
Then came the end-game. Following a quick bit of the Talking Heads' Psycho Killer, they bolted through The Hardest Button To Button, I'm Slowly Turning Into You and Seven Nation Army. The next thing they were taking their bows and heading off stage 20 minutes before the scheduled end time. There would be no encore.
The abrupt conclusion was baffling considering White's intention to keep playing as "long as [the audience] wanted." Irregardless, it was fantastically tight performance. Even the new tracks, which have been nearly universally maligned, were captivating in the live setting.
Retrograde Rugrats: Greta Van Fleet
It would seem that for some reason every generation pines for a vapid rehash of Led Zeppelin. This go round appears to be firmly locked up by the pubescent, peach-fuzzed brothers of Michigan's Greta Van Fleet. Merciful overcast skies and relenting temperatures may have played a role, but these ankle-biters drew a hefty main-stage crowd for their mid-afternoon set.
The talent was unmistakable. Vocalist Josh Kiska had pipes. At times his wails and ululations were reminiscent of Robert Plant, Geddy Lee and even Janis Joplin. His brother Jacob's talent was spectacular as he powered through guitar solos that kept going and going…and going. But did we need this? Suffering from acute boreaphobia, we hit it and quit it. Talent sans ingenuity makes this reviewer comatose.
Dust Is In The Air, Sweep: Parquet Courts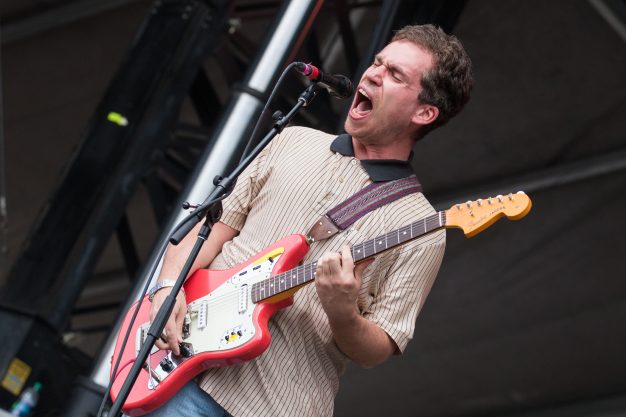 If Greta Van Fleet represent a rehash of where rock once was, Brooklyn's Parquet Courts represent an innovative and fluid projection of where it could be headed. With each record they unveil they infuse new flavors, explore new ideas and discard what was as the useless detritus that it is. In their music one can hear the contempt for quiescence. They managed to jam an inordinate amount of songs into their one-hour afternoon set.
Early on they performed the sharp treble guitars of Dust, the irony of the current predicament not lost on the band or audience. The Piedmont stage grew progressively dusty throughout the weekend, but especially when the heavier acts performed and the fans began to stir and mosh.
This was the perfect vibe to dropkick the mere inclination of festival fatigue. "Feliz Cinco de Mayo everyone. This is another song from our new record" informed multi-instrumentalist Austin Brown portending the quirky twists and turns of Almost Had To Start A Fight/In And Out Of Patience. After shamelessly and sarcastically plugging their own merch on stage they threw down with the wild, descending riffage of Master Of My Craft while bassist Sean Yeaton headbanged horizontally. Wide Awake (which y'all may have heard on the Ellen Show a couple of weeks back¯\_(?)_/¯) infused funky bass, a clavinet synthesizer, cowbell and a whistle into a tight indie-amalgam that had hips shakin'.
"We should play to this many people every time" frontman A. Savage joked. No doubt this is a reality they are soon to manifest.
Nostalgic Vengeance: The Distillers
14 years. It's really been that long since iconic alt-punk group The Distillers have performed together on stage. The band parted ways just as they had reached their creative apex. Singer/guitarist Brody Dalle released respectable solo material as Spinnerette and under her own name throughout that time, but spotting The Distillers on the fourth line of the Shaky Knees lineup was a tremendously unexpected development. Atlanta was blessed with two of the eight shows on their initial reunion run. A devastating Friday night Shaky Knees aftershow at The Masquerade saw them play their seminal record Coral Fang front-to-back. We may have been there. We may have opted to leave the cameras and notepads in the hotel to give this one the full attention that it deserved.
How would the festival set compare?
The opening chords of Drain The Blood served as an infectious precursor to impending wrath. Dalle, the punk-rock malcontent turned rockstar housewife and mother of three, could evidently still tap into the angst and indignation of her former self at the drop of a hat. In fact, her family (husband Josh Homme of Queens of the Stone Age as well as their kids) could be seen taking in the show at the outer reaches of stage right.
Seneca Falls felt as if it had been infused with a new vitality. Die On A Rope was a crushing showcase of Dalle's inimitable growling prowess. Three songs in and she looked the part. Her guitar hung low. Her hair was now an appropriate mess. And her bright red lipstick was smearing on her face from contact with her microphone. The Distillers were fucking back!
Guitarist Tony Bevilacqua was exultant as he jumped into his mic to harmonize during The Gallow Is God. There were occasional minor timing flubs throughout the set, but they always found a way to bring it back together.
"I wanna see two giant circle pits" Dalle shouted. "You guys ready?"
The audience immediately obliged during Sick Of It All. Much of the crowds throughout the weekend were static and tame. This was not one of them. The band was on to the The Hunger now and all of a sudden we were surrounded by a jubilant hoard of meatheads, dread-bros and greasepunks. Where did they all crawl out from?
They then reached back to 2002's Sing Sing Death House and their earlier, more rudimentary punk sound for The Young Crazed Peeling and City Of Angels as orange spotlights went haywire overhead to close out a set that felt much too short. "See you next time" Dalle said as she and her band exited the stage, giving hope that this show, the final gig on their initial run of tour dates, would not be their last.
Pugnacious Positivity: Andrew W.K.
It's hard not to adore Andrew W.K. for what he represents. And the Shakey Knees audience was eating out of his hands for his entire one-hour set. He basks in filth, preaches positivity and lives to spread the party. His set was a sensory overload right from the hop. We're positive he achieved the world record for unique rockstar poses in a single set with 846. Really, I counted. Spotlights behind the band were rotating hysterically as he and his band bolted through several uplifting power-anthems, most from his 2001 record I Get Wet.
Pro Tip: An Andrew W.K. show is enjoyed best if one focuses their attention on what they are seeing and not on what they are hearing.
Between the array of hits such as She Is Beautiful, We Want Fun and I Get Wet, the consummate good guy snuck in countless motivational and contemplative tidbits for the legions of partiers at his feet. "Life" he insisted, is "intense, it's challenging, but it means something. Our only ambition in life is proving ourselves worthy of being born." He then led a ridiculous countdown from 100 which the audience actually bought into. The dark clouded skies above opened up in earnest just is his countdown concluded. He then closed it out with Party Hard while the rain poured down. His final words: "Stay strong, stay focused, and never stop partying."
Feliz Cinco Do Mayo: Cake
Cake has been in a state of semi-dormancy for some time. Their last record was released in 2011 and their tours since have been sporadic and limited outings. Needless to say, Cake's inclusion on this lineup may have tipped the scales in favor of our Shaky excursion. Which was why this ephemeral set was disappointing.
Already limited to just an hour, the band opted to waste the first seven minutes of the set hyping up the audience with the Vince DiCola's pre-recorded theme song from Rocky IV. Red mood-lighting was dispersed by a disco ball placed above as the band nonchalantly hit the stage and commenced with the slow-build of Frank Sinatra. "We are Cake and we are here to serve you" frontman John McCrea said as the band started into the rockabilly riffs and country vocal harmonies of Spaceships and Safetybelts.
An early highlight came with a familiar swooning, slide-guitar twang. Mexico, a charming song on any day, drew unique and appropriate delight as McCrae sang out the lyric "I don't know much about Cinco de Mayo."
"Who grew up without fireflies?" McCrae went on to inquire. "Your childhoods had no magic." Then it was Love You Madly and we were already navigating through the thick crowds on our way out to hop into the fray for Queens of the Stone Age. Conflicts are a bitch. The faint sounds of a hyper-elongated Sick Of You were followed by Never There and Short Skirt/Long Jacket as I sat in a transient fit of petulance. It happens at every festival yet it always manages to feel like a personal affront.
For a band with so many hits in their repertoire, they sure opted to neglect a good lot of them.
Cue The Evil Smile: Queens Of The Stone Age
Queens of the Stone Age have been road-battling 2017's Villians for nearly a year now. During this time they've been rightfully promoted to and anointed as festival headliners. AntiQuiet has been fortunate enough to cover several of their shows throughout this span, each leaving a cerebral tattoo of sorts. This show would be no different.
Frontman Josh Homme was giddy as he jitterbugged out towards the unwashed masses. "How the hell are you? I'm so fuckin' glad to be here. Let's get fuckin' loose" he urged. Vertical spring-mounted pole-lighting and billowing smoke gave the the stage the air of some cryogenic alien landscape. Like a patchwork of bug zappers on the icy surface of Europa. Verdant glows pulsated through the haze as he began laying his boots in the poles during In My Head. Soon after, the role of the lighting transitioned from prop to tool during menacing dance-jam Feet Don't Fail Me as Homme slammed his guitar strings into one of the fixtures creating a shrieking electric slide.
"What I like about these festivals is everyone gets shitfaced and everyone gets laid and everyone has a good fucking time" he confided as the band shifted to the spritely simplicity of The Way You Used To Do.
The deep cuts weren't on the menu this evening. Ask anyone if they cared. With that said, their first two albums were neglected wholesale. Songs For The Deaf got some early love as they burned through Millionaire and No One Knows with frenetic precision. The latter featured a demoralizing solo by drummer Jon Theodore augmented by epileptic red back-lighting.
"Right here, right now. This is the only moment you'll ever get" Homme encouraged, waxing philosophical, before leading them Queens into the furious central lynchpin that The Evil Landed Has Landed has become; its power-chord outro serving as a foundation to unfurl their lyrical ethos. "Here we come, get out of the way."
Make It Wit Chu pitted the ladies against fellas in a breakdown sing-a-long. The sausage ratio was high. Guitarist Troy Van Leeuwen was impetuous in his movements during Head Like A Haunted House; his jello-leg shufflestep giving literal authenticity to this festival's name.
Homme moonwalked into an end-run of hits that included Little Sister and Go With The Flow before standing on the stage monitors to leer over the audience. "It's been an absolute pleasure to play for you tonight." Out fell the bottom. This was the ghoulish, chaotic dread of Song For The Dead. Brilliant, as always.
Resolute Newcomers: Sir Sly & Parcels
We'd be remiss not to make passing mention of two notable Sunday afternoon sets from up-and-comers. Sir Sly drove out a large crowd for their early set and made the best of the opportunity. Their synth-heavy feel-good rock tracks were a refreshing hair-of-the-dog. Vocalist Landon Jacobs was impassioned and impulsive throughout. He took time between songs to take stock of the band's rise, describe his creative process (and how it was inspired by his late mother), and to climb the trusses on stage left. Their song High was but one of several bangers throughout.
Aussie neo-funk outfit Parcels were in a similar boat. They gained notoriety via a one-off collaboration with Daft Punk on their track Overnight, which on this day provided a chill Sunday segue. Both sets infused life into an otherwise relatively underwhelming afternoon.
Would You Like Some Sludge With Your Grime?: Black Rebel Motorcycle Club
For an hour on Sunday evening Black Rebel Motorcycle Club converted the Ponce De Leon parking lot tent stage into a sleazy dive bar as they forged through a rare festival set. Thick smoke enveloped the leather-clad trio as they infused some delectable grime-rock into this equation.
Beat The Devil's Tattoo was thrown into the mix early on as frontman Peter Hayes raised his acoustic guitar to the air and screamed to propel his voice over the and intensifying cacophony.
The intermingling garagy guitars during Red Eyes And Tears and drummer Leah Shapiro's cymbal riding served as the foundation for Hayes to sing out "I'm in love." Hayes then observed their audience approvingly. "Alright…daydrinkin'. Let's see what you've got." Then they closed out the set with a strident What Ever Happened To My Rock And Roll (Punk Song).
Monster Mammojams: Tenacious D
Opportunities to behold the spectacle that is The D are becoming increasingly sparse. But when planets do align to mark the return of the greatest and best band in the world, you'd best heed the call and bring the thunder. In this case it meant making the agonizing choice to skip out on Julian Casablancas and The Voidz.
Jack Black and Kyle Gass took their stage as the last remnants of the weekend's sunlight imbued them in a deifying orange glow to the amusing absurdity of Kielbasa. Many of their acolytes had been riding the rails all day to be nearer the fabled supreme double-team. The Piedmont Stage was jammed with perhaps its largest crowd of the weekend as the duo converged in a blur of acoustic guitar fury. "You're not gonna feel like you got your money's worth unless the knees start shakin'" JB chided as they transitioned into Kickapoo and KG stepped into the role of their dearly departed Ronnie James Dio. This was a bare-bones D set. The massive props and rotating cast of villains to vanquish were out but the rock, as always, was in.
"You're a good looking audience. A little too good looking. Looks like y'all been doin' some cardio" confided a burly and grizzled JB as the sun crept behind the Bank Of America Plaza Tower and they unpacked the break-up-make-up jam Dude, I Totally Miss You. He then made an announcement of necronomical proportions. "Did you guys see the movie [2006's The Pick Of Destiny]. Part two is comin' out in motherfuckin' rocktober!" What chicanery was this? I found myself awaiting a punchline that never seemed to come and the more they went on about it the more plausible it actually sounded. Stay tuned on that.
Following up rather incredible and very, very Jack Black a cappella snippets of Lionel Richie and Pink Floyd as well as sing-a-longs Dio and The Road from their self-titled 2001 LP, JB requested his mighty saxaboom and proceeded apparently to conjure the notes out of the toy by squinting and wincing. He shined during the tempestuous Beelzeboss (The Final Showdown), no doubt full of rocket sauce and vinegar. Pockets of the audience then became an inebriated testosterone choir as they joined in with a discordant three-part harmony for Tribute. Double Team rang out from behind as we took our leave of Jables and Rage Kage and settled in for the final set of the weekend.
Did I just see Jack White and Jack Black at the same show? Suddenly I'm finding myself keenly aware that I lack melanin.
Sombre Swan Song: The National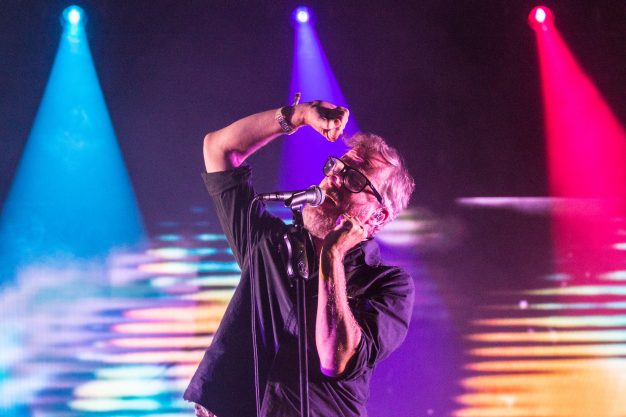 When seeing The National live my objective and subjective minds often go to battle with no discernable champion winning out. Objectively they tick all of the boxes. Subjectively they're boring. Objectively this set was a smooth comedown. Subjectively it was an anticlimax.
Singer Matt Berninger is the show, despite the adroit band that backs him. Their performances hinge on his temperament and showmanship. His endearing rasp and proclivity for getting up close and personal with their fans have propelled them from the midcard to the top of the card. This set was no different in that regard.
Their performance was one of contrasting emotion.  There were undoubtedly peaks and valleys to the final set of the weekend. Sobering, melancholy tracks like Nobody Else Will Be There and I Need My Girl were offset by the heavier sounds of Day I Die and Mr. November, the latter punctuated by Berninger entering the crowd to scream out the lyrics with varying results. He plays the role of accidental rockstar with a casual awareness.
The main stage audience certainly wasn't as densely packed than it had been the two previous nights. With all of this said, their show has evolved and flourished in recent years and even if one struggles to connect to the music it's still easy to understand why they've risen to such heights. We made our escape just as they began playing the cautiously optimistic finale Terrible Love.
Southern Hospitality: Shaky Knees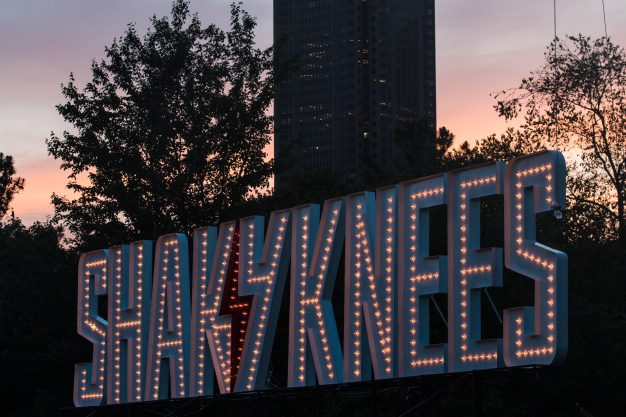 This was predominantly a white-guys-with-guitars weekend. You couldn't take two steps without tripping over a white guy with damned guitar. Not that there's anything wrong with that. Just an observation.
Kidding aside, this was a fantastic weekend. Southern hospitality is real. I'm Canadian and I've never heard so many sorrys and excuse-mes. There was generally a relaxed and positive vibe throughout the weekend coming from both staff and patrons. This mid-size festival felt cozy. They pulled together a powerful and distinct rock lineup and made excellent use of the limited space they managed to carve temporarily of this mid-town neighbourhood.
Auf Wierdersehen Atlanta.
Our photo gallery also features Courtney Barnett, Alvvays, Lord Huron, Torres, and Jimmy Eat World.