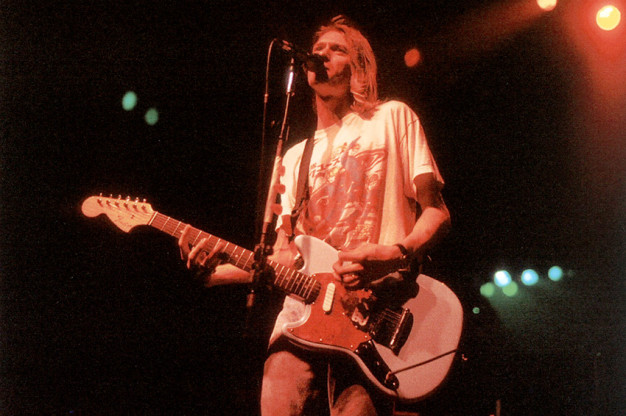 On March 1st, 1994, Nirvana took the stage at Terminal 1 in Munich, Germany for what would ultimately become their last show. After months of a grueling tour schedule, it's ironic that the band's last show was almost everything short of glamorous: Not only was Kurt Cobain's voice seemingly imploding upon itself due to a case of chronic bronchitis, but during the performance of Come As You Are, the power suddenly cut out. However, the band continued acoustically, cutting Smells Like Teen Spirit, which prompted bassist Krist Novoselic to poke fun at the status of his band: "We're not playing the Munich Enormodome tonight. 'Cos our careers are on the wane. We're on the way out. Grunge is dead. Nirvana's over… our next record's going to be a hip-hop record!"
Finally, the power was restored to the recently shut down airport hangar and the band continued along, closing out the show after Heart Shaped Box at 80 minutes, the shortest performance on the 1994 European tour. Immediately after the show, Cobain was diagnosed with bronchitis and laryngitis and retreated to the Excelsior Hotel in Rome for treatment, canceling all of the band's remaining tour dates. Check out a clip of the final performance below and the full setlist here.
One day after Cobain's wife Courtney Love met him in Rome, on March 4th, 1994, Cobain went into a coma after ingesting the tranquilizer Rohypnol and champagne. He was rushed to a nearby hospital where he came out of the coma less than 24 hours later. The event was ruled an accidental mixing of drugs, but it is often noted as the "first attempt" by Cobain on his life and the beginning of his downward spiral. Check out a 1994 news report of the incident below.
A little less than a month later, after returning to the United States, Cobain quickly checked himself into – then fled from – a Los Angeles rehabilitation facility and headed back to his home in Seattle, where he was found dead on April 8th, 1994, having taken his own life three days prior, cited by ABC News as "another casualty of success." Check out the full report from ABC News below, one of the most biased and negative reports I've seen to date.
Nirvana will be inducted into the Rock and Roll Hall of Fame on April 10th, only five days after the twentieth anniversary of the untimely death of their frontman. While it has not been determined whether the remaining members of Nirvana will perform at the induction, here's to hoping they don't tarnish Kurt's memory with a hologram or something.