After reuniting in 2008, New Kids On The Block have made it a point to come out swinging with a large summer tour almost every year. They've had tours with the Backstreet Boys, and two summers ago we saw them with both Boyz II Men and 98 Degrees on the Package Tour. This summer they are back, bringing along TLC (and Nelly) on a tour dubbed The Main Event.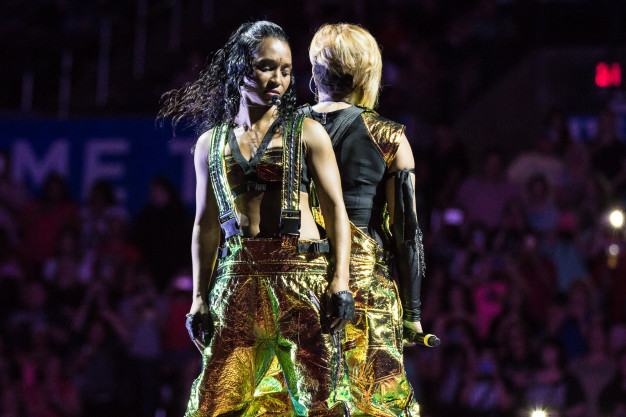 The man band hit Oklahoma City's Chesapeake Energy Arena for a near two-hour long set filled with fan favorites and even a few solo performances by some of the guys. Nelly was a no-show in Oklahoma City, which surprisingly pissed off more people than you would think. By the time TLC hit the stage at 8pm however, no one seemed to mind. The two remaining members – T-Boz and Chili – did a great job reminding people why TLC remains one of the top selling female groups of all time. They piped in the late Lisa "Left Eye" Lopez' rapping during her segments in each song, and included a tribute to her as well. Their 45-minute set was short but pulled out a number of their best songs, including Creep, No Scrubs, Baby, Baby, Baby and set-closer Waterfalls. Some have complained that they group shouldn't be back together without their third member, but I'd rather hear these songs live in this capacity than not at all.
New Kids On The Block stepped on stage at roughly 9, following a brief boxing-themed announcement video. The entire show was supposedly themed around boxing, but apart from being on a stage in the round (a good choice), nothing seemed to really deliver on this idea. The guys ran through their material quickly with few breaks, kicking off with Block Party before hitting My Favorite Girl and You Got It (The Right Stuff). My Favorite Girl was actually performed in a new arrangement, designed to sound like it could fit in with today's pop radio. It wasn't bad but also not great, and most fans would've probably preferred to hear it in the song's original form.
It was the power ballads that really seemed to get the women in the crowd going crazy, including a pretty phenomenal medley that included Didn't I Blow Your Mind, Valentine Girl, If You Go Away, Never Can Say Goodbye and Please Don't Go Girl. The show was all about fan service and the guys making sure the longtime "blockheads" knew just how much they were loved, which included the all five men jumping off stage for selfies and hugs or singing directly to women they had pulled on stage.
Everyone sounded on point for most of the evening, which is pretty incredible considering some of the notes both Joey McIntyre and Jordan Knight hit during some of their songs. During a segment of the show, Jordan mixed together Baby, I Believe in You and his solo hit Give It To You. It was quite surprising to the audience judging from their reactions, but everyone was quickly on board once he started taking his shirt off and pelvic thrusting the stage. Because that's what happens at a show like this.
Joey did the same shirtless thrusting during his solo segment, which included a mashup of the Eurythmics' Sweet Dreams and the NKOTB song Twisted from their 2008 LP The Block. There were actually a number of shirtless portions of the evening, and there was even a camera in the guys' under-stage changing room just so the women in the crowd could get their fill of the guys they had posters of growing up.
It's pretty amazing that these guys are still capable of drawing big enough crowds for arenas. While it could have something to do with packaging acts together, it mostly just seemed like the band still has enough charisma to draw fans in. This is certainly an impressive feat after more than 30 years together, and as long as the fans keep buying tickets the shows probably aren't going to stop for a long time.
NKOTB Setlist:
Block Party, Crash, My Favorite Girl (remix), You Got It (The Right Stuff), The Whisper / Single / Shout, Let's Try It Again, We Own Tonight, Didn't I Blow Your Mind / Valentine Girl / If You Go Away / Never Can Say Goodbye / Please Don't Go Girl, Remix (I Like the), Summertime, Dirty Dancing, Just A Friend / Good Vibrations, Tonight, Baby, I Believe in You / Give It To You, Sweet Dreams (Are Made of These) / Twisted, I Need You / Lean on Me / Cover Girl, Games, Step by Step, I'll Be Loving You (Forever), Hangin' Tough / We Will Rock You
TLC Setlist:
What About Your Friends, Ain't 2 Proud 2 Beg, Baby Baby Baby, Creep, Diggin' on You, Unpretty, Red Light Special, No Scrubs, Meant To Be, Waterfalls
Check out some more selected photos below, followed by our full gallery: