Festival D'été! Quebec City's Festival of Summer.
Celebrating its 50th year, this singular festival experience assembled a lineup that was daring, confounding, diverse, absurd, and above all else exceptional. It's perhaps Canada's best kept secret.
The festival grounds sit perched atop Quebec's shining city on a hill, Quebec City. Picaresque views of the fortified Old City with it's stone barricades, quaint restaurants, and cobblestone rues are due east. The St. Lawrence River, Canada's commercial gateway to the world flows to the south. In essence it is one of North America's oldest cities and to bolster tourism festival organizers work in conjunction with the municipal, the provincial and the federal governments as well as an array of corporate sponsors to make Festival D'été a conduit to the city.
First off, the 11-day passes start at $95, an aberration in the festival business. Many of the headliners on the bill charge more for their own headlining shows.
135,000 passes were sold, but crowd size fluctuated each day depending on the draw of each headliner. The programming inside the ticketed area of the festival would run for about six hours each evening with many other satellite events located across the downtown core, such as trapeze artists, children's entertainment, street art, stages that hosted and promoted Quebecois music as well as club shows. The music was as diverse as the crowds. The beers were $6.50.
In other words, this was a different kind of animal; some unconventional kind of monster. Quebec knows how to throw a damn party.
The final four days of Festival D'été seemed to tantalizing a prospect to snub. So we headed east to take in the fun and this is what we came out with.
Septuagenarian Defiance: The Who
Walking into the Plains of Abraham for the first time during Festival D'été, one needs to take a moment in awe of the size of the main stage. It's the largest self-supporting stage in Canada.
The Who took that stage to the sounds of I Can't Explain as a luminous Union Jack shone through their LED backdrop. Frontman Roger Daltry whirled his mic, throwing it forward only to tug it back in just when the vocals were meant to kick in. He was going hard for a man of his age. This was the first show of their North-American tour and they looked hungry.
The crowd chanted in a low baritone "who, who, who" before the spotlights veered towards guitarist Pete Townshend who proceeded to unleash the still forceful crunch-riff of The Seeker. And then it was Who Are You, and Townshend was in full windmill mode while photos of the band in the 1960's were interspersed with lava lamp lighting on their backdrop. I pity Townshend's poor 72-year-old rotator cuff.
The set continued on with a valiant run of The Kids Are Alright, I Can See For Miles and a raucous My Generation, the latter featuring a noble attempt by bassist Jon Button to recreate the magic of original bassist John Entwistle.
It was hard to fight off the smirk of a 73-year old rock legend screaming "I hope I die before I get old." Dude, you're there. And it's ok.
Daltry's vocals were hit or miss throughout the set. But he really honed in on Behind Blue Eyes in one of the better moments of the evening. The set dragged a bit in the middle when they started to lay on the more proggy Quadrophenia material. But there were stand-out moments, such as when they dusted off The Rock, showcasing the interplay between Townshend and drummer Zak Starkey.
But they closed it out strong. If you can't wax nostalgic to Pinball Wizard and Baba O'Reilly, you're not human. But then a blue vortex consumed the backdrop and those familiar organ-synths chimed in. They of course closed it out with the prolonged epic Won't Get Fooled Again.
"Thank you Quebec," said Townshend. "Bonsoir. See you again one day we hope."
It wasn't a perfect show, but it was a commendable stroll through decades past with two of the pioneers of rock and roll. Townshend and Daltry have been doing this thing for 54-years. Their continued tenacity just serves to bolster their legacy.
Metal Militia: Metallica
One only needed to take a stroll past the entry line on Friday afternoon to see where the day was headed. The line was enormous. Black-shirted metalheads in their thousands, broiling in the summer sun, filled the streets. When the gates finally opened they took flight, many running at full speed down the Plains Of Abraham churning up a dust cloud to secure their spot for the mighty Metallica. In the streets where they once waited lie a mangled trash heap of camping chairs, blankets, beer cans, food wrappers and shame. I spoke to countless people who had spent over 12 hours waiting in line. One overzealous (and visibly fatigued) super-fan claimed he'd been there for over 20 hours. And just in case you weren't sure who they were there to see, a most all of them wore Metallica t-shirts to make it self-evident.
They sure were a dedicated lot.
As the day grew dim, the crowds grew to peak enormity. Surely this metal militia was the largest audience of the entire 11-day festival. North American festival gigs are a rarity for Metallica. But they managed to sneak this prominent festival slot between shows on their massive "WorldWired" stadium tour.
The lights dimmed. Innumerable devil horn shadows rose from the audience and the dust began to rise as Metallica began their offensive with Hardwired, the title track from their thrashing and well-received new LP. "Is the Metallica family here with us," frontman James Hetfield called out, already well aware of the response would be a discordant drunken wall of testosterone-laced growls and hoots. That same discordant wall became an overwhelming francophone man-chorus during For Whom The Bell Tolls.
This would be a safe Metallica setlist, if any Metallica show can actually be considered safe. They appeased their "\m/ First Four \m/" purists, satiated the Rob Rock-era radio fans and dashed in just enough of the new stuff to round it out in a way that would please just about any Metallica fan.
In a sense the only strict surprise of the set followed a solemn Unforgiven when, during Now That We're Dead, stagehands rolled four giant tom drums on stage and the band deconstructed the song into an unnecessary percussion ensemble before reconstructing it once more. Then video flames engulfed the towering backdrop for a manic Moth Into Flame spearheaded by guitarist Kirk Hammett's discouragingly impossible soloing.
Following the flawless anthem Sanitarium, Hammett and bassist Rob Trujillo reined in a seemingly aimless jam session to what became a fleeting 2-man stab at I Disappear. Then Trujillo took the lead alone and paid homage to original bassist Cliff Burton with a taste of Anesthesia (Pulling Teeth).
But the true pinnacle came, as it often does at the old Metallica show, when lasers shots out to the skies and the backdrop portrayed faceless soldiers marching steadily into battle. This was One. Those same soldiers' faces became those of skeletons as the song reached it's maddening rapidfire bridge and once isolated moshpits began to swallow humans and expand at a furious pace.
An then came the master class. Master Of Puppets, Seek And Destroy, Fade To Black. All the goodies. "Quebec City," Hetfield yelled. "Metallica is very grateful to be here after 36 years."
Fireworks blasted over the stage with regularity as the band ended the searing 2.5 hour set with Enter Sandman.
Sensory Input Overload: Gorillaz
If you make it out to one summer tour all year, make it Gorillaz. Their style is ephemeral in case you haven't heard.
In the years following their Escape To Plastic Beach tour in 2010, it appeared that a rift between their two founding members (composer/vocalist Damon Albarn and conceptual artist Jamie Hewlett) had doomed the band to an untimely end. But an arbitrary encounter at a mutual friend's party in 2014 put an end to all of that, and new life was injected into the virtual band.
Fast-forward to 2017 and Humanz, a new Gorillaz album, now lives. Humanz is essentially a club record. Vastly different than any of their prior releases. In many ways is feels like a new band. Gorillaz 2.0.
After having toured behind a cartoon screen and later toyed with the idea of virtual reality performances, Gorillaz settled on performing in front of the screen in 2010 and the results were phenomenal in their own right. But this concept has germinated after seven years of dormancy to flourish as an inimitable multi-media spectacle.
It's impossible to properly articulate the brilliance of this performance without first elucidating the reader to the scope and ingenuity behind their new visual arrangement.
Given that nearly every Gorillaz track features guest performer(s), and that any one of these performers could show up at any tour date, the band needed to innovate. The outcome was a backdrop video of the guest performer infused with cartoon visuals and synced with pre-recorded vocal tracks if the artist wasn't available as well as alternate video/lighting programming if they were going to be part of the show. On top of all of this, they've been tweaking the setlist on this tour quite frequently. The toil that went into the creation of this tour is unfathomable.
Green smoke shrouded the stage as this reawakened band made their way out on stage to the foreboding sounds of a voice screaming "hello, is anyone there." This was M1A1 and an apparent attempt to match the ferocity of Metallica's set from the night before right off the bat. Silhouettes of the cartoon band bursted through the video distortion of the immense backdrop complimented by squealing guitars.
Following new hit Saturnz Barz, Albarn busted out the melodica for the first time prefacing the sombre Tomorrow Comes Today.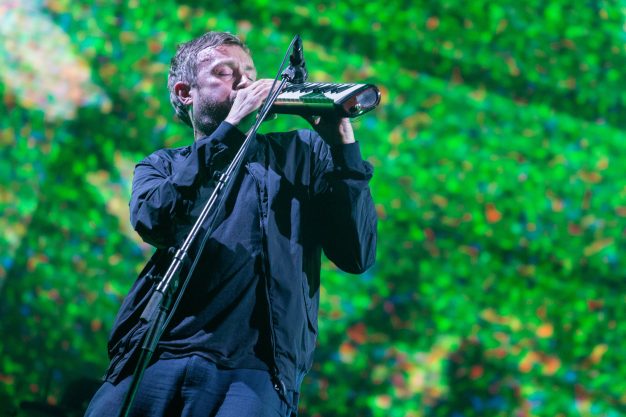 One could go on ad nauseam because each moment brought with it something unique. When Albarn entered the crowd during El Mañana, the reverence, adulation and reaching arms from the humans below were endearing. All this while a six-piece harmony choir injected renewed impetus into this song, as well as many others throughout the evening.
Another highlight came soon after when opener Danny Brown returned to the stage with Kelela for the powerful live premiere of Submission.
"Quebec, you're a real treat," Albarn praised before emphatic soul-singer Jamie Principle joined the band the melancholy vibes of Sex Murder Party while a pulsating array of horizontal red block lights emanated from the backdrop resembling a twisted psilocybin rendering of tetris.
Then erupted the dance. "Quebec say ya" Albarn fomented, arms raised, as Gorillaz tore through DARE, a song which may have foretold the direction in which the band was headed for Humanz way back in 2005. With over a dozen performers on stage at any given moment and the staggering aforementioned visual display, it was still difficult not to focus on Albarn's charismatic commandeering. He exudes passion for his creation.
But the true zeal of the audience was revealed during the encore when they followed up Kids With Guns with their seminal masterpiece. Spotlights were aimed at centre stage as Albarn took hand of his melodica once more. Then came that familiar melody. You could feel the hair stand from your skin as the bass dropped for Clint Eastwood. Albarn took the time during Del Tha Funky Homosapien's pre-recorded vocals to stand casually, arms folded, nodding and grinning, clearly still marvelling at beasts he created nearly two-decades ago.
This is objectively one of the most remarkable concert experiences in the world today.
Fin Malade: Muse
10 blocked LED panels are rolled out on stage. Nebulous blue light fills the array of structures as Muse takes their stage. The block panels are converted into a wall of dystopian network feeds. Presumably we're intended to believe that Muse are here to save us from our future selves with the power of rock.
They start the set with new stand-alone single Dig Down, one of their more tantalizing tracks in recent years. Frontman Matt Bellamy is somehow able to see through his glowing shutter shades to navigate his network of pedals while playing guitar, singing, and all while looking the part of of a time-travelling cyborg fashion model.
If you can disregard Bellamy's semi-pretentious flare and pseudo-rebellious, platitudinous lyrics, Muse really do have some choice tracks. And the best crash-course in discovering their aesthetic is to take in their show. With no new album to tour on, so this was primarily a hits set.
The trio united at center stage as bassist Chris Westenholme led them with a frenetic chugging riff as swathes of the audience began to crush towards the front. This was Hysteria infused with a part-cover of AC/DC's Back In Black as the outro.
Bellamy extended his spider-leg fingers and in full rock star pose led them through a devastating run of modern-classics Plug In Baby, Stockholm Syndrome and the astro-funk of Supermassive Black Hole, the latter preluded by a micro-rendition of Jimi Hendrix's Voodoo Child.
Their newer tracks didn't go unnoticed but their pre-Resistance albums were and are still, their bread and butter. Never was this more evident than when Bellamy entered the audience below and screamed "let me hear you." Ardent fans sang along to "I just wanted to hold you in my arms" during the blissful Starlight only to be outdone by a riveting Time Is Running Out.
They closed out the set with Knights Of Cydonia replete with uber-rock extended outro.
And on the 11th hour of the 11th day the salvo did cease and the people rejoiced.
Wandering in the darkness towards Quebec's Old City through the masses I stumbled into this marionette human trapeze act elevated by a crane.
Stay wired Ville de Quebec. And stay weird.