Columbus' Rock On The Range Festival essentially hit the rebrand switch. Following a conscious uncoupling with AEG, promoter Danny Wimmer Presents switched the festival's name to Sonic Temple, but kept its ethos intact, booking big time American rock/metal headliners System Of A Down, Foo Fighters and Disturbed.
Two years back, Rock On The Range was meant to be the next show Soundgarden was set to play following the suicide of frontman Chris Cornell. This year, the festival had booked preeminent electronic act The Prodigy to perform a prominent main stage set, when again, tragedy struck. Frontman Keith "Keef" Flint's life was also lost back in March, and suicide seemed likely though coroners were hesitant to officially make that determination. The band were swiftly replaced by Papa Roach, though anyone who was fortunate enough to witness The Prodigy's live show would know that this void would never truly be filled.
Combine these profound losses with regular festival evacuations due to dangerous weather conditions, and it would seem almost as if there were some sort of hex on this event. This year's edition wouldn't buck the trend. Another evacuation would lead to the cancellations of several high-profile acts, sound problems and general dysfunction would plague the set of one of the headliners, one of the comedians booked suffered the loss of his father during the weekend, yet still turned up, and a metal frontman took a pyro burst to the face, and went on to finish the damn set.
Join us for coverage of the hot fun mess that was Sonic Temple.
Communard Cacophony: Pussy Riot
All due respect to Nadya Tolokonnikova and crew for stickin' it to Putin back in 2012, but this needs to stop. Having not apparently learned from our first encounter with this show, we gave it another go.
The lack of vocal compression made Tolokonnikova's voice sound like the screeching yelps of one of Pavlov's torture chambers. That was when she wasn't forgetting the lyrics. With shades of Stevie Nicks' Edge Of Seventeen infused, even the indubitably catchy Straight Outta Vagina was a screeching shambles. "They shut us down man" Tolokonnikova said, when their 25-minute set mercifully ended right on schedule.
This shit was dead on arrival two years ago.
Man Of The People: Tom Morello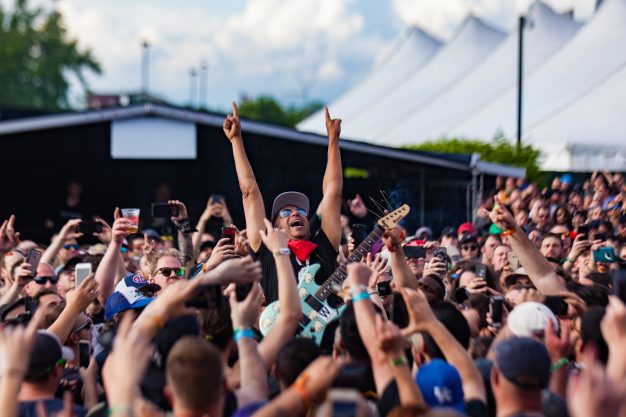 The revelry kicked off in earnest at the Wave Stage when Tom Morello popped out of the crowd, back near the soundboard, guitar in hand, and rising just slightly above the scores of arms and phones to the sounds of Lead Poisoning, the first of a handful of dubby tracks that somehow vibe perfectly with his singular guitar style.
The raging, street-sweeping, prophetic, nightwatchman dipped through the crowds and popped out at the edge of stage left, hopped the rails and joined his band on stage as the sun began to peak out through the overcast skies. Battle Lines, a collaborative track he created with EDM act Knife Party was an early banger. Morello recreated all of the blips and bloops with his inimitable six-string slide deejaying.
Then the audience was ensconced in Rage Against The Machine power-medley with Morello burning through a single verse and chorus of Bombtrack, Know Your Enemy, Bulls Of Parade, Guerilla Radio, and Sleep Now In The Fire, before transitioning over to Audioslave's Cochise. He then introduced an old tour mate and friend, System Of A Down's Serj Tankian. Together they commemorated the two years that had passed since the death of Chris Cornell, at the very festival Soundgarden was next set to play, by teaming up to close out the medley with an endearing rendering of Audioslave's Like A Stone.
Earlier in the set, a man could be seen handing out blue wristbands to fans near the front row. Said fans were then told to enter the backstage area and towards the end of Morello's set, they found themselves surrounding the impassioned guitarist during Rage Against The Machine's Killing In The Name as well as a cover of John Lennon's Power To The People. Morello ended his ephemeral set by telling fans that they were "the best fucking crowd on the tour."
Wide-Eyed Vitality: Henry Rollins
Henry Rollins is a rock and roll veteran with the temperament of an excitable pre-teen who just discovered punk rock; he's defined by both his wisdom and wonder. It's these characteristics that make him such an adept and enthralling storyteller.
A small comedy tent located just outside of the MAPFRE Stadium hosted a series of mini-sets each night. The tent was packed to capacity as Rollins darted across the grounds to the pointing bewilderment of all of those waiting outside. When he hit the stage, he compressed his spoken word routine into a tight 30-mins, running the gamut from tales about hitchhiking through the "stans" in Central Asia to the perils of being an aging rock star, to opening for Ozzy Osbourne replete with an hysterically precise impersonation.
On Brexit he said "young people screwed their own futures by being inactive" and then he went on to refer to Brexiteers as "old men who've never had a vagina in their mouths ever."
He railed against people who complain about modern music: "If anyone ever tells you new music sucks, I think to myself, no, you suck."
Reboot The System: System Of A Down
In many ways System Of A Down was the enduring diamond in nu-metal's heaping, towering dunghill. In their case, nu-metal may have been a misnomer. Their Middle-Eastern fusion metal and operatic vocals differentiated them from the rest of their class. With nearly 14-years now separating them from their last album release, and their shows becoming increasingly intermittent, the Armenian-American powerhouse essentially became a legacy act. This was but one of only two shows they had booked for all of 2019.
This extended gap between releases wasn't by design. It's long been posited that creative differences between lead singer Serj Tankian and the rest of the band were to blame. This was once again affirmed just last week when guitarist/vocalist Daron Malakian did Chris Jericho's Talk Is Jericho podcast, saying "it's kind of three of us that don't necessarily see eye to eye with where he would wanna take the band. So that's kind of where we're at. A lot of people think it's just between me and him, and that's not really the case."
The increasing rarity of their appearances on stage has added to the general mystique surrounding them. But this wasn't to be one of their better performances. From the opening notes of Innervision it was clear that something was off. Malakian's guitars were muddled and his vocals inaudible, leaving a discernible hole in their wall of sound. During Prison Song the band seemed to be out-of-sync with Tankian, as if he was either missing his vocals cues or there was something wrong with the monitor mix.
As they veered into the Soldier Side prelude to ferocity the music fell off. "So I guess the sound people have to reboot the system" Malakian declared. "Fuck the system. Fuck the system. Reboot the system. Reboot the system." And they were off the stage as the audience waited in relative silence for about ten minutes for workers to sort out the obvious sonic maladies.
System Of A Down's system was down.
They roared back to life with BYOB, yet the issues remained. It at times felt as if Tankian didn't show up to rehearsals. Slightly disjointed. But despite the problems with equipment the quartet began to pull it together during the twofer of Violent Pornography and Aerials. Malakian's guitars transitioned from barely audible sludge to the vehement down-tuned potency this set was gravely lacking.
Even Tankian, who would again briefly drop the ball on both Dreaming and ATWA, began to show shades of his former self. Early in the set he left one wondering whether he was unwilling or unable to go Super Saiyan to replicate the vocal heights he strove for on the records. But he would dispel that notion time and again in the performance's second act, particularly on Bounce and when they later unsheathed Suite-Pee.
They were at their very best when they paired Needles with Radio/Video, the latter being the enchanting exemplar of their Armenian folk influence as well as a showcase for drummer John Dolmayan's spasmodic fills. They leaned heavily on Mezmerize and Toxicity throughout the evening, but gave fair play to all five of their LPs.
The MAPFRE Stadium finally brimmed with the chorus of fans in their many thousands for Chop Suey, which was followed with Malakian's sombre and affecting Lost In Hollywood.
The maddening victory lap of Cigaro, Toxicity and Sugar nearly made the earlier hiccups feel forgettable. Nearly.
System Of A Down are in a weird place. Without doubt, they found redemption as the night rolled on. But with infighting over stagnation and creative direction seemingly beginning to spill outwards, one wonders if they will ever pull it together to record new material. They were of the most poignant and genuine acts of their generation, and their collective voice is gravely missed in the political climate which we currently reside.
Clandestine Corner Sesh: Mark Morton, Mark Lanegan and Jacoby Shaddix Zippo Session

Zippo was on site hosting a series of intimate performances from several acts on the card, the most intriguing of which was an acoustic set featuring Lamb Of God guitarist Mark Morton's solo material from his new record Anesthetic. Morton was joined by both Papa Roach's Jacoby Shaddix and former Queens of the Stone Age and Mad Season vocalist Mark Lanegan.
"Today I'm gonna play that stadium over there" Morton remarked, "and I'm a lot more nervous about this than I am about that." Perhaps 100 lucky festival goers were treated to a captivating three-song set in the Saturday sun.
Fiery Fledglings: Don Broco
Incipient British rock group Don Broco were goddam excited to be featured on what singer Rob Damiani called the "first big boy festival" they'd ever done. From the opening salvo of Everybody they were raucous firebrands on a mission. Guitarist Simon Delaney spun and thrusted and kicked his way through the entirety of the performance.
They countered their metal proclivities with bit-crushed vocals and pop sensitivities, striking a curiously workable amalgam and giving fans reason to get excited early in the festival's second day. Damiani claimed he'd been suffering from a cold, but if anything, the added rasp only supplemented his performance, particularly on T-Shirt Song, during which fans removed theirs and swirled them above the audience in unison.
During their closer Pretty Damiani urged fans to open up a circle pit, which Delaney then entered to stand tall and play the final chords of their set while fans leaped all around him.
Props To Keef
This father-and-son duo made it clear that they bonded over the music of The Prodigy and that the British electronic emissaries were "the only reason" they bought tickets to the festival. Prodigy shirts were omnipresent on this, the day the band was originally meant to perform.
Esoteric, Unhurried, Compelling: Mark Lanegan Band
Mark Lanegan's 40-minute set was a welcome digression from the the metal soup du jour. He certainly wasn't enigmatic, nor did he need to be.
As a vocal presence, his only known counterparts are Leonard Cohen and Tom Waits. But the diversity of his back catalogue and his gravely vibrato set him apart.
Lanegen and his band seemed a weird fit on this lineup from the start, which is probably why his powerful late-afternoon was enjoyed by so few. Hit The City still packed a wallop sans PJ Harvey, and Lanegan's austere crooning was augmented by guitarist Jeff Fielder's incisive precision during The Gravedigger's Song.
Lanegan's voice was a solitary vigil as they closed the set with Methamphetamine Blues. "I don't want to leave this heaven so soon." His words hung over the audience like sandpaper running through a record player's needle.
Tripped On A Cloud And Fell Eight Miles High: Action Bronson
The New York rapper's Saturday afternoon set was cancelled due to an "unforeseen knee injury."
Somewhere Dave Grohl is laughing.
Unrepentant American Metal: Lamb Of God
A vibrant double-rainbow that appeared above the the MAPFRE Stadium hilariously juxtaposed the impending calamity that was Lamb Of God. Frontman Randy Blythe's unhinged stage persona gave unflinching impetus to their performance. He was a flailing blur of blonde stank-dreads while he growled and shrieked during a savage Ruin. "Let me get a big Ric Flair woo here today! We came here for one reason only, to fuck this place up" he hollered as the band transitioned into the popcorn double-kick drumming and duelling guitar harmonics of Walk With Me In Hell.
"This song is for all you sweaty fucking maniacs out there" Blythe said to introduce 512. Sweaty maniacs were in the plenty. Blythe was then crowdsurfing while gripping and screaming into his microphone, his pitch unwavering and unrelenting.
Blythe then took time to acknowledge the "dracarysed" Christian Andreu, guitarist of Gojira, who had taken a pyro burst to the face during their afternoon performance. The dude finished the set with a singed forehead. Blythe called Gojira "the hardest fucking band from France ever" before declaring "Christian, this song is for you. It's called Laid To Rest."
We exited the stadium stage to hunker down for The Cult as the brooding final remnants of the song's breakdown rang out behind us.
Cantankerous Geriatric Misanthrope Hates Fun: The Cult
"Hello Cleveland" singer Ian Astbury mocked in a way that momentarily made him seem sardonically droll.
We were excited to catch up with The Cult. Hell, this festival was named after their seminal record Sonic Temple, and they were in the middle of playing it in full on tour to recognize the 30 years since its release.
Following Sun King and New York City, Astbury started talking shit. "Today we're going to be the only bands with melody. What's it going to take to get Ohio moving?" His vocals were rousing at times but he took time to sour the mood between every song. First he was complaining about the photographers which he more-or-less referred to as self-important "paparazzi." Then he turned his conceitful ire towards the fans, catching eyes with those nearest the stage and asking "do you have a brain? A lot of intellectuals here then."
We bailed after Fire Woman while the miserable, acid-tongued wash-up most likely continued berating fans for the heinous crime of paying money to enjoy his music.
Twisted Firestarters: Papa Roach
Papa Roach had big shoes to fill stepping into the hole left by the untimely conclusion to the story of The Prodigy. The band's kick drum skin had a a picture of Keef Flint's face printed on it in acknowledgement. But Papa Roach would take it a step further later on.
They opened with what remains to this day as their biggest hit, Last Resort. Frontman Jacoby Shaddix was exuberant and erratic, jumping from the drum riser and then down to the guard-rails below to get cozy with fans during Blood Brothers. "We are Papa Roach and we are grateful to be here with you fucking people" he shouted.
Following a strident Getting Away With Murder, Shaddix insisted that it was "an honor to be part of this thing called rock and roll" before segueing into Between Angels And Insects while resplendent geometric patterns intersected on their bright LED backdrop. They soon went on to bring out Maria Brink from In This Moment (who had played their set on the main stage earlier in the day) to perform Gravity.
"This next one goes out to anyone in the crowd who's walkin' in the darkness" Shaddix announced. "I've been there and I understand you. This one's called Scars." The rust belt masses sang along in jubilant approval.
"Originally Papa Roach wasn't supposed to be part of Sonic Temple. A legendary band by the name of The Prodigy was meant to play ion this stage" Shaddix then stated. Fans were then immersed in an exigent one-of-a-kind cover of Firestarter while Shaddix sat by Keef's face on the kick drum and seemingly had a conversation with it mid-song. "Instead of a moment of silence, Sonic Temple we need to hear you scream at the top of your fucking lungs for Keef." The MAPFRE Stadium's bleachers erupted in foot-stomping baritone thunder as fans expressed their gratitude.
I feel compelled to give credit where it's due. This one-hour set was a tight ship. Papa Roach owned this moment.
Comic Reverberations: Andrew Dice Clay
Having been turned away by Fire Marshals at Andrew Dice Clay's set in the comedy tent earlier in the evening, we were surprised to hear he would be on the main stage preceding Disturbed.
The man who packed arenas with devout fans nationwide with his smoking, leather-clad, dirty nursery rhymes shtick, took to his biggest stage since the 1980s to dust off some of the same zingers he's been telling since before the Chernobyl disaster. But the jokes weren't lost to time.
"Little Boy blew…he needed the money." The echoing sounds of fans joining in chorus to say-along the jokes, all these years later, reaffirmed that Dice Clay was a bizarre comedy phenomenon like no one before or since.
Metal Lord Varys: Disturbed
The Saturday main-stage headliners drew big, but we don't swing that way. Not that there's anything wrong with that.
While Disturbed were getting Down With The Sickness we were getting down with the mattress.
Canary In A Coal Mine: Black Pistol Fire
Foreboding forecasts and tempestuous skies made Sunday uncertain. As had been the case at Rock On The Range in year's past, the proverbial Sword of Damocles seemed to hang precariously over the festival's most important day. And then:
If this communique seems vague or irresolute to you, you'd be in lockstep the majority of the patrons on site. It was a veritable cloud of unknowing, and a wave of disappointment was impending.
Black Pistol Fire wasn't happening. The entirety of the Wave Stage lineup was in peril.
Cancelled: Refused
So much for a "temporary" closure of the Wave Stage. High winds billowed across the parking lots to the south of MAPFRE Stadium, making the stage that was set to host Sweden's finest export (take that iron-ore and cheap furniture) a liability. The Refused set was fucking dead, along with hopes for this day.
Cancelled: The Distillers
The stadium stage floor area was then evacuated shortly before The Distillers were set to perform, leaving only the much smaller Echo Stage in operation. Sneering and increasingly inebriated fans could be heard lamenting over the circumstances, often offering their oblivious commentaries on why the show should go on.
Meanwhile, while falling short of gale-force, the winds were becoming hazardous. The rigging and speakers above the main stage were swaying as stagehands covered up The Distillers' gear and as a light rain commenced. Festival organizers were right to err on the side of caution, for the sake of both the talent and the fans. One need only look back to the run of stage collapses we've seen at outdoor events in recent years to confirm this assertion.
Frontwoman Brody Dalle took to Instagram to express her disappointment and to assure fans that she was working to perform in some capacity. This turned out to be a last-minute secret club gig featuring Refused that we found out about after the fact. As one can no doubt see from this coverage, Sonic Temple was underrepresented in performers of the XX chromosomal varietal. The Distillers had only performed a handful of shows since reuniting last year following a twelve-year split, so this was another tough loss.
Cancelled: Scars On Broadway
System Of A Down guitarist Daron Malakian's idiosyncratic and elusive side-project was then scrapped for the day as a tractor-trailer entered the grounds to stow and extract the first bits of the dismantled setup at the Wave Stage. Painful.
Defiant, Manic, Superlative: The Hives
The Hives were the antidote. The crowd swelled at the Echo Stage. Even the upper stadium walkways were jammed with people staking out a spot for the only thing left to see. Refusing to submit to the weather's whims, the Swedish quartet (plus one all too familiar wily American drummer) derided the storm and took gleeful ownership of it. Following a frenetic Come On and after extricating himself from the audience below, singer Howlin' Pete Almqvist inquired, "What happened to all the other bands? They all cancelled. I'm sorry, that was me. I wanted a bigger crowd."
With that, guitarist Niklas Almqvist unbridled the raw power-chord ferocity of Main Offender, his lucid crazy eyes impelling the audience to dance in the eye of the storm. And dance they did as he jumped into the adoring swarms in front of stage left, guitar in hand.
Rain began to teem down as they played I'm Alive, their first new single in four years, with the their "Scream-Team" tour-mates and fellow Swedish countrymen from Refused looking on from side-stage.
"You may have noticed the weather got worse. I had nothing to do with that" Howlin' Pete insisted. "If you clap and scream and jump up and down, I'm gonna stop it." Then with playful arrogance he proclaimed "Rock and Roll: America created it and we perfected it." Hate To Say I Told You So was upon us. Queens of the Stone Age alumni and drummer Joey Castillo looked all too comfortable at the helm of this delectable ensemble.
"Weather's shit where we're from" Howlin' Pete said. "Maybe we're more equipped for this. Ladies! Gentlemen! Ladies and Gentlemen!!!" Fans screamed in response leading into Tick Tick Boom. With countless bodies navigating above the human tides, and in the midst perhaps their most imposing song, the sound abruptly cut out. The band continued to play in relative silence while the emergency broadcast system kicked in with these instructions: "ladies and gentlemen, may I have your attention please. It is necessary that all persons exit the venue at this time." Seriously.
Sometimes life is a tale told by an idiot, full of sound and fury signifying nothing.
Bungling: Evacuation
The majority of fans were expeditious and courteous during the mass exodus. Moments after exiting the grounds a fleeting hard rain stayed just long enough to soak through the layers. It took upwards of 20 minutes for the festival so send out a push notification via the Sonic Temple app following the alerts inside. Then they straight-up ghosted the fans in their tens-of-thousands. Many fans erroneously queued in their cars and called it a day.
Eventually organizers notified fans on Instagram that more information would be forthcoming around 7:30PM, but no such information was relayed on the app. Fans waited for two hours in their cars, under pavilions in the State fairgrounds, and even sat out in the rain in camping chairs scoffing at the predicament.
The weather was beyond the control of promoters. The dissemination of information was fully within the promoter's control. We can appreciate the severity and complicated nature of the situation, but this lack of communication with fans was unacceptable.
Tenacious Coda: Foo Fighters
Finally, promoters notified fans that gates were being reopened at 7:45PM. The only performances remaining for the day were to be a truncated half-hour Joan Jett & The Blackhearts set at the ancillary Echo Stage, and Foo Fighters, whose festival closing set had now been moved ahead by ten minutes.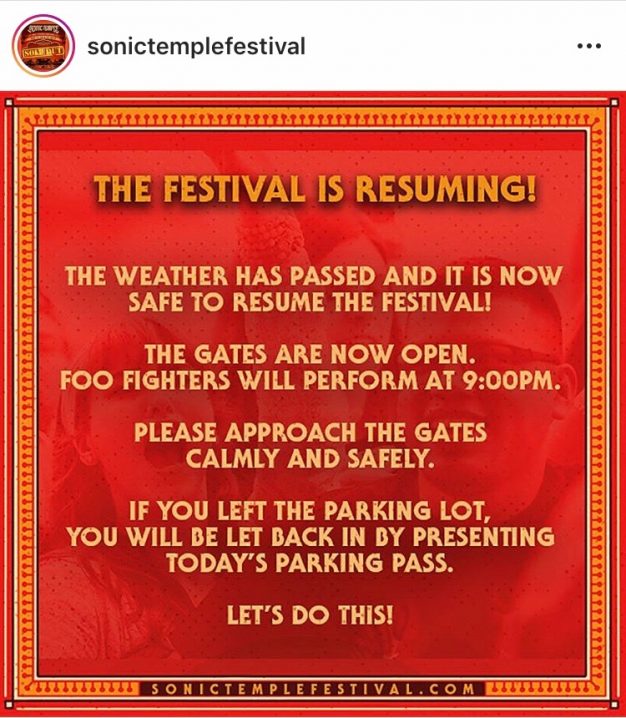 Despite the tumult of the day, this shit was back on. Fans refilled the stadium, diminished in quantity, but far from defeated.
Pauly Shore, who had been set to perform at the comedy tent until the festival was evacuated, instead played the role of MC to introduce The Foo. This in itself was shocking, as his father Sammy had passed away just the day before, and most expected he wouldn't turn up.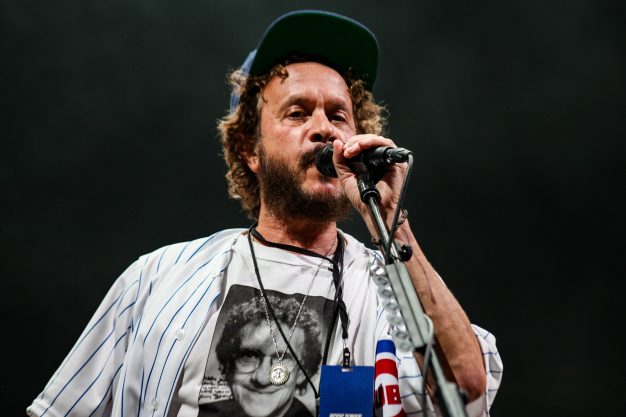 Dave Grohl and his cohorts took their stage with vim and vigor, with zealous fans reacting in a flurry of motion. Grohl strummed open strings on his guitar and yelled "You didn't think we were going to play did you? I wasn't missin' this shit for the world. Are you fuckin' ready?"
Red back-lighting illuminated both band and audience as they opened with a ruthless All My Life. Grohl was a braying charley-horse screaming "done, done, on to the next one."
Rain began to fall once again as the band unpacked Learn To Fly. During elongated blues-rock false-stop rendition of The Pretender, Grohl was running to stage's fringes, goading fans, while crowdsurfers in their multitudes tumbled over the guard rails.
Following Time Like These and Rope, drummer Taylor Hawkins was elevated high above the audience on his aluminium scissor-lift drum riser where he proceeded to exhibit his percussion acumen for a little longer than he needed to.
"I was born in Ohio motherfuckers" Grohl then acknowledged. "We've been a band for 25 years and we've got a lot of fuckin' songs to play. I like a good sing along." They then invited Pauly Shore back on stage to dedicate My Hero to his fallen father.
Band introductions them seemed to go on for upwards of twenty minutes. When one spartan fan gave Grohl the hand motion to wrap it up, Grohl's retort was nothing short of hysterical. "Is it too much? Would you rather I fuckin' [indecipherable metal growling]." He continued growling at the fan as he sat at the drum kit and the band invited The Struts' Luke Spiller out to cover Queen's Under Pressure.
Following Monkey Wrench and Run, and as the full moon crept over the stadium's south bleachers, they performed a stirring Best Of You while lasers shot out over the audience.
America's last rock and roll goliath concluded Sonic Temple with Everlong. With Joan Jett on hand and countless other performers in the Foo Fighters' orbit who had had their sets cancelled, fans were left wondering if they may offer up a special encore, perhaps even featuring the Nirvana tracks they did with Jett at Nirvana's Rock and Roll Hall of Fame induction ceremony. But alas, it wasn't meant to be.
Ambitious And Cursed: Sonic Temple
This festival was a mixed bag if ever there was one.
One can't help but wonder if the regularity of weather related evacuations would decrease if they pushed the festival off until June. After all, this has occurred three for three straight years. The cancellations of Refused, The Distillers, and Scars On Broadway made Sunday a grave disappointment. But organizers were right to take every precaution. With that said, insufficient communication with patrons during the evacuation is all on them. They had a direct line to fans through the Sonic Temple app, which they opted not to use when it mattered most.
System Of A Down may have dropped the ball during the first third of their set, but they were later vindicated. The Foo played their role as rock and roll's heroes. They were not to be denied their festival closing moment despite the bedlam that preceded them.
The mega-rock festival is a dying breed. We hope Sonic Temple can re-tool and persevere to keep this one alive and strong.