The fable nearly writes itself: Eddie Vedder, lifelong beach advocate, rallies friends & fellows for a festival to end the Summer, right on the beach where he first learned to surf as a teenager. The Pearl Jam frontman has curated an enchantingly chill, simplified musical experience at the Ohana Festival, held the last weekend of September on Doheny State Beach in Dana Point, four years running.
Roughly 20,000 people packed Doheny beach for each of its three days, curated for and populated by Gen Xers, Boomers, and often, the children of both in a setting that was conducive to relaxation and security – so much so that small children were playing freely around the entire festival grounds. Headliners included The Strokes (Friday), Vedder (Saturday) and Red Hot Chili Peppers (Sunday), with a curveball testimony to its potency as a budding favorite among all the annual fests; throughout the weekend, the energy on festival grounds seemed to grow increasingly more radiant and positive, akin to the Bonnaroo glow. In an era of homogenized festivals bordering on the bland, Ohana inarguably inspired happiness. 
The nights are getting cooler, adding more magic to the final golden glare of the sunset on each of the fest's three Summer-farewell days. It's hardly coincidence that Neil Young's "Harvest Moon" was played over the PA on Saturday as the sun dipped below the oceanic horizon, and covered by Poolside on Sunday at precisely the same time while people pulled loved ones close, zipping hoodies and buttoning jackets while they sang along to the gorgeous sunset hymn.
That kind of touch matters quite a bit to the festival lover. Vedder made sure to give attendees plenty to get excited about, joining The Strokes on Friday night for "Juicebox" and Pearl Jam's "Hard to Imagine," as well as joining Glen Hansard for Pearl Jam's "Smile" on Saturday, and Jack Irons and Josh Klinghoffer on Sunday for Pink Floyd's epic "Shine On You Crazy Diamond".
On Saturday, Mudhoney was politely tolerated in the way all of Pearl Jam/Vedder's openers are… but the listless crowd was nearly comical in its unaffected reaction. Mark Arm & Co. may as well have been Slipknot to these politely attentive middle-agers. They were removed, cocktails in hand, witnessing a specimen of a bygone time the way you'd imagine your parents listening to Now That's What I Call Music! CDs together. Vedder pointed out as much during his set that evening, teasing all the smiling people listening to angry music earlier in the day.
The beloved, recently departed Ric Ocasek and The Cars were represented well, with snippets of "Drive" thrown into Incubus' song of the same name, while Red hot Chili Peppers went full cover on "Just What I Needed" on Sunday night, featuring Vedder on backup vocals.
From the stage, Ohana's balance on the political statements were admirable in their diplomacy. But the music spoke more loudly than any overt banter could have. The discussions weren't clubs over the head, but rather woven into the experience in a way that didn't remove the most anti-political attendee (see: the Planned Parenthood booth, voter registration outlets and the various ecologically conscious brands on hand). For instance, Glen Hansard's remarkable performance was punctuated by a dedication of "A Closing Door" to Greta Thunberg and President Obama.
Laura Jane Grace & The Devouring Mothers' set was a B-12 shot for the soul. A joyful "Hotel Song" was a beautiful thing, while "I Hate Chicago" was adored – as it is in every town except Chicago, according to LJG. The spirits were high, the truth was told in song, and perfect moments of connective frequency unfolded on the lawn. Isn't that the point of going to a music festival?
The feeling of the day was captured well by this post-set tweet:
Don't care if this sounds super cheesy but a festival like @theohanafest really makes you feel like you're a part of a music community and that what's happening onstage, backstage and out in the audience is a group effort and I'm super thankful for experiences like that

— Laura Jane Grace (@LauraJaneGrace) September 29, 2019
Incubus' set was a testament to their music's understated perseverance, with a set that leaned almost entirely on their strongest work from nearly two decades ago. Slightly unremarkable in execution, the band stayed true to what it does best without much variation from the expected. That is, save for the hugely celebrated curveball cover of "Pony" to close their performance.
Then Vedder took the stage for a two-plus hour set that rounded the edges on his solo performance and showcased a seasoned live show that included a string quartet, a slew of guests and a fan's dream setlist, including a wild array of covers, surprises and rarities.
Introducing the aching, simple beauty of "Walking the Cow," Vedder paid tribute to the late Daniel Johnston with a tale of staying up late with Chris Cornell in his living room. Having still not publicly addressed the death of the dear friend and pivotal figure in his life, Vedder caught fans off-guard with the impromptu story. Talking about staying up late, laughing together, crying together, realizing that Johnston was "better than the both of us," was a beautiful and cathartic experience for fans to have.
Maybe that's all we'll ever get from Ed in terms of a public statement on Cornell. Maybe that's okay.
The night was a different beast to fans and followers, a symphonic blend of slightly changed favorites. Glen Hansard joined Vedder for a breathtaking rendition of "Black," taking over guitar duties.
Reflecting the laid-back vibe of the festival and Vedder's set, he embraced the spirit of collaboration with Kelly Slater joining him for a shockingly good version of Pearl Jam's "Indifference" – you can tell Kelly's been honing his chops.
In addition to bringing his mom out prior to a beautiful rendition of "Just Breathe," Eddie also performed several songs with a string quartet, adding an elegance to "Black," an instrumental interpretation of "Jeremy," and a slower, fantastic run through "Porch." (see bottom for setlist)
The gravity of a Vedder performance comes from the depth of belief Eddie visibly has in the healing power of music. Telling a beautiful story about surfers paddling out to pay tribute to a departed friend, he set the stage for a tear-welling version of Tom Petty's "Wildflowers" that added a new potency to the tribute.
The all-in singalong for night-ender "Rockin' In The Free World" was just icing by then, nevertheless laced with the political urgency of the song's messaging in the fever-pitch phase of the Trump era.
Sunday's main event(s) featured a pink-bedazzled and jumpsuited Jenny Lewis grooving our pants off with a Loretta Lynn bubbliness and a casual command of the stage that belied the delicate charm of her songs. Songs "Happy" and "Do Si Do" were given an added buoyancy by the relaxed positivity of the crowd, many of whom were deep into happy hour celebrations by then.
A little stomping revivalist call-and-response action from Nathaniel Rateliff & the Night Sweats got the crowd primed for the closing headliners, Red Hot Chili Peppers.
Judging by the airtight crowdspace, RHCP was the biggest draw of the weekend, and a 17-song set absolutely packed with hits were all the rationale you needed for the mass attendance. Having seen the Chili Peppers at least a half dozen times in the last decade, it's safe to say that they've never sounded better during the Klinghoffer era, taking into account all the harmonies, harmonics, improv jams, segues and overall essence of excellence on display Sunday night.
The juggernaut of hits was a reminder of how immensely RHCP have dominated the radio dial (especially in SoCal) for three full decades.  "Scar Tisssue," "Suck My Kiss," "Californication," and "Under The Bridge" were massive singalongs, while the more recent "Dark Necessities" was a jaw-droppingly powerful roll, and a turning point in the set hitting its true stride.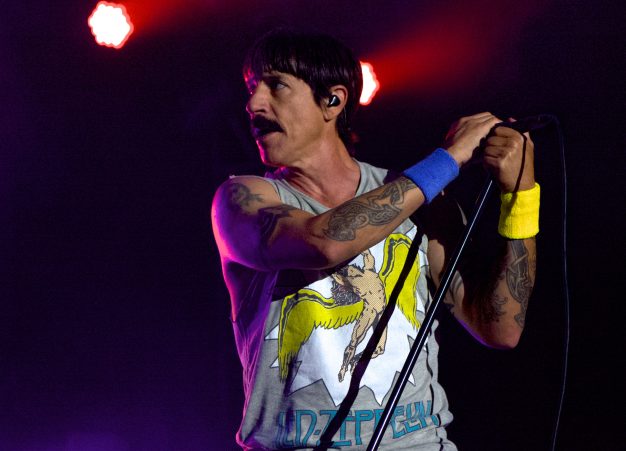 Vedder jumped onstage for backup vocals on The Cars' "Just What I Needed" with the band, sharing a mic with Flea. Speaking of the virtuosic low-ender, Flea rolled out an impromptu solo cover of Neil Young's "Needle & The Damage Done" that began as a goofy-ish falsetto and wound up an earnest, lovely delivery – aided in no small part by the enraptured crowd.
The three-part closing shot of "I Could Have Lied," "By The Way" and "Give It Away" were the perfect coda on a celebratory weekend that got sweeter and stronger with each passing day.
This festival is a perfect frequency for crowds old enough to put their fucking phones away and breathe deep in the energy of fine curation. Ohana has become an annual Summer's-end tradition that reliably reignites the fires of festival adventurism one last time for the year, to warm the cockles of your pumpkin-spice-prepping heart as we head into the cooler months and leave the adventurism of the season for more holiday-centric anticipations. No matter who's onstage, the consistency and continually evolving excellence of this production makes 2020 a guaranteed return.
See you there…
Eddie Vedder Ohana 2019 setlist
Far Behind
Elderly Woman Behind the Counter in a Small Town
Walking the Cow (Daniel Johnston cover)
I Am Mine
Wishlist
Indifference (with Kelly Slater)
Wildflowers (Tom Petty cover)
Immortality
Just Breathe (With Red Limo Quartet)
Help! (The Beatles cover)
Corduroy (With Red Limo Quartet)
Can't Keep (With Red Limo Quartet)
Black / WBT tag (With Glen Hansard and Red Limo Quartet)
Lukin (With Red Limo Quartet)
Porch (With Red Limo Quartet)
Jeremy (Red Limo Quartet solo)
Isn't It a Pity (George Harrison cover) (With Red Limo Quartet)
Better Man / Save it for later
Song of Good Hope (Glen Hansard cover)
Society (With Glen Hansard and Red Limo Quartet)
Hard Sun
Rockin' in the Free World
Day 2 Recap:
Day 2 #ohanafest – Doheny State Beach ?
? #eddievedder – "Far Behind" pic.twitter.com/joNm4S4Bsz

— The Ohana Fest (@TheOhanaFest) September 29, 2019